I hope you love the products I've recommended below, just a heads up that as an Amazon associate, I earn from qualifying purchases. This means I may earn commissions on products bought via links on this page.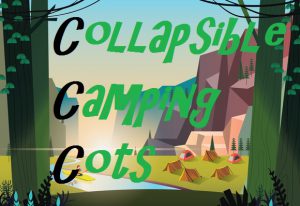 What is a collapsible camping cot?. If you have ever seen a portable baby crib/bed and how they pack away, then a collapsible camping cot is essentially the same thing. Or think how a camping chair folds down into a tight compact unit.
A collapsible cot is different to a normal camping cot. Some are fixed positions which means they won't fold down into tight compact units. Some cots pack down in square shapes which make them more annoying to carry and store. But a collapsible camping cot will be in a more compact rectangle shape similar to the camping chair, but bigger.
A collapsible cot can also be lighter in weight. Because of the way they are designed to pack a away, light weight materials are used. Compared to a big heavy duty camping cot built for the harshest conditions which weight a heck of a lot more due to the premium materials used.
Having a camping cot that is collapsible and easy to transport is something we take seriously when camping. So most of the time, having this portability is something that is a requirement by us. So to make your buying decision a bit easier, we have listed references to existing articles of camping cots in various categories.
The Best Collapsible Cots For Camping
Heavier Than The Standard Cot Weight Capacity?
Did you know camping cots have a weight capacity?. Well, now you do!. From my experience. If the cot doesn't state what the weight rating is on the ticket or in the manual, then I assume that it is weighted to just 200-220 Lbs. This weight capacity seems to be fairy standard across many products like chairs, cots, computer chairs etc.
So if you are a solid person like myself, then you may want to consider investing in a heavy duty camping cot. These cots can hold up to 600 pounds,which is quite sufficient for a single person in most cases.
However, it's very important to remember: Are you sleeping alone?. Or will there be two body weights contributing to the overall weight capacity?. Even the extra 50 – 80 lbs a child adds can put strain on a standard cot's frame. So in my opinion, it's worthwhile buying a camping cot that is well above your total weight. Perhaps even double.
Need A Lightweight Collapsible Cot For Camping, Hiking, Backpacking?
So user weight is not your concern, but how heavy the actual cot is, is of your utmost importance. When it comes to certain camping trips, hiking and backpacking, a lightweight portable cot is not a maybe, its a must!.
Would you believe me if I told you there is a camping cot that weights just 3 pounds?. Of course not. But guess what, there is!. The ultra lightweight cot by Yahill is not only super light, but very collapsible. It folds down to the size of a camping chair.
Typically you will find that the lightweight cots are the kind that sit really low to the ground. This is to create a lighter cot, but it can also be hard to get on and off. Especially if you are a bigger person or suffer from back pain. Getting down this low is sometimes impossible.
If this scares you, fear not. I have also included the lightest cots which are raised above the ground like you would normally see in a camping cot.
Collapsible Tent Cots – In genius Ideas
While the tent cot may seem like a fairly new and innovative piece of camping equipment. The 'Tent Cot' was actually patented way back in 1922 by Lorena Marshall from Denver.
Regardless of when they were invented, the tent cot is a awesome sleeping bed for campers. While mainly built for solo persons, you can get oversized tent cots which could cater for a couple to sleep in a snug and tight environment.
While they are s;lightly bulky to carry around, they still do collapse down into a portable bed. Perhaps not ideal for hikers due to the weight of these cots. But for solo campers they are insane.
Camping For Two?
Well there is a solution. They are called 2 person cots. You can either get a oversized XL camping cot, or some brands specifically make a camping cot with 2 individual sleeping surfaces side by side. As you can see in the image above. The Double Kwik Cot by Kamp-Rite is one of the best 2 person camping cots on the market in my opinion.
"Do We Have To Bring The Kids?"
Oh I hope you did not just say that out loud in front of the Wife!. Of course the little blessings that are our kids are coming camping. Don't worry, they don't have to share your camping cot. Parents will still get their privacy.
Where will they sleep then?. You guessed it, some brands have made camping cots just for kids. Which I think is a brilliant idea.
These cots are so cute and adorable, but at the same time tough and rough to handle the camping environment. But whats even better is that after your done camping. The Grandparents have no excuse to take the kids now as they have their own portable travel beds. Win/Win situation.