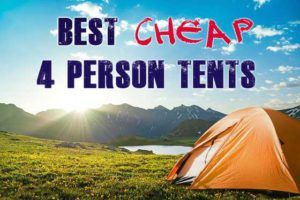 What are some of the best cheap 4 person tents available in today's market. This is something many people across America seek to find the answer to. The truth is, there is not one 'best tent' that will suit absolutely everyone.
When buying a tent with an affordable mindset in place, sometimes you can limit your choices. As I have already discussed a few 4 man tents around $100 in the past, in this article I seek out even more budget friendly options.
This time we are looking for 4 person tents that are about $50-$80 in price. Now this can fluctuate as prices are never set in stone. But nonetheless, they are considered cheap compared to tents that can cost you several hundreds of dollars.
What To Expect From a Cheap Tent
When I hear the word cheap, I'm normally put off somewhat. Cheap can often relate to as poorly made with limited use or practicality. What was the last cheap item you purchased and is it still around today?.
Unfortunately there are too many cheap imitation or rip off tents available. The last thing you want to discover when you're camping is that the tent leaks bucket loads of water, or has the worst mosquito netting ever produced. Personally I'd take getting wet over being eaten alive by mosquitoes.
Which is where I draw the line with the term 'best cheap'. To me this means you don't want bottom of the barrel, but instead you want a tent that is affordable and maintains a decent amount of qualities and features.
So when compiling this list of 4 person tents, I didn't just look for the 'cheapest' options available. Anyone can do that and I don't encourage you to do this. Instead, I have researched the prices while comparing features of the tent that will make camping enjoyable and not a nightmare.
Will These Tents Suit 4 People?
If this is your first time camping, you would be forgiven for thinking a 4 person tent can comfortably sleep 4 people. The truth is, these tents are better suited to 2 or 3 people. While you can squeeze in 4 people like sardines in a tin, its not the best way to enjoy camping.
When a tent is labelled as a 4 person, its basically saying that yes 4 people can sleep side by side, elbow to elbow, ankle to ankle. Which to me is just ludicrous.
So if you're looking for a tent that cam comfortably sleep 4 people while having room for storage, wiggle room and larger rooms, I suggest you check out these tents for a family of 4. But if you simple want a 4 person tent on the cheap that can sleep 2 to 3 people, keep on reading the below reviews.
Best Cheap 4 Man Backpacking Tent
If you've ever been interested in camping, then there is almost no way you haven't heard of Coleman. They're a market leader in the camping industry for good reason. With this tent being a prime example of that. For a quality tent that doesn't break the budget.
Its the Hooligan tent by Coleman and is available in sizes up to 4 person. Why do I find this tent the best of the cheap options?. Well simply put, it comes with a decent size vestibule. Tents with vestibules allow you to keep your boots, backpacks and other gear outside the tent. This frees up sleeping space inside the tent.
This is a really impressive 2 layer tent that's made out of a high quality mesh on the inside walls. Which allows it to breath in those hotter climates. It does seem to struggle a little in the cold weather, so this is something to consider.
Then with the rainfly on top, it still breaths well. But it also allows it to handle some heavy consistent rain. This is the biggest thing for this tent, is just how well it keeps the water out. Not having to worry about water getting while sleeping, is a big plus in my opinion.
Setting up a tent can be difficult, but that isn't the case here. It's a great tent for a beginner, since it's so easy to set up. They also have sewn the instructions into the tent bag. For those of us who lose things easily, this will be a bonus. Assuming we don't lose the bag!
Fitting 4 people into this tent is possible, but there are a few things you will need to do. You can fit 4 people, but you most likely won't be able to fit your gear in there as well. Which is why the vestibule is so important, and the features that got the Hooligan over the line for me.
Affordable Tent For 4 People
Quality and Alpha Camp go hand in hand. They manufacture a lot of wallet friendly camping supplies that are high quality. Which is why this tent made this list. Cheap doesn't have to mean bad. This is what this tent has set out to do, and succeeds in my opinion.
When you go camping space is at a premium when packing your vehicle. Which is one of the reasons this tent is extremely good, its very compact and stores away just as easily when at home. When packed away, it measures 24″ x 6.3″ x 6.3″.
Great Ventilation
But enough about it when it's at home, how does it perform as a tent. The mesh side windows really help with ventilation. There are 3 windows that can be zipped up when it rains, but when the suns out, you get about 3/4 of the tent with mesh material allowing air to circulate.
The rainfly on this tent isn't as big as the Colemans. But it does feature a small awning over the front entry. This allows it to breath, but keep out the rain as well. I like small awnings over the entry as it gives you a little extra shelter for getting in and out of the tent.
The mesh windows to do have there own covers, that can be zipped up. This does allow you to do some stargazing, or let in some light. So it's a nice option for people who are looking for that.
It's a surprisingly spacious tent, with people who are 6'4″ tall. Being able to lay down in it with some extra room. Tho you couldn't have more then one other person in there, if someone is that tall.
Another feature I really appreciate on this Alpha Camp tent is the little entry mud flap. This is a great feature that you don't see on many tents, especially cheap tents like this one. Its just something a little extra so you can take your shoes off without standing on the dirt, grass etc.
One thing to note with this tent, is that the stakes aren't the best. This is an easy fix by getting some stronger ones, but in saying that, unless you spend $500 on a tent, the stakes are always going to be a bit flimsy. Good thing, stakes don't cost you the world and can really add to the wind resistance of this tent.
Best Cheap Waterproof Tent
Coleman again coming in strong with another brilliant tent and very popular tent know as the Sundome. Reliability is a big thing for camping. Having a tent that isn't reliable is just asking to have a bad time. So I'm glad that Coleman have made this tent, it's great for poor weather.
This tent is great for hot weather, it breaths well, and can keep the rain out. Being able to keep the heat out can be a worry with a rainfly. Which is what makes this tent so good, the rainfly doesn't effect it to much. It's the right size to let it breath.
Being able to not only withstand heavy rain, but can handle strong wind. With people camping in 40mph wind, and having it stand strong. It does have a e-port for electrical leads, which if you don't block in the cold weather can be a little inlet valve for cold air to sneak its way in.
On the opposite side of this, having the port is a really useful feature. A lot of people take plenty of their electronics with them now. So being able to use them via a lead running through the e-port in the tent is very useful. This makes it useful if you're planning to set it up in the backyard, for your kids as well.
Inverted Seams & Welded Floor
But the biggest feature of this tent and one that I'm truly shocked to see on a tent around $50-$60, is the waterproof features. The Sundome features inverted seams and welded floors. What this means is that the seams of the tent (the stitching) are reverse facing.
The seams fold inwards and are not exposed to the exterior of the tent. So rain cannot penetrate through the tiny holes of the seams. The welded floors mean the seams there have been welded, rather than sewed to prevent water getting in. The Sundome also features the bathtub flooring, which basically eliminates ground water from getting inside.
As with most 4 people tents it's a struggle to fit 4 people in. Having 2 adults and a kid will still leave you room for a dog, and some extra storage. It does come in a larger variant if you want a bit more room, but it will cost you a bit more at the same time.
Budget Friendly Instant 4 Person Tent With Awning
This tent is a bit different compared to some of the others on this list. Toogh have done some clever engineering to make this tent do two things. With the first and most obvious thing is that it's a tent.
The second and very underrated feature, is you can turn it into a small awning. This makes this tent useful for more then just camping. It's great for taking to the park for a picnic, or to your kids sports games. It adds some good versatility to it.
I find there's nothing worse than setting up your tent up on a hot and windy day. With all the breeze coming from a different direction and flowing in through the door. With this tent it has the ability to open it's other side, which will allow the breeze in and circulate rather than turn it into a giant balloon.
Setting this tent up is different to other tents, its an instant 'pop up' tent. It has a mechanism at the top, that the legs are attached to. So you pull it to the top, then when it's there you push the second bar below down. Which locks it in place. It's unusual, and will take some getting use to, but once you do it's very quick.
The only problem with this tent is that it is a single wall tent. Which means there is no inside layer of mesh to help keep the tent cooler in summer. Its a single wall pop up tent with 1 layer of protection against rain and wind. So to ensure you get the most out of this tent, I would be adding another coat of waterproofing spray.
But to get a tent so cheap for 4 people that is an instant pop up, is quite rare. So you got to take the good with the bad sometimes.
Best Tent For $50 Or Thereabouts?
Miaboo has an extremely similar design to the Toogh tent, with there pull up Pop Up system. This is a good alternative to that tent, if you like the design. But you're on a smaller budget, and still want to camp. This is a really solid alternative.
You're able to fit three adults in this tent pretty easily. It would get a bit to tight with a fourth. With the floor space being 83 inches x 79 inches. This does give you some room to move around in, especially if you're a tall person. Tho it would be a tight fit if you're bigger then 6'1″.
Breathing in the summer is what this tents specialty truly is in my opinion. It breaths incredible well in the summer, thanks to it's two door system. This allows air to pass through extremely well. It will struggle with the colder months, but it doesn't claim to be a 4 season tent.
It's a light weight tent, that doesn't weigh anymore the 10lbs. Which is a plus if you have to carry it to your campsite. It's definitely not designed for a backpack tho. For someone who camps out of a car it would make a great companion.
Sadly it doesn't come with a rainfly, which is a bit of an issue. It would be suggested to take a tarp with you, to throw over it. This would help with some of the wet weather issues you may have with it. It's a shame they didn't include one, it does take away from this tent.
But in saying that, there is a decent sized awning that comes out and over the door entrance, so you can still keep your door open in the event of rain and benefit from fresh air circulating inside the tent.
The only thing I don't like about this door is that it zips down onto itself. Its like an upside down 'U' shape. So when you unzip the door, you basically have to walk over it to get inside. This is asking for dirt and mud to be dragged all over the door. Design flaw in my opinion.
Best Cheap Winter Tent
You may notice that Coleman keep popping up, but it's for good reason. There tents are some of the best on the market, especially for the people with a cheaper budget in mind. They're still better than the competition for providing value for money when we are talking about tents of this price range. Which is why this pop up tent is on the list, it's another great 4 person tent on the cheap.
Ease of use is what this tent was designed around. For people who will put it up and down a lot. Which it excels at, more so than many other tents. It's the perfect size for two adults who camp a lot, and want to spend more time exploring. 4 people can fit, but its a tight squeeze. Ideally its best suited to a couple with a bit of camping gear to store inside the tent.
The tent does struggle to breath a bit, when it's done up. Which does keep the heat in a bit to much in the summer. Which makes it the rarity for a tent. It handles cold weather better then warmer climates. this is because of the dome like design which excludes windows, making it one of the best cheap winter tents.
This is a car camping tent through and through. It's to bulky to be carrying around sadly. But as a car camping tent it's fantastic. It sets up really easy with just little bit of knowledge. It does take a bit to get it down tho the instructions could be a little clearer here.
There is one issue with this tent, and it's the zipper. It goes 95% of the way really easy, then that last bit stiffens up. This seems to be related to having it staked down. Since once you un-stake it, the tension releases. Which makes the zipper go up easily. A small issue if you're camping somewhere windy.
Overall its a quick and easy pop up tent which handles cold weather better than the heat of summer. Setting up is childs play and the price, well its perfect if you ask me. The front door is a 'U' shape, unlike the upside down 'U' of the above tent. So you can unzip the fly and hook it up at the top of the door. Never to be stood on by muddy boots.
Key Features To Consider When Buying A Cheap Tent
Water Proofing
I see it time and time again, someone buys a $30 tent and expects a 4 star mansion. Problem is, the thing only costs $30. What you get from such a low price tent will be a direct reflection of the price of the tent.
The biggest corner cut comes from waterproofing. If the tent seems too cheap to be true, chances are it is not waterproof. Not all tents that you buy brand new are waterproof.
However, if you have found yourself in this situation, you can waterproof the tent yourself. But this is not something you do once and forget about it. If you want the tent to survive year after year, its highly recommended you apply more waterproofing spray every camping season.
Poorly Made Floor
When people buy a cheap tent, they often aren't aware of the importance a flooring system. Just like the walls and rainfly of the tent, the floor also needs to be waterproof. Otherwise water can seep in from under your tent and wet all your belongings.
The best way to prevent water getting inside your tent like this is to invest in a tent with bathtub floors. This is a heavy duty flooring tarp that has a high level of waterproofing, but the genius comes from the fact the flooring actually comes up the walls of the tent by about 6 inches. This stops any ground water from entering where the walls meet the floor as it is 6 inches above ground level.
Lack Of Wind Resistance
Never would I sleep in a cheap tent if they were forecasting strong winds. The structural poles of a cheap tent would be no match for strong winds. 4 person tents are generally good for strong winds as they are not often cabin tents. However, you need to ensure the poles are not completely fiberglass or plastic which can easily snap. Having some steel foundational poles will help resist the tent from bending and snapping the fiberglass poles.
Tent Ventilation
Tents can become quite humid inside, which is why a good tent will have ventilation features. Condensation can build up and make your gear wet and damp. Not to mention making the tent possibly becoming moldy if it is not stored the correct way.
However, with more ventilation features, the more expensive the tent becomes. So when buying a cheap 4 person tent for camping, you need to look for an option with maximum amount of ventilation. This can be in the form of air vents on the ground, mesh ceiling in a double wall tent, windows with a mesh screen and of course a door with a mesh screen. Having mesh windows allows you to keep the windows open without letting the insects in and ruining you night.
Quality Of Tent Seams
Another important feature to consider when buying a cheap 4 man tent is the seams. If the tent seams are cheaply made and have no seam protection, chances are the tent will deteriorate rather quickly. Ideally you want a tent that has been double or even triple stitched so the seams have a greater resistance to ripping or tearing.
But the chances of getting a double or triple stitched tent at a low price will be low. They got to cut corners somewhere in order to keep the price down right. So to better protect your tent seams from deterioration and water, apply some seam sealer to the seams. This is a very easy job to do and can prolong the life of your tent.