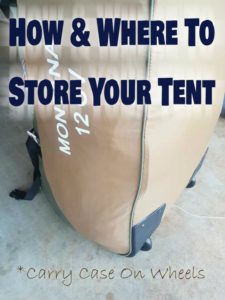 There's some you rules should should absolutely follow if you're a tent owner. The most important is learning
how to store a tent
after a camping trip or when the colder months arrive. That is unless you don't mind a bit of
winter camping
.
If you don't store a tent correctly after a camping trip, problems can and will arise. Especially if the tent has any form of moisture on it. The last tent I bought cost me $500 and the last thing I want to see in a few months time is mold and mildew growing all over it. Breathing in mold is dangerous to our respiratory system, which is not a game I want to play.
While we breath in mold on a daily basis, over exposure to mold can be very harmful. Especially for people with allergies and Asthma. So camping in a mold ridden tent or even having the tent with mold growing on it at home is not ideal.
To prevent mold and mildew from growing on your tent, you need to know how a tent should be stored. The tents UV and waterproofing protection can also decay much quicker if not stored away correctly. You will see obvious signs of this as the waterproofing PU coating starts deteriorating. Little bits and pieces will slowly fall off the tent. Along with regular waterproof maintenance, storing your tent dry is equally important.
Steps To Storing A Tent During The Off Season
Step 1 Air Dry
The first and most important step to storing your tent over the off season or after a camping trip is to be 100% sure the tent is dry. This includes the underneath side of the tents floor. Even if you were camping in perfect conditions, the floor of the tent can still build up moisture underneath.
How To Dry Your Tent
Even if it didn't rain during your camping trip, you should still let the tent air dry so that any condensation in the tent material has a chance to dry. While it may feel touch dry when you run your hands along the tent wall, there's a good chance the seams and or the floor will have some form of moisture build up.
So always set up your tent when you get home. Do this in your living room, out on your back patio or in the garage. Wherever you have space. Leave the tent up for 3-4 hours in fine weather. This will allow the tent to naturally air dry.
Step 2. Drying The Floor
If you had no option other than to set the tent up on the grass, you should go one step further. The moisture in the grass can end up on the floor of your tent. So it's good practice to hang your tents material over a clothesline, fence swings etc. Anywhere the floor of the tent can air dry without the rest of the tent touching the grass.
Packing The Tent Away
Once you are 100% sure your tent is dry, it's time to pack away the tent. I like to keep the end windows unzipped before rolling up the tent. This will allow air to circulate inside the tent should there be any minimal moisture. It also helps to release air when rolling up a large tent. However some people prefer the tent to be fully zipped up and closed. Doing this makes assembly easier the next time you set up.
You tent material needs to be able to breath. Much like your clothing does. So ideally you don't want the tent to be crammed back into the carry case where it is so compact the tent material has no chance to breath.
So how to pack away a tent if it's too compact inside the carry case?. Depending on the carry case your tent came with, one option is to leave the poles and shock-cord posts out. Many tent poles come in their own carry bag anyway. So removing the poles will free up some space inside the larger tent bag.
For posts with the shock-cord running up the middle of them, It's important that when you break them down, you start in the middle and fold them onto each other from the middle. This reduces the stress and tension forced on the elastic material and reduces the chances of it breaking.
How A tent Should Be Stored Once It's Dry
Once your tent is completely dry you will need to find a adequate spot to store the tent. A cool and well ventilated area is ideal. But this is not always practical, especially for people living in apartments and small houses.
If your tents carry case has enough room inside after you have taken the poles out for the tents material to breath, storing the tent there is fine to do. Provided you don't keep the bag in a hot location.
But if you don't want to store the tent inside the carry case you can use various household items to store it in. This will obviously depend on the size of your tent. But you can use pillow cases, mesh bags and sheets to loosely wrap the tent up in. This way air can still circulate and keep the tent fresh.
Storing your tent in the garage is a good location. This is because it is open, usually has windows and the garage door allows fresh air in on a daily basis. So if you have a open face cupboard in the garage you could store the tent on one or two of the shelves.
A simple solution to storing your tent is to keep it in one of those large mesh bags. The ones that sports clubs use to keep all the balls together in one bag. This will keep ventilation very high, but does not protect the tent from immediate water/rain.
Where To Store Your Tent & Camping Gear
I originally got one of these
Keter 230 gallon patio/garden storage boxes
for down by the pool. Because it done such a good job of keeping animals and insects out of the pool gear, I decided to buy another one for my camping equipment.
This is a fairly large wood looking plastic box which is perfect for storing the larger camping equipment in one location without making the garage look like a mess. It's actually quite an attractive box for what it is. So you could store this box with your tent inside out on the deck if you wanted too.
Depending on what other camping gear you own, you can keep your tent, hammock, folding cot, gas burner, rain fly, ropes/straps, pegs, poles, tarps, tent footprint etc in the one storage box. Convenient while not being an eye sore.
Whats also good about this particular storage box is that it has a piston opening function, so it's always smooth to open and easy to close. The lid of the box can even be locked with a padlock to keep prying eyes off.
Weather and UV resistant but as it contains your camping equipment I would still keep it in a sheltered area to be safe.
Keter XXL 230 Gallon Plastic Deck Storage Container Box
Places To Avoid Storing A Tent
Now that you know you should store your tent in a dry, cool and ventilated area such as the garage or covered deck, the next question is what area should you avoid storing your camping tent.
Many people simply throw there tents in a garden shed. This is a big no no if you ask me. It's dark with limited air flow and moisture in the air is high. So mold and mildew can quite easily attach to your tent.
The other thing that scares me about storing camping gear in a garden shed is the fact they are prone to mice and other rodents. Mice can and will eat your tent, so I would avoid feeding them a $500 tent if it were me.
But if the shed is your only option you can do things to minimize tent eating mice and build up wet moisture air. First you can set up mouse deterrents of your choice. If safe to do, leave the shed door open to allow fresh air to circulate inside the shed.
Avoid The Attic
Another place you should avoid storing your tent is in the attic or basement. These areas can get very hot which is not ideal for the tent material. Storing the tent anywhere that has water such as a basement or laundry is also not the best idea as the moisture in the air level is much higher.
Will The Tent Need To Be Waterproofed After Storage
Once you have pulled your tent out after months or even years of storage, a common question is how often should I waterproof a tent?. Will the tent need to be waterproofed again after been in storage?.
The simple answer to this question is to test it out. After taking out of storage, set your tent up in the back yard. Hose it down and take a close look at the rainfly. Is the water soaking into the material or is it getting repelled. A wicking effect should happen if the tent is still waterproof. Water wont soak into the material if it is still waterproof.
The other area to consider are the tent seams. I would seam seal my tents every 12 months because they are the biggest issues when it comes to rain getting inside the tent. Using a quality tent seam sealer is not expensive and it doesn't take that long to do. The little effort you take will ensure a dry camping season ahead.
Don't Store Your Tent For Too Long
The number one concern for storing a tent is that people tend to store them for too long. They put them away and years go by without using them. People simply forget about them.
This is a big problem because it means people are missing out on camping on a regular basis. Lack of camping due to a tent being stored too long can result in unpredictable results. Don't take the risk. Camp regularly!.