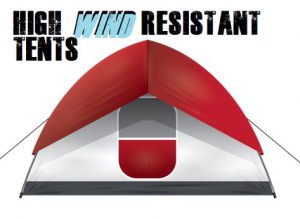 It's of utmost importance to find the best tents for high winds if you're preparing to go camping in a tent for windy conditions. Especially if you're hiking and camping at high altitudes where the winds are unforgiving.
When it comes to camping, the weather can take a turn for the worse at the most inconvenient time. Which can certainly dampen the mood and even sweep your tent of its feet.
When it comes to choosing a wind-resistant tent there are many factors to consider. As well as knowing beforehand that the tent alone is not always enough to fight off the strong winds gushing in.
Investing in high-quality tent stakes and extra strong guy lines are just the start. There's also tent positioning to better shelter you from the wind.
So below you can find what I consider to be the best tents for camping in windy conditions based on experience, interaction with other high wind camp survivors and many hours of product research. Followed by which will be tips to further wind proof and shelter you from gusty conditions.
Compare Windproof Tents By Size
Best Family Tents For Windy Conditions
* Update. I find the
NTK Arizona
the best for high winds when you're camping as a family that needs more space.
In extreme wind environments, family tents are not typically the ideal tent. This is due to the large bulky size of them as well as the extra height for the wind to get under and push up like a hot air balloon. However the Coleman WeatherMaster 10 person tent is quite a popular family tent when it comes to extreme weather conditions.
Coleman tents are stated to withstand winds 35+mph and would do for most family campers that fear strong winds being present. While I have nothing against Coleman tents, I think the best family tent for windy conditions belongs to either the Kodiak or Stringbar canvas tents. Here's why.
Canvas Tents Have High Wind Resistance
Both the Kodiak and the Stringbar are canvas tents and canvas is a far more heavy-duty material than that of a polyester-nylon tent. So naturally, it's going to be more resistant to harsh weather conditions. The Kodiak is slightly cheaper however a better all-round tent in my opinion. For a full comparison, you can
compare these 2 canvas tents
.
But for a real life wind test, we are going to look at the Springbar tent. Why?, because in the video below you are going to see how the Springbar tent survived very strong winds from 2 close by tornadoes with winds reaching over 60mph.
In the video, the shingles on the shed fly off but this tent remains strong and firmly in place after the storm. Quite a testament to the strength and resistance of the Springbar tent.
A Little About The Springbar Tent
Water tight cotton canvas
10ft x 10ft making a full 100 feet of living space
Steel poles and steel stakes which is very important for standing up against strong winds.
6.5ft high ceilings so you can stand while the wind blows around you.
It comes with an awning 70″ x 70″.
Well ventilated with 2 end air vents and large rear wall window plus large door opening.
Tough vinyl flooring for resisting punctures and water intake.
Very high-quality tent and one that will last a long time.
Springbar Highline 6 Person Canvas Tent
Top Rated Tents For Camping In High Winds
Tested In Winds Up To 80Mph – The Hilleberg Akto
With over 20 years of manufacturing, the Hilleberg brand has one of their best tents for storm like winds in the Akto. It's a solo tent designed for hikers, long-distance backpackers and of course solo camping.
Considering how lightweight this tent is you would not expect it to withstand 80mph winds. When this tent arrives it is practically weightless. However, it's strength against the strongest of winds is shown below in a short video.
As you can see in the above video wind resistance review of the Hilleberg Akto, it certainly can take a beating. The well thought out design and engineering that has gone into this tent speaks volumes. It's not just a tent, its a shelter that will get you through many of Mother Nature's harshest conditions.
While some people may find it a little out of their price range, (Find out the latest price on amazon here) it's the type of tent you know you can rely on. Year in year out. So while you pay out a bit extra in the beginning, years later you still have a tough wind-resistant tent. So it pays for itself the more you use this tent.
Best Backpacking Tent For Windy Conditions
Hubba Hubba Tent Delivers In 60Mph Winds
The
Hubba Hubba tent by MSR
(Mountain Safety Research) has been around since 2004. Can you believe a tent has maintained that much esteem that it is still turning heads. In fact, not too long ago this tent
won the award
for the tent of the year at Outside Magazine.
Since then MSR has gone and modified the award-winning Hubba Hubba tent to make it even better!. Now it is 9 lbs lighter, the door shape has evolved and right down to the stuff sack. It's just gotten better.
Watch This 2 Person MSR Tent Survive 60 Mph Winds
As you can see the Hubba Hubba tent does, in fact, handle windy conditions quite well. The guy lines and the stakes are included with the MSR as well.
In terms of room, it can sleep 2 people and allows for sitting up to eat food, drink coffee, etc. There's a good amount of gap between the fly and the tent which is excellent for air flow throughout the vents. Without the fly on, this tent offers unbelievable mountain fresh ventilation.
The are two entrances into this tent which is not that common on a small free standing tent. The entrances are stay-dry TM which feature large vestibules for storing gear. Inside the tent are two large pouches for storing gear that needs to be kept dry and safe.
The pole and symmetrical geometry design of the Hubba Hubba are what appeals to me the most. The floors aren't tapered which is the case for many other tents of this nature. For under 4 pounds in weight and years of experience and time tested reviews, it's hard to say no to the MSR Hubba Hubba tent.
MSR Hubba Hubba NX 2 Person Tent
High Wind-Resistant Tent
This high wind resistant tent by
Big Agnes UL2 tent
is a dome tent that comes in sizes from 1 person to 4 person. Made from ripstop nylon and polyester mesh, this tent offers great protection from high winds. The double ripstop nylon is 20% stronger for such instances.
This tent also offers a two-door entry and 2 vestibules that have storm flap zippers to tie down during intense weather. As for storage, there is a large overhead pocket in the ceiling.
On the side wall near where your head would go is a media type of pocket. This pocket also has 2 portals coming out so you can run cords through it for your smart phone or headphones.
But How Does The Big Agnes Fare In A Wind Test?
As you can see from the above video, the Big Agnes is hammered with high winds. The tent refuses to budge or give in. This is a good sign that the tent is well designed to handle strong wind conditions whether you are backpacking or camping.
With the vestibules, I like how you can keep it half hinged. This is amazing for air circulation inside the tent and during the night it allows you to watch the stars even with the rain fly on. Nice touch.
Overall its a pretty solid tent. The Big Agnes UL 1 was a massive hit and I don't see any reason why the newer UL 2 won't be just as successful.
Big Agnes Copper Spur HV UL 2 Tent
Wind Proof Tents For 3 People
This little Wenzel Alpine 3 person tent is far more impressive then you would first think. It's able to handle some impressive weather that you'd suspect it not to thanks to its high quality and durable materials it's made out of.
The fiberglass frame is flexible and strong so it does have some give in the higher winds. But it needs to have a bit of give so it doesn't snap under the pressure of the wind. When the wind is strong you should use the guy lines to make this an even sturdier tent.
While it can handle the stronger winds surprisingly well, it does struggle with the wetter weather. This is mainly due to the rainfly only covering half the tent which isn't too bad in light rain. It becomes a bit more of an issue when it's raining and there's strong wind around which is a bit disappointing since it handles the wind really well.
But in saying that, you can easily add additional coats of waterproofing spray over the inner layer of the tent to really boost up its waterproof features.
Breathes Well On Hot Windy Days
Camping in the hotter months can be difficult, so having a tent that breathes is crucial. Which this tent does extremely well since it has 2 mesh windows and the typical D-style front door. This allows it to breathe well in the heat and can be closed to keep the cool out.
There's a good amount of room in this tent and you can fit a queen air mattress in it tho it will touch the sides. So you will want to put a smaller mattress in there if you want to store some gear as well.
Thankfully setting up and taking this tent down is fairly simple and doesn't take a lot of time. This makes it a great tent for those who will be moving quite a bit when camping. Combined with the low weight of 8lbs makes this not a bad option for a short backpack camping trip.
Wenzel Alpine 3 Person Tent
Just How Wind Proof Is The Wenzel Alpine Tent?
In the 10 minute video below, you can see just how windproof this tent is as it handles some pretty intense winds. Because the poles are shockproof, they don't end up snapping under the strong winds. While the tent does get the walls blown in on one side, the tent remains firmly in the ground. 
After setting up the guy lines, the Wenzel does perform extremely well against the winds. So if a smaller 3 person tent that is windproof, the Wenzel Alpine may be a good choice.
Best Tent For Camping In High Winds
2-3 Person Varieties
Eureka! has done a lot of work when they designed this tent. They're able to make it be a breathable tent that can handle some seriously strong winds. So there's a lot to like about this tent when it comes to handling a variety of different weathers that make it an easy recommend for most campers.
So let's start with the reason you're here with how well it handles the high winds. It does handle the strong winds really well without using the guy lines but it will work a lot better with them.
With some crazy people using this tent in an area that was under a tornado warning! Is it a hurricane-proof tent, well I'll leave that for you to decide after watching the video below.
Is It The Best Tent For Rain And Wind?
The Eureka has an air vent on the roof that you can close, but it can get quite hot if you do. It doesn't let to much water in so you can leave it open in a shorter storm but I would advise to close it if it's a bigger storm with strong rain blowing sideways. Otherwise, there will be too much water coming in during intense storms.
Handling the rain is important when you go camping which is something this tent excels at. If you don't have the roof vent open, then you're not going to get wet in this tent. This is a big plus to this tent in my opinion, getting wet while camping isn't enjoyable!
During the warmer months, this tent does breathe well if you don't have the rainfly on. If you do have the rainfly on it doesn't breath too well unless you have the air vent open. It still has a natural amount of breathing due to the material mainly being no-see-um-mesh for the canopy.
Considering how durable this tent is, the weight of it may surprise you. Normally you'd expect such a durable tent to weigh a lot but this tent only weighs 3.13lbs. This does make this tent great for backpack camping since it's so light.
Eureka! Suma Backpacking Tent
Large Tents For Windy Conditions
Being a winter tent is a difficult task to achieve. Crua Outdoors has managed to achieve making a great insulated winter tent that can handle some seriously strong and cold winds. This is something you can see in the
Youtube video
with this tent handling
strong 50mph winds
while standing strong.
The Crua Tri was designed with certain things in mind, mainly for it to be able to handle the more intense weather like snow and wind. But also to make your entire trip more comfortable. It does manage to do this with it handling the strong winds far better then one would expect.
One of the biggest selling points of this tent is how you can get it to be incredibly dark on the inside. This is something that isn't considered a lot, but with it being so dark you're able to sleep much easier and for longer. Making your overall trip much more relaxing.
Some people will just ignore this tent because it's a luxury tent or a glamping tent and they'll say it's not real camping. You should pay no attention to them since camping is meant to be enjoyable and relaxing.
Insulated Winter Tent For Cold Windy Weather
Being such a strong and durable tent does come with some extra weight, with the tent itself weighing 48lbs. This is fairly heavy for a tent, so it makes a good car camping tent which is something that it excels at. So carrying it can be an issue for some people so this is something you should keep in mind.
Even tho this is a 3 person tent you're still able to fit a queen-sized air mattress in it and still have a little bit of room. This is a nice change from the usual 3 person tents where you can't fit one in it which can be frustrating.
Overall this is a great tent that's designed for comfort and handling the more difficult weather. As its an insulated tent, the Crua Tri is better served in the colder months. When strong cold windy weather arrives, the Crua Tri is my number one tent for staying safe and warm.
Crua Tri Luxury Winter Tent
Best Tent Stakes For Windy Conditions
Sometimes a tent will need reinforcement against the strongest of winds. By using the best stakes you can get you are increasing your chances of surviving the wind storm. But you got to realize that most tents come with pretty standard stakes. These stakes more often than not will need to be replaced if you anticipate high winds.
My preference for stakes when it comes to handling strong winds are these heavy-duty ones by SE. They are much thicker and longer than most if not all stakes available. Being a nice and heavy-duty steel peg, you will have to make sure you bring your mallet to get them in nice and firm.
These stakes are also very good for penetrating hard ground which as you probably know will just bend the stock standard stakes that came with the tent. These stakes come in either a 10 pack or 20 pack, so regardless of your tent size you can be sure to have enough.
On the ends of the stakes is a thick hard PVC plastic. These green plastic stoppers are awesome for looping your guyline around. They have either the hook end for hooking or the eyelet hole for threading the line through so it never comes dislodged.
When it comes to staking down your tent in hard ground and sand, you hammer these stakes in vertically. For best adhesion in softer earth, you go in on a 45° angle. At 10.5″ in length, these SE stakes will help your bent become more wind proof easily.
SE Heavy Duty Metal Tent Pegs Stake Set
Tips For Protecting Your Tent From Being Blown Away In High Winds
Wind Break Protection
While sometimes it is not entirely possible, but setting up your tent where there are multiple wind breaks is ideal. This will bring relief from the constant battering of wind you could receive in open plains. Setting up a tent behind a truck or car and using it as a wind break is another option.
When positioning your tent make sure the lower tent (if applicable) is headed towards the oncoming wind. This will allow the wind to flow over the tent instead of crashing into the backside.
Again, position the tent behind any possible windbreaks such as a solid tree (far enough away that loose branches don't fall on you), park tables, natural land wind breaks like a dune, etc.
The Tent Style
The two main types of tents are dome and cabin style. The cabin style is that of which resembles a cabin. So they are tall enough to walk around in while having almost vertical walls. These tents are not the ideal choice when it comes to high wind camping. The wind crashes into the vertical walls at 60 mph which can knock over the tent and lift it off the ground.
The dome tent offers greater protection from windy conditions. This is because they are lower to the ground and don't cop the full grunt of the winds. The winds will basically bounce off the domed walls and flow over the tent. Not wind pressure will be trying to force its way through, unlike a vertical wall.
A Geodesic Tent is basically your free standing tent that doesn't require pegs to tie it down. While these can be good in high winds due to their crossover support poles which tighten the bottom of the tent, they need to be well anchored to the ground. Without the addition of guy lines, a geodesic tent could end up in outer space. So read below on the importance of anchoring any tent.
Anchoring Down The Tent
The tent you choose is not stronger than how well it is anchored to the earth. This is done via tent stakes and guy lines that hold down the tent when the wind is trying its hardest to lift the tent into the air.
The tent stakes that come with the tent could possibly be not strong enough to handle 60mph winds. So you need to invest heavily in stakes and guy lines that are up to the task.
For each attachment on the tent or rain fly don't settle for just one guy line. If you are expecting some strong winds then use multiple lines from each attachment to pin it down to the ground. Going to the next level, add some shock cords to the guy out if you are willing to spend the money or time to make your own DIY style.
Adding this shock cord act as stress relief and more flexibility while the high winds are soaring through. This ultimately decreases the chances of ripping and damaging the material in your tent.
Don't underestimate high winds. Even when staked down and tied off with guy lines, winds can still rip out the stakes and lines and crumble your support poles. Be as thorough as you can when it comes to anchoring down your tent. But with proper preparation, even tents for camping with children can be safe from strong winds.
Quick Tips For High Wind Tent Camping
Avoid putting your tent stakes in the ground in an upward position. You want to hammer them in at a 90° angle so that the stakes are being pulled by the wind, the stakes are in the position to grip as much as possible.
Buy ridged stakes that mention they are wind proof. Avoid the flat smooth cylinder pegs.
If it's not rain that you are battling, take down the rain fly. This just acts as another potential hazard the wind can pick up and pull your tent away with.
Let wind flow through the tent via vents and ceiling opening if possible. This will reduce the amount of force the wind has on the side of your tent.
Learn a few camping knots so that your tents guy lines don't unravel like a slippery eel.
Bring any repair kit you get with your tent or some sort of patching system. Damage is quite possible after a strong sand wind storm. So be as prepared as possible.