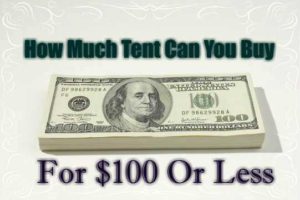 With winter done and dusted for another year, one of my in laws hit me up about finding the
best 4 Man tents under $100
. Immediately I knew the dark room tent by Coleman was the right fit for him so naturally I pointed him in the right direction.
But it got me thinking. Other people may also being looking to spend 100 dollars or thereabouts on a tent and need some friendly advice. Which is the purpose for this article. To help you find the a high quality and feature packed 4 person tent under $100.
But why spend $100 when you can probably get a 4 person tent under $50?. Well simply put, you want to get a decent tent that's going to survive the night and last you more than 1 season. Sure you can probably pick up a no name tent for $30, but how safe will you feel when a storm rolls in.
Should You Spend More Than $100 On A Tent
At the same time, you don't really need to spend more than $100 on a 4 person tent either in my opinion. For larger family size tents and serious backpacking expeditions, then yes. But I've found tents around the $50 to $100 mark to be a good price point for most people seeking a 4 man tent.
If you have never bought a tent before, $100 won't set you back too much either. These days $100 doesn't go very far anyways. But camping in a tent for several weekends a year is going to be far more affordable than resting up in a hotel or motel.
Is A 4 Man Tent Big Enough?
It's also important to note that a 4 person tent is not going to comfortably sleep 4 adults. While technically you can squeeze in 4 adults, chances of you enjoying it are slim. A 4 person tent is typically designed for 2 adults and a child or 2 if they are young.
If it you, your partner and your 2 kids, what I suggest is taking a look at these tents for a family of 4. They provide ample space and privacy for both the adults and the youngsters. Great family tents suitable for comfortable camping.
With that said, lets have a look at some of the best 4 man tents for under $100 or thereabouts. These prices may change over time, so do your due diligence and check for the latest prices online. Don't be afraid to compare prices with in store prices either.
Any Top Rated 4 Man Tents Under $100?
As mentioned briefly at the beginning of this article, the first tent I recommended to my in law was the Coleman dark room tent. Also known as the 4 person Sundome tent. Its not the most expensive tent on this list, but it still has plenty to offer.
Dark Room Technology
If summertime is your season of choice for camping, you won't find a better tent for camping in hot weather if you ask me. This is because of the dark room technology by Coleman.
The reason this is such a good tent for summer is because it blocks out 90% of the suns UV rays and keeps the inside of the tent much cooler. As much as 10% cooler inside the Sundome compared to other dome tents after being out in the sun all day long. 10% may not sound like much, but when the tents been building up heat all day long, reducing the inside by temperature by 10% is a godsend.
I also like this dark room tent because I'm a bit of a night owl and I like to sleep in longer in the morning. But when you typically go camping, the sun is so bright you get woken up at the crack of dawn. But with the Sundome, the walls are darkened so that you can enjoy the dark for longer. While the sun blocking technology is keeping the tent cooler in the mornings too. This is especially helpful if you have a youngster that still takes daytime naps.
Features Of The 4 Man Sundome Tent
The front left hand side of the tent has an electrical port access flap. This allows you to safely run leads in and out of the tent for power. When not in use the port can be closed off. Not all tents have this feature and considering this tents price tag, it's a great inclusion.
Features the Coleman WeatherTec system. What this does is makes the tent very waterproof and also resistant to moderately strong winds. The WeatherTec includes the polyethylene bathtub flooring so that ground water can't seep in through the seams where the floor meets the walls.
Many tents these days also use the flimsy thin wall material as the tents bottom. Not this Sundome, thick and durable polyethylene. The seams are also covered and the corners are welded so that rain can't penetrate.
What could possibly make this tent better?. A screen porch area, that's what. If you like the idea of having a front entry that is completely screened off against bugs, you can upgrade to the screened Sundome 4 person tent on amazon. This screen room also gives you a small awning so you can take shoes off etc under cover if it's raining.
Well ventilated with mesh ceilings.
Includes a ceiling hook for hanging a lantern or torch.
Decent size: 7ft x 9ft = 63ft2 footprint with a 4'11 ceiling height. Not too short that you can't sit up in. Good height even for tall people.
Overall the Sundome by Coleman is huge bang for your buck. It offers some pretty un-matched features and remains a quality product overall. A rather roomy 4 man tent with a decent ceiling heights makes this tent one of the best for around $100.
Tent With Vestibules Under A Hundred Bucks!
The 4 man tent 'Taurus' by Alps Mountaineering is another high quality choice that won't break the bank. Around the $100 area, this tent can be your companion for many seasons to come.
Weighing just over 10lbs, the Taurus is a lightweight camping tent and can be considered a backpacking tent to some. Although there are lighter 4 person tents out there for backpackers.
Whats great about the Taurus is that it has fair sized vestibules which offer 25ft2 of space. This is the area covered by the rainfly outside the tent. So essentially an area you can store your gear and even cook if brave enough. With the rainfly completely protecting the tent from bad weather, you can still have ventilation via the ceiling vents. This is a great addition and one not found on every tent.
Fractionally larger than the above Coleman Sundome, the Taurus offers 65.36ft2. Broken down into a 7'6″ x 8'6″ surface with a center height of 4'33 which is slightly taller than the Sundome.
Few Of The Details You Need To Know
2 door design. This is great when there is 2 or more adults using the tent as it means you can enter/exit through separate doors without having squeeze past each other.
The doors also have a zippered window for when you need additional air intake inside the tent.
Simple setup due to the free standing design that utilizes fiberglass poles which attach to a preinstalled clips.
Waterproof – 2000mm PU coated tub flooring keeps ground water out and 1500mm coated rainfly for keeping the inside dry.
Size 8 zippers are larger than standard to make entering and exiting the tent hassle free.
The Alps Mountaineering 4 Person Tent Range
Overall the Taurus by Alps Mountaineering is a great mid to high level 4 person tent. Alps actually has 3 lines of 4 man tents and this is the midfield. Meaning it's affordable, around the $100 area but has the upgraded rainfly which keeps the rain out compared to the cheaper line 'Meramac'. The more expensive line is the 'Lynx' which has lighter aluminum poles which do make a difference. But means blowing the $100 budget for a 4 person tent.
Best Packpacking 4 Person Tent
Can You Get One For $100?
Weighing just over 6lbs, this 3 season tent by Weanas is a great choice for backpacking enthusiasts, hikers and campers needing extra living space. It's a 3 season tent but it is designed to handle
extreme weather.
  But has enough mesh on the inner walls and ceiling vents to justify using this during the warmer months as well.
Whats awesome about this considerably big 4 person tent is the awning. The double door design has a flap which can be raised with poles to create a sheltered awning. This is a nifty idea as many 4 man tents do not have this feature.
The tents interior space is 48.81ft2, but this doesn't include the large vestibule/awning area where you can store your gear. The front vestibule area offers just under 10ft2 of storage space.
Waterproof Features
The waterproof features of the Weanas 4 person tent are quite solid. The floor has a very thick 5000mm coating which is more than double many other tents. The rainfly has a 4000mm coating on it to protect the tent from rain soaking in through the material.
These coatings are some of if not the thickest waterproof coatings I've come across. Because it's a tub style flooring, I can confidently say this tent will keep you dry.
But Weanas didn't stop there with it's impressive features against extreme weather. They even reinforced their aluminum poles to make the tent more resistant to strong winds.
Great For Backpackers
The lightweight design and the aluminum poles make this Weanas tent a great yet affordable backpacking tent. As mentioned earlier, $100 doesn't go far these days and for the amount  of tent you get for $100 it's quite the buy.
The shear quality shines through on this tent and the features it offers are just as quality. From the mesh pockets for storage to the fold out awning, the Weanas is certainly a good chance at taking the best 4 person tent for the money title this year.
Instant Cabin Tent By Coleman
When you think of cabin tents your mind instantly assumes 'too expensive'. But Coleman have defied the odds with this affordable instant cabin tent. Instant meaning it's set up takes just minutes and cabin means it has more vertical walls compared to a dome tent. The vertical walls are great for fitting camping cots inside as the walls don't angle down too much.
This 4 person cabin tent is a great match for car camping, obviously not a backpacking tent due to the bulkiness and weight of the tent. But for car camping you can set it up yourself in minutes and throw a queen size airbed in and you're all set.
Because this is a basic pop up instant tent, I highly recommend either throwing a tarp over the top or buying the separate rainfly for this 4 person tent. Without it you are leaving yourself open to getting wet as the inner walls are not designed to be as water tight as a rain fly is. The rainfly is not all that much more money and it's well worth the investment. You can see the latest price on the rainfly on amazon for this tent.
Get To Know This 4 Person Cabin Tent
Well ventilated due to large mesh windows on either side and doors. However one wall does not have an opening if you want 360° views.
Coleman WeatherTec  System: Welded floors and inverted seams.
Size: 8ft x 7ft = 56ft2 with a generous 4'11" tall ceiling. Not a huge height, but for a 4 person cabin you come to expect this.
4 Person Tents For Under $100
Buying a 4 person tent for $100 or under is not that difficult. Thanks to the internet and the online shopping world, selections have become more vast. These above examples are some of the best 4 man tents which cost around 100 dollars that I have experienced.
Its worth noting that tent prices fluctuate day to day and from store to store. So its in your best interest to compare prices as well as check for any other deals available. A tent maybe $100 today, but tomorrow may increase to $120. So it pays to do your research and be patient.