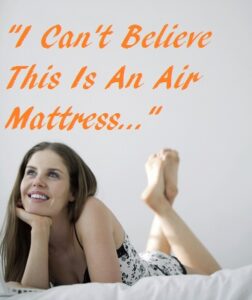 Air beds have come along way in recent years. Their design, comfort and the technology used have put them back on the map so to speak. So much so, many people are wanting to know
what is the best air mattress for long term use
and will it be beneficial for their bodies.
It's a common debate as to whether one should use a air mattress as a long term bed VS a regular bed, and one you should consult with your Doctor or Physician first if you have any health issues. But for some people, buying a long term air bed is the only solution available.
I have seen over the years various reasons as to why someone would want to use a air mattress instead of a regular mattress. Some of the common reasons are:
Students – A heavy duty air mattress designed to handle everyday use make for great Dorm beds, house sharing mattresses and are considerably cheaper than having to buy a quality regular bed. Which is ideal as students are on the strictest budget.
Work Away From Home – Often folks will get a transfer for 6 months plus and will be forced to pack up shop and leave the family behind. Instead of having the burden of lugging around a big bulky bed, a high quality air mattress can easily replace the bed, and for many people. Be more comfortable as well.
Injuries & Back Problems – Some folks that suffer from back pain find air mattresses great for pain relief. While some people recovering from an injury can be known to prefer an air bed due to the custom support levels available.
Budget: Air mattresses are considerably cheaper than buying a bed frame and regular mattress. So an air bed can be a great alternative when in a tight budget situation.
So What Is The Best Air Bed For Long Term Use Then?
Not one air mattress is going to be the best for everyone due to uncontrollable circumstances, such as being Elderly, health issues or even being too Tall. But what we have done is listed our top rated air mattress that we believe will suit many people. Plus this air mattress comes in different editions to cater to even more people. So now we present the Insta-Bed with NeverFLAT pump technology.
The Insta-Bed NeverFLAT Pump Range
There's a handful of different styles of Insta-Bed air mattresses with the NeverFLAT pump technology. The NeverFlat technology is crucial to a air mattress to be used on a long term basis. Which we will explain why in a second.
We will be reviewing 2 of the different Insta-Bed models for which we think will suit the vast majority of people. However, if you wish to see all available Insta-Bed NeverFLAT air beds, you can view them in the banner below.
What Is The NeverFLAT Pump Technology?
Both the air beds we are reviewing have the NeverFLAT pump technology. So we thought it's best to tell you what the pump is and what it does. So then you have a better idea of which bed to buy, as for both mattresses, the pump is the same.
The NeverFLAT pump is a secondary pump. This is an additional pump to your normal built in pump which usually has just the inflate and deflate options. The NeverFLAT pump is also built into the mattress. So no need to carry around bulky external pumps anymore.
What the NeverFLAT pump does is it automatically inflates your mattress while you are sleeping on it. Remember this is the 2nd pump, so it's not used to inflate the bed initially. The NeverFLAT pump acts as a way to prevent your bed from ever being flat. It has built in sensors which can detect any air loss during the night. So the pump kicks in and silently puffs a bit more air into your mattress. So essentially you have a solid mattress just like a regular mattress. However, with the Insta-Bed, you get one more cool feature.
The Built In Pump #1
Now we know what the NeverFLAT pump does, lets look as why the other Insta Bed's built in pump is so unique and essential for long term sleeping use.
So like any other built in pump, this one has the inflate, deflate and off switches. Just toggle between the 3 options for what you need. But whats REALLY cool about this built in pump and why it makes the Insta Bed the best air mattress for long term use is the other available options.
Before you simply inflate the air bed, you can choose your custom comfort level. So this means you can choose your setting and then flick the switch to inflate. The pump will go to work and automatically inflate the mattress to how you like it. Once it's inflates, the secondary NeverFLAT pump will take over and ensure you keep the comfort and support just how you like it. The available options range from Plush, Medium to Firm.
Our Top Rated Everyday Use Air Mattress
The Insta-Bed EZ Bed Review
The EZ Bed by Insta-Bed makes for a great alternative to a regular bed. As it is a air bed on a frame, you can accomplish the same look as a normal bed, which subconsciously tells you that this is in fact a real bed, and not a air bed.
Now if you're wondering if this bed frame is a pain in the you know what to put together. No need, put your worry aside. Because the Insta-Bed does just what it's name suggests. The bed self constructs into a fully functional bed in just minutes. First you unroll the entire thing. Plug into the mains and switch on. Sit back as the bed does it wonders and unfolds automatically into shape. The mattress is attached to the frame, so everything is pretty much ready to go. In the case of being portable, the EZ bed comes with a carry case which is on wheels. Very nice addition. So transporting this air bed is no harder than walking a small suitcase around.
*Bonus Tip: Use the underneath storage to your advantage. Unlike a raised air mattress you can easily hide things from view with this mattress.
But How Comfortable Is The Air Mattress?
The top of the mattress is flocked, meaning a soft and smooth material. So no hard annoying rubbing plastic that creaks every time you roll over. But what makes this mattress super comfortable is the insides.
Much like a normal air mattress with their inner spring coils etc, the Insta Bed range has a air coil system. What this does is creates air channels for full body support. This mattress has 48 inner coils which act as the foundation for your support. For a mattress to have 48 coils, you know it's going to be one supportive bed. Meaning, when you roll over, the air is not going to be lopsided and you won't sag on the bed like traditional air mattresses.
Our Next Best Recommendation For Long Term Air Beds
The Insta-Bed With Headboard Review
Much like the above Insta Bed with bed frame, this mattress also has the unique 2 built in pumps including the NeverFLAT technology. So you know immediately you got a great long term air mattress here.
The main difference tho is that this bed is not framed. But it is a raised air mattress which site at 18 inches from the ground. So getting in and out of bed everyday will be much similar to a regular bed. But you do loose the under bed storage area with the raised edition.
The Headboard is another nice addition to a long term air mattress. Not only will it resemble a real bed, but you also get the cushioned head board as protection and extra comfort. Plus 2 plastic built in cup/drink holders which is a very unique touch. However, the Headboard edition does cost more than just the Standard Raised Insta-Bed. Something you may want to consider if you don't really need a headboard.
As for comfort levels, you have the similar suede like flocked top. So initial contact with the mattress is nice and soft. It's really a toss up between this and the EZ bed for comfort. The raised model has a 35 circular air coil system which is 13 less than the EZ bed. But when you take into consideration the extra support and comfort a raised air mattress provides, I believe it will come down to personal taste.
Both of these Insta-Bed air mattress are great choices for long term use in our opinions. It boils down to whether you prefer a framed bed or a raised bed. Both are super comfortable and both will get the job done. For more brands and choices, please visit our Everyday Airbeds section.
Air Mattress That Looks & Feels Like A Real Bed
If you're going to invest in the
best air mattress for everyday use
, then it should look like a real bed right?. Well it doesn't have to, but it's less of an eye sore when it does.
Which is why the Air Mattress (Brand name) is such a good choice. Not only is it a fabulous bed to sleep on daily, but it also looks like a real bed. No one would know the difference thanks to the gorgeous looking side skirts that run all the way down to the floor.
The bed skirt is a hypoallergenic bamboo product so it serves for more than just stunning looks. What the hypoallergenic bamboo does is helps to eliminate those nasty bed bugs and dust mites. Which if you're using a airbed everyday could become a problem. Due to the very tiny pore size in the hypoallergenic bamboo, bugs aren't able to penetrate and ruin your good nights sleep. The airbed also has a cover sheet to protect the airbed itself.
What Makes This Air Mattress The Best Choice For Daily Use
While it's great the hypoallergenic bamboo material on the airbed protect you from bed bugs, what else does it offer in terms of daily use?.
Claimed to be one of the most supportive air mattresses for bad backs you can expect this airbed to be quite a comfortable mattress. Similar in design to the Insta-Bed, this air mattress offers internal support structures which support your whole body. Including support beams along the edges so that you can sit on the edges of the bed and not sink to the floor.
Built In Pump & No Leak Promise?
So a built in pump is mandatory if you plan to sleep on an air mattress for long term use. This air mattress comes with one and it works a treat. Whats cool however is the fact it has a secondary valve. This valve means you can use a external battery powered pump to inflate the bed should you lose electricity.
Or if you're into camping, you can take this bed along without having to have access to electricity. Not many airbeds with built in pumps have this ability, so I appreciate it fully.
The company that creates these airbeds was in the industry for 10 years selling other brands of airbeds. Over the years they learned that a leaking airbed doesn't have to be a problem. Through their years of experience they designed this unique airbed which is meant to be leak free.
What they did was combined nylon laminate and virgin vinyl to make this a double layer airbed. This material is not meant to stretch like your traditional PVC beds. The stretching of the materials is what makes airbeds leak. The air can escape through any tiny holes in the seams after stretching.
The end result is a airbed that doesn't leak air as frequently while being a very durable bed. So durable you can even use this as a camping airbed. But in saying this I have noticed over the years that there tends to be the occasional defective product. The seams come apart and air does in fact leak.
However Air Mattress (The brand) have a good reputation for replacing these faulty airbeds quite quickly. So this is some reassurance you don't always get with other big names in the industry. So all in all, it's a pretty good airbed for daily use and certainly won't look out of place in the bedroom.
Another cool fact is that this air mattress comes in"KING" size, which is extremely rare in this industry. Perfect for the parents bedroom of the house. Your more traditional Twin and queen sizes are available as well.
High End Permanent Airbed
If by '
long term airbed
' you mean pretty much a permanent bed, then be prepared to fork out some hard earned cash. While these hybrid air mattress beds are the most comfortable mattresses you will ever sleep on, they come at a hefty cost.
The air mattress bed I'm talking about is the Innomax Medallion. This is one super comfortable bed which is highly adjustable to cater to your individual specific needs. Which is why many people recovering from surgeries, injuries and back problems opt for one of these awesome beds.
What makes these airbeds so great is how adjustable they are. Using a remote control you can inflate or deflate how much air supports you. The controller goes all the way up to level 50, which is the firmest setting.
But what makes it better again is that both you and your partner have individual remotes that control only their side of the bed. So if you need the extra support a firm mattress offers you can have that while your partner has their side set on a lower level of firmness to experience pure plush comfort.
But just to remind you, these are permanent airbeds and do cost a lot more than your normal type of airbeds. You will also need a bed frame/box spring to support the mattress as well. But if long term sleeping on air is your goal, you cannot go wrong. To learn more about adjustable beds, visit our adjustable airbed guide here.
Buyers Guide To Choosing A Long Term Use Airbed
If none of the option above appeal to you, then your going to have to do some further research. Your needs and desires from a air mattress are what are going to determine which mattress you end up buying. No one can or should take that away from you. Don't let some salesman talk you into a airbed that's the most expensive if it's not something that appeals to you.
So with that said, I'm here to help. Below you can find a few of the key factors to consider when choosing a long term air mattress. Not all of these factors will be relevant to everyone, however the more knowledgeable you are the easier it will be for you to find the dream air mattress.
Intended Use
Whats your intended use for a long term air mattress?. Is it to sleep on until you can afford a more expensive mattress, is it for guests that stay over every second week, is it for relieving pain or is it simply to become your permanent bedding solution. Knowing your future situation will help you decide on how much to spend on a long term air mattress.
The Type Of Pump
As I have already discussed the major advantages of the NeverFlat pump I won't go into it again. But knowing your intent will help you decide what type of pump you need for your airbed. If it's going to be a dual guest bed and also a camping bed, then you will need to look into a air mattress like the "Best Choice" above. But if you never intend to take it camping, there's no need for an external pump.
Comfort & Support
Whatever you do, don't just buy the cheapest air mattress you find at your local dollar store. Especially if you really do plan to sleep on it daily. It won't be supportive enough to keep you satisfied night in night out. In fact it could do you more harm than good.
Always look for a high quality mattress with an internal support system. The brands that do have these call them different names like air coil construction and supportrest etc.
But it's your comfort that comes form the amount of support the airbed offers. Without support your body is applying greater pressure on its muscles, joints and nerves, making it very uncomfortable.
Air Mattress Material
Most airbeds are made from PVC plastic because of it's stretching capabilities. As you inflate the mattress the PVC can stretch. But more and more people are aware of the dangers of PVC and prefer to opt for PVC free air mattresses as an alternative.
If you can find a thickness level of the material, this will help you determine how durable the mattress will be. Especially if you do plan to take it camping.For camping purposes you also want a airbed with a durable bottom layer.
Lastly, the top surface of the airbed. Plastic tops annoy the heck out of most people, so try to buy a mattress with a flocked top. This will not only be more comfortable to lay on, but also reduce the squeaking noise every time you move.
The end result is a bed that doesn't Save