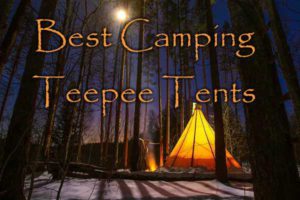 What separates the best teepee tents for camping compared to regular teepee tents? Choosing the right teepee tent for your next expedition into the wilderness could not be any easier, as I have listed some of the top-rated teepee tents on the current market.
Many people may be quite surprised to hear that teepee tents are making a strong comeback in popularity. According to Google Trends, the rise of these types of camping tents began in mid-2013. The trend hasn't stopped growing and is at it's highest peak in 2020 as I write this.
The rise in popularity may just be a fashionable thing, or it could be that these tents are kinda cool. I'm definitely a fan of these unique looking sleeping quarters. But the main thing that has influenced the recent increase in people wanting to buy a camping Teepee tent has to be down to manufacturers making them easier to assemble.
Compare Camping Teepee Tents
| | Size | Features | Price |
| --- | --- | --- | --- |
| | 10'x10' | 6'6" Ceiling, Sleeps 6, 1000mm Waterproofing, Air Vents, Easy central pole setup, Size 8 zippers | Check Price On Amazon |
| | 18'x18' | 9'9" Ceiling Height, Sleeps 10, 1 pole setup, Polyurethane floor, 4 windows, 1000 mm waterproofing | Check Price On Amazon |
| | 12'x12' | Sleeps 7, 4 windows and 4 vents for air circulation, 30 stakes included, 210T polyester durable fabric | Check Price On Amazon |
| | 4 Sizes up to 20' | Heavy duty canvas 4 season tent with option to include 2 stove jacks, 3000mm waterproofing, 4 windows | Check Price On Amazon |
| | 18'x18' | Heavy duty rainfly strong enough to handle winds up to 35mph, Ventilated roof with 4 windows for air flow | Check Price On Amazon |
| | 2-3 Person | Best for backpacking: light and compact design, 3 Season tent, 5000mm waterproof silicon coated rainfly. | Check Price On Amazon |
| | 12'x12' | 2 door tent with 1 door having an awning over entry, | Check Price On Amazon |
My Concerns With Camping A In Teepee Tent
While teepee tents look awesome and have a unique feel about them, the design is somewhat flawed. Because the footprint is round, it wastes a lot of space when plonking an air mattress on either side of the internal support pole. With a traditional camping tent, the walls are vertical and mattresses can fit snug up against the wall.
The other aspect of concern is that the tent is only high in the center of the room. Which is fine for shorter people, but tall folks will have to duck their heads on the occasion. Lastly, this can go either way. Because of the sloped sides of the tent, rain can hit the tent directly at the sleeping level. Meaning the raindrops are going to appear louder and potentially keep you awake.
The Best Camping Teepee Tents
Guide Gear is not new to the camping world by any stretch of the imagination. The brand has 3 Teepee tents for camping that I am aware of and they are very popular indeed. Lets briefly look at these teepee tents by Guide Gear to see what all the fuss is about.
Most Popular Guide Gear Teepee Tent 10′ x 10′
*Fits 2 Camping Cots
The smallest of the three, measuring in at 10 foot wide and about 6 foot 6 at it's highest peak. This olive green tent has a black cap to give it a distinctive appealing look that will be the focal point of any campsite.
In total there are 10 panels that make up this teepee and give it the circular cone effect. With each panel they are seamed with a waterproof agent to give the tent greater resistance to bad weather.
I Suggest Adding An Extra Waterproofing Layer
But in all honesty, this tent is not the best in strong downpours. It will leak. So I suggest looking at a cheap bottle of spray-on waterproofing and it will fix the job up for you. Something like this TexSports spray-on seam sealer will do the trick. Each of these panels is tied down with guy lines, so do be aware of the extra tripping hazards a teepee tent presents.
The floor of the tent is watertight. No leaks should be getting in from underneath. So ensuring you spray over the tent with spray-on waterproof, I suspect this tent to be a fairly water-resistant tent should the unexpected happen. Note that I do recommend using a spray-on waterproofing liquid to all tents anyways, to ensure greater longevity and weatherproof.
Overall it's a great tent suitable for 2 adults. Any more and it would feel too cramped. I love the airflow vents which are located in the lower half of the tent. This helps keep the air coming in and preventing the condensation from building up. Plus they look very cool from the outside. Other than maybe increasing the door size a fraction, I wouldn't hesitate to camp in this teepee.
Guide Gear 10' x 10' Olive Green Teepee Tent
The Biggest Teepee Tent For Camping 18′ x 18′
The biggest of the tents by Guide Gear is a monster of a tent. An incredible 18 feet wide this thing could host a party! Or at the very least satisfy a family full of campers.
Being so large, you may suspect that this thing could be difficult to set up. On the contrary, one person can set this teepee up in under 10 minutes. This is with experience obviously, so you may take longer.
In any case, it's probably the easiest tent of this size to put up solo, most other models, you need to have a second person helping. However, it is a lot easier with 2 people setting it up.
Enough Guylines To Survive Strong Winds
All up there are 30 guy lines that hold this teepee in place. That is a lot of guy lines, so be sure to allow enough area for this huge teepee tent. Some people have complained about the quality of the guy lines, but I think they are fine for what they are.
This is not a cheap tent, nor is it, high-end model, either. So the stakes and the guy lines included matching the accurate price tag of this ultra roomy tent. If you anticipate sleeping in a hurricane, then and only then would I worry about buying more heavy-duty guy lines.
The design is pretty similar to the other 2 Guide Gear models, airflow vents on the lower half and an open-air vent at the tip of the teepee which is covered by the rain fly.
So all and this teepee is very spacious, offers plenty of light and great air circulation. As mentioned before, you will need to allow a few bucks to waterproof this tent. In all honesty, it's cheaper this way if we spray on the waterproofing.
Guide Gear HUGE 18 Foot Teepee Camping Tent
12 Foot Camping Tipi Tent
Moving away from the Guide Gear brand, we come to the next best tent in my opinion. That is this 12 foot wide, 8-foot high ceiling teepee by Winterial. Amazingly, these things weigh just 15 pounds, which is rather light considering this thing can sleep 6 comfortably.
Similar in design to the guide gear models, this Winterial has a nice green and grey color combination going on. It also has the air vents and the open air vent at the tip of the teepee beneath the green rain fly.
As for the quality of this tent, it's certainly well built. This Winterial Tipi tent uses waterproof materials to prevent water from getting inside. This includes the attached bottom. However, as I said before, I always give all my tents a spray of seam sealer.
The above 18-foot tent used 30 tent pegs to hold it in place, which is the same for this Winterial tent. While it may seem like a little extra work, this tent has the added security of guy lines for a smaller tent. However, this is my one complaint. The pegs suck.
Use Glow In The Dark Stakes
Do yourself a favor and get some heavy-duty glow in the dark tent pegs from amazon. The pegs that come with the tent are cheap and nasty. I love these other pegs because you can see where NOT to step in the dark. Plus they aren't too expensive either.
Lastly, the final and biggest advantage the Winterial has over the Guide Gears is zippers. Yes, simple zippers. The Winterial tent has all the openings come with zipper closing flaps whereas the Guide gears are not. Therefore there's a greater chance of rain getting in behind the flaps and leaking through the insect screen.
Winterial 12 x 8 Foot Teepee Tent
Bext Canvas Teepee Tent For Winter Camping
The material a teepee tent is made out of will tell you a lot about the durability and lifespan of the tent. If it's made out of polyester then it's most likely going to struggle with extreme weather.
However, this Danchel Outdoor tent uses a high-quality canvas material, which tells you that it's much better suited to colder weather as it keeps the cold out and the warmth in!
Teepee Tent With Stove Jacks
This tent is a four-season tent thanks to it being made out of canvas and the fact it has a stove jack, with an option for a second if required. This really makes it handle the cold better than most other tents out there and is why it's one of the best yurt tents out there for camping also.
Available In Various Sizes
I'm a big fan of options when it comes to most things and especially tents, which is one of the reasons I like this teepee tent. It has four different sizing options so it will have something for almost anyone with the smallest being 10ft to the largest 20ft.
One thing I really like about this tent is how you can roll the body of the tent up. What this allows is for you to have a full 360° view which is a nice touch in the warmer months, and for those camping in an area with a view. While for some people this is a small thing I believe it improves the camping experience overall.
If you've never set up a teepee style tent before then I'd suggest doing it at home before going camping, they're not to difficult but take getting used to. It's possible to set this tent up by yourself but it's a lot easier if you have a second person.
Waterproof Features
When camping in a teepee tent, the last thing you want to experience is a tent that leaks. When you're enclosed in a unique space like this, even the smallest hole at the tip of the tent can make the whole tent get wet. In order to combat this, some heavy-duty waterproof features need to be in place.
Fortunately, Danchel has made this one of the best 4 season tents thanks to their incredible waterproofing system. Tight-knit cotton canvas alone is rather impressive with its waterproofing ability, but Danchel has taken it one step further and applied a 3000mm coating of waterproof.
What this means is the tent can handle up to 3000mm of rain before the water starts to penetrate the tent. 3000mm is a very high number and I've never endured a rain event with such large amounts of rain. Many tents max out at 2000mm, so you can see just how well protected this tent is from bad weather. This reason alone makes it one of the best tipi tents for camping, especially in the storm season.
Danchel Canvas Teepee Camping Tent
Family Size Summer Camping Teepee Tent
Tahoe Gear has gone out of there way to make a quality teepee camping tent which offers a lot of interior space. This 12 person teepee tent has a lot going for it and the amount of space it offers is perfect for family camping.
When they designed this tent they designed it with keeping the rain out! With it being made out of a high quality 1000mm polyester fabric that is water-resistant. Then they cleverly taped over the seams to give it even more protection from the rain which is something that's appreciated.
The tip of the teepee has been reinforced with a small rainfly to prevent rain penetrating it at its weakest point. The rainfly top is an excellent feature as the tip is where many teepee tents first start decaying. So reinforcing it with an extra layer of material is a superb touch.
Perfect For Hot Summer Camping Trips
The design of this teepee tent is very clever in a lot of different ways, but there's one thing that stands out for me, which is how they made the roof ventilated. Since heat rises, this is a smart move as it allows it to pass out easily, and keep it nice and cool inside the teepee.
To improve the ventilation even further, they put 4 windows on the teepee tent that can be covered as well. This teepee really was designed to survive the warmer climates which is why it does struggle in the snow season and certainly not the tent of choice in winter. For winter camping, the above Duchel tent is a better fit.
One thing I've noticed with this tent is that a lot of people are confused about whether the floor is attached or not. There was an older model where the floor didn't attach to the tent, which has now been changed with this new model. So the floor is now attached to the tent.
Being such a large tent that is 18ft by 18ft it offers a lot of room on the inside. It's able to fit four queen-sized mattresses which I think is very impressive. So if you're looking for a spacious tent for camping with the family, then this is a great option.
Tahoe Gear Bighorn XL
Best Backpacking Teepee Tent
Backpack camping is a lot of fun, but it can be extremely difficult at times. So having the right tent is essential, and I think teepee tents like this Mier teepee tent makes a great option for backpacking. Their design is what makes them a good option, in my opinion, the slope allows for debris to fall right off.
One of, if not the most important thing a backpacking tent needs to be, is lightweight. This tent does meet this requirement, with it only weighing 3.3lbs. Combine this with its small size when rolled up (16.5in x 5.9in) makes this a great option for a backpack camper.
This is a 2 – 3 people tent but you're not really going to be fitting 3 people in it in my opinion. You can fit two people in the tent but it will be a little tight depending on the size of them. It does make an excellent 1 person tent in my opinion with it having a lot of space for them and their gear.
Fast Setup & Take Down
Being a backpack teepee camping tent you need the setup and takedown needs to be easy and quick. Once you've had a little practice with the tent it won't take much longer than 10 minutes.
Part of assembly and day to day camping in a tent is doing up the zippers. Mier is one of the few quality brands to use YKK zippers. The zippers on this tent are double-faced and are of premium quality.
The rainfly of this tent has been designed with some smart choices in mind. It's made from a PU5000mm, 15D Nylon that's anti UV rays making it able to handle some more tough conditions. This works really well in the hotter summer climates, especially the anti UV protection.
The 5000mm coating of polyurethane means this tent is one of the best, in regards to it being protected from the rain. Its more than double the thickness of some other tents, providing you with a shelter that safe in the heavy rain periods. 
Making the inner layer of the tent a mesh that's great at keeping bugs out which is something I'm sure everyone will like. It also allows people who want to stargaze and still be comfortable inside there tent. It sounds like the perfect way to go backpacking if you ask me.
MIER Backpacking Teepee Tent
Guide Gear Elite With Awning 12′ x 12′ Teepee Tent Review
A step up from the green olive model is this stunning tan-colored teepee. This is essentially the 'upgraded' version which boasts a couple of considerable improvements.
The first is that it obviously has an awning at the front door. Note there are 2 doors directly opposite each other, but only one door has the awning over it. This is a very nice touch as it adds extra shade but it also adds a new level of rain protection.
Slightly larger than the olive green model, this tent can fit a queen air size mattress without knocking down the steel center pole or busting out the side of the teepee. This tent also comes with 2 large-sized storage pockets on the inside of the tent. This is a great feature for keeping valuables off the floor.
Are Teepee Tents Easy To Put Up
One of the concerns about teepee tents is that they may be difficult to setup. However, this is not the case, as the unique design of these tents is what makes them so appealing.
While setup times will vary from tent to tent, generally speaking, teepee tents are easy to setup. Larger teepee tents may require a second person to help due to the height of the tip, but other than that, most can be put up by a single person.
Are Teepee Tents Good For Camping?
Teepee Vs Tents
When most people think of camping, they imagine the cabin or dome style tents. Very few think about camping in a teepee tent. Is this because teepee tents are not good for camping with?
No, I don't think this is the answer, but I do feel teepee tents are certainly not for everyone. So while they appeal to some folks, in reality, the cabin style camping tents may be a better option for families.
This is simply because cabin tents have vertical walls and high ceiling throughout. Whereas teepee tents are a cone shape and restrict head height while standing up. Whereas with cabin tents, an adult can walk around inside the tent from one end to the other without the sloping walls or lower ceiling hitting their heads.
Benefits Of Camping In A Teepee Tent
Previously, a canvas teepee tent with wooden poles would be considered too much work for a few days camping. Too many poles and takes too long to assemble and takedown. Well, the good news is that leading camping brands have catered to this seemingly historic problem.
These days, the teepee tents are much much lighter and can be super easy to assemble. Some tents can be put up in under 10 minutes. So the 'hassle' has been taken out of the equation.
The other attractive benefit to camping with a Teepee tent is that they handle strong winds very well. Due to their cone-like design, gusts of wind can split around the teepee tent much easier than blazing into a flat wall tent.
While I don't really recommend any cooking inside a tent, the extra high ceiling of Teepee tents allows for greater 'flame reach'. If I was to cook inside a tent like this, I would make sure it's a stove that has plenty of spitting guards. The materials used in today's tents could easily ignite and burn down very fast. So always use caution when cooking/heating inside any tent.
Can You Use A Wood Stove In A Teepee Tent?
The unique cone design of the teepee tent usually allows for the use of a wood stove inside the tent. The higher ceiling with the tip in the center means you can set up a wood stove in the middle of the tent.
However, it's extremely important that the teepee tent has a stove jack. Whether you're using a wood burner or gas stove, the flute needs to exit the tent. A tent stove comes with these flutes so that they can emit poisonous gases outside of the tent.
Without a stove jack, the chances of you becoming sick or even dying are a real threat. The gases will build up inside the tent if there is no port for the flute to exit through. So if you're thinking of cooking inside your teepee tent, do the right thing and buy a tent with a stove jack.