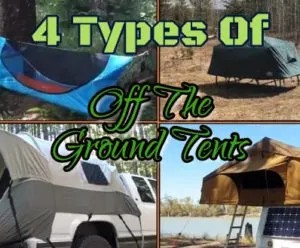 Tents that are off the ground are in high demand by campers that demand freedom, security and portability. These types of tents while unique, are designed for a specific audience. Sleeping in a tent that is elevated off the the ground is not everyone's idea of camping.
While there are certainly many benefits to this type of tent camping, for some people those benefits are not applicable. So there is no need to sleep off the ground in such a tent.
But for that people that want to get into this kind of thing, there are 4 main types of tents that are set up off the ground. The 4 types are described below with links to further resources on the topics.
However, here's a brief overview of the possible above ground tents available.
Best Off The Ground Tent
The Tent Cot
Tent cots
have picked up in popularity over the years since they offer you that extra protection from the ground. While you still should clear the ground before setting up a tent, with these styles theoretically you don't have to. Since they're not on the ground nothing can damage the bottom of it.
These styles of tents come in one or two people variety so they're designed for a smaller group of people. Which does make them great for small camping trips like a father and son trip for example.
How High Off The Ground Is This Tent
The Kamp-Rite is a oversized cot tent, so it provides you with extra wiggle room inside the tent. This is good for the bigger campers that find regular size cots too small. Its also good if you suffer from a small amount of claustrophobia as you don't feel as enclosed due to the larger size.
In terms of clearance under the tent, you get a generous 11 inches off space. This means you can practically sleep with your camping gear underneath the cot should you wish.
One of the features of this tent that I really like is that because of the way the base is designed, it can be set up into a reclining camp lounge as well. So when you're not using it as a tent, you can set it up to use as a chair. This gives it a bit more versatility compared to other tents on the market.
Setting up this tent doesn't take long once you've done it a few times, with it really only taking about 10 minutes. In my opinion it's taking it down that gives it an advantage over some other above ground tents. Since it's fairly light only weighing 32lbs if it rains you can pick the tent up and move it out of the rain, and take down under cover.
It's able to handle the rain since it does come with a rain fly which is a handy thing. It saves you from having to go buy one especially for it. While this isn't a big thing it's something that I appreciate as someone whose had to buy such things separate to many times!
Elevated Camping Tent
Hammock Tents
While sleeping in a regular hammock can be considered a desired taste, these hammock tents open up the opportunity for more people to experience hammock camping. If the idea of being eaten alive by mosquitoes while sleeping off the ground in a hammock deters you, these hammock tents are here to change that.
A hammock tent provides a sheltered area to sleep elevated off the ground while being enclosed in a tent. The hammock is completely encased in bug netting and finished with a waterproof rainfly. The rainfly on this WintMing hammock tent is oversized to better protect you from rain.
The oversized design means rain that has ricocheted from the top of the fly can't drip down inside the tent. Which is the reason I find this tent one of the best hammock tents on the market.
Hammock Camping Can Be Quite Comfortable
Hammock tents are something that I really like compared to most other off the ground tents. This is in big part to the fact that you're sleeping without anything sticking into your back. There's no hard floor underneath a mattress or bars from other types of tents.
It does have the possibility of being a backpacking tent since it's so lightweight. It only weighs 3.5 pounds for everything when it's folded down. This allows it to be carried really easy, so having to walk long distances with it isn't too difficult.
Once you've gone with a hammock tent you will find it hard to go back. This is just such a comfortable tent and makes some of the more frustrating things about camping enjoyable. No more will you wake up on the floor because your air mattress has gone down overnight.
One thing that did surprise me with this hammock tent was just how big its weight capacity is. It has an impressive 440lbs which is a solid amount and can handle some of us heavier folks. This is a feature that I can see a lot of people appreciating.
There are sadly two downsides to a hammock tent in my opinion. The first is that you do require either two trees to set up, or something similar. Nothing to set it up to is a big issue for me. The second is making sure you've set it up right, so it doesn't give way while your sleeping and you land on the ground. Both are frustrating but not deal breakers provided you do a little preparation in advance.
Tent That Sits High Off The Ground
Rooftop Tent
Rooftop tents are very unique and designed for certain people, people that like exploring the Earth by vehicle. The average camper won't be using a rooftop tent for regular car camping, but should they want to explore into more unknown adventures, the rooftop tent will quickly become your best friend.
A rooftop tent is one of the best overlanding tents as the tent required has to be portable and save space when it's not up since they have limited room on long journeys.
Overland Tent By Smittybilt
This particular model comes in two different sizes which is something I like, more options is always a good thing in my books. The available size options are: sleeps 2 – 3 people or 3- 4 people design. Which gives it a little bit more room for those who need some extra space for sleeping.
Since you'll be out and about with this tent, they made the smart design choice to include openings for star gazing. This is a nice touch for when you don't have your rainfly on and lets the tent breath as well. It makes relaxing while overlanding a lot easier to achieve. Even with the fly on, you can open up the slot to see out thought the roof of the tent.
Setting up the tent is fairly easy and doesn't take long which is what you need when overlanding. Nobody want to be spending an hour setting up camp while on the road. So this is another big plus in my eyes for this tent.  These extra comforts do make life easier while you're out there and allows you to enjoy your time more.
One thing to note with this tent is when attaching it to your vehicle is the instructions aren't included. They're online on there website which is an odd choice, but it's something I needed to mention to warn people if they purchase this tent and struggle to set it up. Do your homework in advance, learn how to set up the tent at home before going out into the wilderness.
Set Up A Tent In The Back Of A Pick Up Truck
Pick up truck tents
really are pretty self explanatory with their name. But for those who aren't quite sure, it's a tent that is designed to be used in the back of a pick up truck. You could use these for overlanding as well, but I feel you would lose to much room when your tray is used exclusively for a tent.
If you own a truck, this type of tent is a great way to set up a tent off the ground. This will keep you elevated and out of harms way. While forest creatures can and will manage to find their way into any tent that's been left open, being elevated gives you that little bit of extra protection.
These types of tents are often longer since they need to fit in the back of a pick up. So they do actually make pretty decent tents for taller people when you get the longer versions of them. They're usually not to wide tho and more designed for two people and maybe a pet or two in my opinion.
Since there are a large number of pick up trucks out there, trying to find the right size can be difficult especially if you have a long bed. This is one of the reasons I like this particular model because it comes in 4 different sizes including a full size long bed that's 8'2″ long.
Setting up the tent is fairly simple and easy but can get a little frustrating if you plan to drive everyday with your pick up. Since you would be putting it up and down every day which is a draw back. But this is only if you plan on driving everyday.
But if you're on the road alone or with your partner, this type of off the ground camping tent can prove very beneficial. Unless you're packing very heavy, you can store gear inside your cabin and leave the back of the truck for sleeping on the air mattress designed for truck beds.
With the rainfly on it's a very water resistant tent which is something you want in any tent. With the way these types of tents are designed does make them handle the rain better then most in my opinion.
Reasons To Camp In A Tent Set Up Off The Ground
The concept of sleeping in a tent that's elevated off the ground is a relatively new one for most people. There are many reasons someone may chose to camp this way and these reasons can vary greatly from person to person.
However, there are a few common reasons which I have mentioned below. At the end of the day, it doesn't matter why someone may want to camp in an elevated tent, what matters is that they are enjoying the experience of getting outdoors and being active with their life.
Camping in one of the above ground tents allows you to camp just about anywhere you want. It offers the freedom of pulling up to a nice shady spot and setting up camp without hesitation.
Quick set ups – All of these tents are relatively quick and easy to set up. So for people on the road, this is very appealing to them.
Can be a cheaper alternative to camping in holiday parks and camping grounds. Much cheaper than staying overnight in a hotel if you plan to use a tent like this while on a road trip.
Safer from wildlife. Being raised off the tent can offer peace of mind for people scared off ground dwelling animals. While I would never safe you are completely out of harms way, its better than sleeping on the ground if the thought of animals roaming around your tent at night frightens you.