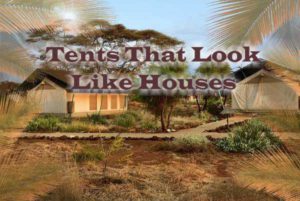 Below you can find
5 tents that are like houses
. These are unique tents in a way that you don't normally see them scattered across campgrounds. So why would anyone want a tent that looks like a house?.
Well, there's the unique aspect to them that makes them appealing. Some people like to stand out from the crowd. When you're camping alongside a large number of regular tents, they all start to blend in a bit. Having a unique house looking tent can really make your camp site pop.
Having a unique tent like this is especially handy for camping on long stretches of beach. When you're driving for many miles along the soft white sand, its easy to lose your tent when you come back looking for it. As there can be thousands of other campers set up on the dunes, its not easy to find where you set up camp. But having a unique identifier like a tent that looks a house, can really help you find your camp site in no time.
For others, its like their home away from home. Some of the tents below can be quite large and be used as holiday homes during the seasonal camping trips. So the appeal of a house looking tent is fitting, considering its your getaway holiday home for the duration of your vacation.
For others, it may be that they are just fun to have. Who else has a tent that resembles a tent, I mean come on. Its brilliant. So lets get into the 5 options I've managed to dig up.
Tent That Looks Like A Log Cabin House
This tent looks like a cabin house and is made by Timber Ridge. What better way to go camping in the wilderness than in your own private log cabin tent right. It is a large 8 person tent that is good for a number of styles of camping. It's useful for just a couple or a group of people. So you won't need several tents if you're bringing the family.
While it's considered an 8 person tent and could in theory fit 8 people. You'd be packed in tight and have no real room for gear, but this is most tents. But for a smaller group of people this tent offers a lot of space thanks to it being 13ft long x 12ft wide x 7'2″ high.
As you may of noticed this tent is decently high at it's peak so it can fit taller people fairly easily in most cases. This is a nice touch for tall people as they often struggle when it comes to camping tents.
It's a really sturdy tent that like most tents require you to get some stronger stakes for windy conditions. Apart from that it's a solid tent that can handle warmer conditions well, tho it does struggle with some of the colder climates. Which I would recommend a different tent for the winter.
Setting up this tent is really simple and doesn't take to long, with the biggest difficulty being the rainfly. This is made much easier with two people and would cut the set up time down drastically.
This is  one of the more stylish looking tents in my opinion, thanks to its timber cabin design they chose for it. It also blends in with the background if you're camping somewhere in the forest. Or of course, you can be the stand out in a campground showcasing off this tent that looks like a log cabin.
Camping Tent that Looks Like A Cabin House
One thing I love about these tents that are like houses is just how large they are. Being squished in a 4 person tent is something I couldn't do anymore because of these types of tents. Which is one of the reasons I really like this large 10 person tent in particular.
This tents overall design is very stylish since it does resemble what a cabin would look like. If you want to make every other camper jealous of your tent when you're camping then this is the tent to do it.
This cabin is one of the best tents with a screened porch area. What makes this porch area so remarkable is that the ceiling on the porch resembles the eaves of a regular house. So you get a lot of space and a really tall sheltered area. Best of all, it includes a floor which can be removed for easy cleaning.
Having a screened porch area like this is really useful when camping. It's especially useful when it's raining outside so you can sit in a chair and relax and watch the rain. Instead of being squished inside while the humidity eats away your last nerve.
The overall size of this tent is an impressive 20 feet x 10 feet with a maximum height of 7'2″ high. So it's very spacious with plenty of room for people and their gear. But as with all camping tents, it's better to have less people then the tents maximum people number. This just increases comfort.
The setting up of this tent isn't too difficult and very doable by one person. Tho it's easier with two people as with most tents. This is the same with tearing it down as well. Which is one of the things that this tent excels at compared to others.
Sadly it's not all perfect with this tent and that's thanks to the zippers sadly. Not all the zippers seem to be bad but there's a few cases where some are. This seems to be because of the plastic they're made of. While this isn't deal breaker it's something that can be an issue.
Camping Tent With Bay Windows
A camping tent with bay windows is quite rare and I feel is something that is often overlooked. Which in my opinion it really shouldn't be. It adds this extra layer of relaxation when you're sitting by it and looking out into the wilderness. This is great for those who may not be able to move as well as others and still want to watch what's going on outside.
This tent continues the trend of having a large capacity with it being a 9 person tent. This spacious tent is really good size with it being 14 feet x 14 feet. So this does offer you a lot of room.
One of the things I like about this tent is the mesh ceiling it has. If you know it's not going to rain, you can keep the rainfly off. It will allow you to be able to stargaze or let the moons light in. This isn't for everyone but being out camping is about enjoying the outdoors and part of the experience is sleeping under the stars.
Camping during those warmer months can be an issue for a lot of tents. They don't let in a lot of the air to keep it cool, which this tent excels at doing. This is in big part thanks to the large windows and mesh ceiling which gives it plenty of ventilation. This is a big plus for those who spend their time camping in hot weather.
If you want to go camping where it does rain frequently, then it's highly recommend to waterproof this tent with a sealer. The material the tent is made out of seems to keep the rain out but it also soaks it up. So I would follow the recommendation!
Wall Tent That Resembles A Tiny Home
I find this tent by White Duck to be very impressive while stylish at the same time. While also keeping to minimalist appeal at the same time. To me, it looks like its a tent designed to look like a tiny home. With the mad craze of tiny homes at the moment, its no wonder their aren't more tents that look like them.
The off white tent combined with the more standard white entrance does enough to make it look really good. It does give the feeling of looking at a house since you see so many white on white houses these days.
One thing I really like about this tent is that it gives you several different size options and the also a fire/water repellent version as well. It can come in a total of 4 different sizes with the smallest being 10'x12′ and the largest being 16'x20′. This gives it a wide range that other tents don't give you.
Comes With A Stove Jack
Having the ability to use a wood stove with a tent is one of those things you didn't know you needed until you tried it. Which if you go with the fire/water repellent version of this tent you're able to do this. It comes with a 5 inch stove jack so you can emit the fumes outside of the tent. When not in use, there's a flap you can put over the hole to keep rain and insects out. This does make it an even better tent for the cold months.
When tent companies go out of their way to make there products usable for all 4 seasons, it makes me take notice since it's not an easy feat to accomplish. This tent somehow manages to pull it off, being able to handle the colder months and the warmer months. This adds tremendous value to this tent in my opinion.
Setting up this tent by yourself is one of the hardest things to do and close to impossible in my opinion. It's highly recommended to have at least two or three people to set it up. If you have the people it's a lot easier but still a little time consuming sadly. This is the biggest downside to this tent which is actually quite impressive.
Bell Tents Look Like Homes
White Duck are becoming one of those tent manufactures that you associate with two things. Quality and options since they seem to excel at these two things more then most other companies. Again they continue this trend with this impressive tent that's hard to go past because of his quality design.
This White Duck tent is one of my favorite yurt tents on the market. It offers a lot of different size options and has the fire repellent version for those with a stove.
Multiple Size Options
It comes in three different sizes that are all fairly large but are measured differently because they're round. That is they are measured using the diameter of the tent, with the smallest being 13′ and largest 20′.
Four season tents are some of my personal favorites since I don't like having to own multiple tents for different weathers. Being breathable and then needing to keep the warmth in when it's colder, is a hard task that this yurt tent manages to achieve.
Thankfully you can set this tent up with just one person. This is in big part thanks to it's very simple design which makes it easy to set up. I don't know about you, but the worst part of camping for me is setting up and tearing down a tent. So this is something I can appreciate.
Is there a downside to this tent? In my opinion there really aren't any downsides to this tent that no other has. With the most noticeable being the stakes it comes with could be more heavy duty. It's an easy fix that almost any tent you purchase will require you to do the same. So it's not a big drawback in my opinion.
Can You Live In These Tents
Sure these tents may look like houses on the surface, but can you live in one of them permanently. Choosing to camp full time in a tent is a tough decision to make. Its by no means an easy solution to any life problems you may be facing.
Sure it can be cheaper than paying rent and your electricity bill which is basically gone. But unless you are a camping enthusiast, chances are you may hate it after a short month or two. When you deprive yourself of the basic necessities you have become custom to over the years, everything all of a sudden becomes harder.
From going to the toilet to taking a shower, nothing is as simple as it is when you live in a house. But for some folks, that's the beauty of living in a tent. The challenge and learning to adapt to your surroundings is half the fun.
So if I were to live any of these tents that look like houses, I would always go with the most durable option. That would be either of the 2 White Duck tents. They are built using heavy duty canvas material and use strong aluminum poles to support the walls of the tent.
Nylon or polyester tents would simply decay from the constant exposure to the sun and poor weather. So a tent that is made from canvas and looks like a house, could one day turn into a home for me.