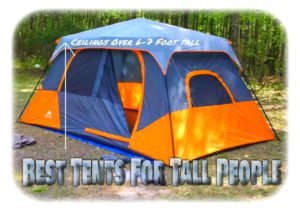 The best camping tents for tall people are the ones you can stand up in. However you can also get dome tents with  longer dimensions so that a taller person over 6 foot can comfortably lay down in without having bent scrunched up legs.
There are numerous tall camping tents with high ceilings that are ideal for the tall person, but differentiating between them can be quite difficult. There's more to a tent then say finding an extra long airbed.
A airbed is quite simple in design and serves a pretty basic purpose. While they're very important, they are not as complicated as choosing the best tent for a tall person.
So to help make the buying decision easier on you, I have tried out a bunch of tents suitable for people over 6 foot tall. While ceiling height was the first 'Must Have' feature, its pointless having a camping tent you can walk in if it's an all round lemon of a tent. Nobody needs a tent that drips every time it rains, or can get blown away at the first gust of wind.
So the tents listed below have other awesome qualities and features that work well with the taller ceiling height. Any tent that didn't meet my expectations got disregarded and will not appear on the list below.
The Best Tall Camping Tents
The 10 person Coleman instant cabin dark room tent with ceiling height of
6'7″
is my personal favorite tall tent. While is will be debatable as to whether it really is the best or not, it's still one mighty fine tent.
The reason you may or may not agree with me is down to 2 simple reasons which both center around this 'dark room technology'. I'm a bit of a night owl so I appreciate my sleep ins.
But when you're camping you cant really escape the morning sun. The sun heats up any tent very quickly and becomes so bright inside that a sleep in is almost impossible.
These are not ideal conditions to be sleeping in. But many people are the opposite and prefer to get up at the crack of dawn. So in this case, this tent may not be as appealing.
But for me, the dark room technology is a game changer. What it does is blocks out 90% of the Suns rays from penetrating the walls of the tent and keeps the inside of the tent up to 10% cooler than other tents. It's like sleeping in a well shaded area compared to sleeping in direct sunlight. This is why it's my #1 choice for hot weather camping.
Get To Know The Coleman Tall Tent A Bit Better
So if you can get over the thought of having a dark interior to the tent, the spacious open floor plan with 6'7″ tall ceilings makes this one of the best tents out there. The tent has also been previously tested in winds up to 35mph. I've heard of people using this tent in stronger 50mph winds, but I would recommend strong stronger pegs in these conditions. So it's not a bad tent for winds considering it's a cabin style tent.
Being a cabin style tent you open up the opportunities for greater living areas. Which the Coleman does perfectly. It's a huge 10ft x 14ft tent large enough to fit 4 queen size air mattresses. While being very spacious, you can also close it off with a room divider.
The room divider is solid in color so if you need privacy from the kids or fellow campers the option is there. The top 1/4 of the divider is mesh so that the air can still circulate throughout the tent which limits the amount of built up condensation.
This dark room tent is available in 4 person, 6 person or the tall 10 person tent which is the cabin style. It's also an instant tent so assembly is bare minimal. Allow 5 to 10 minutes and you're golden. The tent also comes with the famous Coleman WeatherTec system which if you don't know are features that reduce the chances of water getting inside the tent. Such as bathtub flooring, welded corners and seams which are covered so that rain can't penetrate in through the tiny holes.
There is still so much more to this tent that I can't fit on this review. If you want to know more about it you can view it on amazon to get a better understanding and more customer reviews. But like I said earlier, the dark room technology isn't for everybody, but it certainly works for me.
Almost 7 Foot Tall Tent For The Family
Never hit your head again in this family tent for tall persons thanks to it's incredible 6'9″ tall ceiling. While people 7 foot tall will still have to duck their heads, the majority of taller people will find this tent a dream to walk around in.
The tent in question is the Super Arizona by NTK. Along with the 6'9″ tall ceilings comes a massive 20ft x 10ft footprint. Making this tent one of the biggest family tents on the market. It's rated as my number one tent for a family of 6 campers.
The smaller version known as the Arizona by NTK ranked #6 best family tent in all of the tents throughout the USA back in 2016. This super sized version is just as awesome and will leave the family happy campers.
What I Like About The Super Arizona
This tent offers so much more than just a high ceiling, which is why it made this list of quality tents. We've touched on the size and concluded that it's simply huge. But the fun doesn't stop there.
This tent is great for rain protection and works very well in high winds. This is down to the design, shape and full coverage rainfly. With many tents the rainfly only comes down the sides of the walls a few feet. With this Super Arizona the rainfly goes all the way down to the ground. Which offers un-matched protection from heavy rain and strong winds. The rainfly is also 2500mm PU coated along with the tents seams. So it's waterproof and ready to go straight out of the box.
The floor of the tent is also a bathtub style floor, so it too is extremely well protected from water running along the ground. But the most interesting feature of the Arizona series is the cool front entry. There are two doors which are 'D' style zipper doors.
The front door is sheltered under a small awning. So you stay dry while unzipping the door. This little entry way makes for a great mud room as the room has a removable wall divider. So if the unthinkable does happen and the heavens open up, you can leave your wet gear in the front entry where it can remain safe and dry.
The other door is a huge door which basically covers the whole back end. This serves two purposes. One to act like a large door so that you can carry oversized cots inside and two the back ed can be turned into a large patio.This is done by raising the back end of the tent with poles and guy lines to create a sheltered awning area.
It's Great, But Not For Everyone
While I think the Super Arizona is a awesome fit for tall people, the shear size of it may scare some people off. Not everybody needs a 12 person tent. However if you like the features of this tent you can always consider the smaller 9 person Arizona tent which has a ceiling height of 6'2″.
Canvas 7 foot Tall Tent
Who doesn't love a canvas tent, besides hikers and backpackers naturally. If you don't mind the little extra setting up involved with a canvas tent then you can enjoy some of the most comfortable camping there is. Especially in this 7'5″ tall tent by Kodiak Canvas.
It's true that the ceiling is sloped and the highest point is in the center, but nonetheless it's still a cracking 7 foot tall tent. I like the fact the ceiling is sloped as it allows water to run off the ceiling and away from your tent.
Kodiak Canvas have long been a favorite canvas tent of mine, simply because they offer high quality gear without going too overboard with the price. Although you may find this cabin a little expensive, you got to remember it's made from 100% cotton duck canvas. So chances are you will burn through 4-5 cheaper nylon tents before this tent shows any signs of wear and tear. It's a tough tent built for tougher conditions.
What Makes This Canvas Tent A Winner
Lets have a look at the key aspects to the Kodiak cabin tent to see whether this is the tent for you. Keep in mind it's a very high quality tent so you be assured of the construction when pressing the buy button.
Very steep vertical walls allow the taller person to walk around much more freely.
Thick 160z strong and puncture resistant floor ensures you can go rough camping with the Kodiak.
Awesome multi functional side wall can be used as a large awning/porch area or rolled up to allow for additional breeze to flow.
High end #10 heavy duty zippers.
Limited life time warranty (huge selling point right there).
The 5 large windows with no see-um bug netting create a very well ventilated tent, even in summer.
The tightly woven duck canvas repels moisture rather than letting it soak in. So you can be sure that you won't get wet in this cabin.
108ft2 living space (12×9) ideally for a small family to camp comfortably in.
Not light so don't even think about throwing this tent on your back. Weighs just over 110lbs.
Cabin Tent With 7 Foot Tall Ceiling
The last of the cabin style tents for tall people is this 10 man tent by CORE. Many first time campers compare
Coleman vs Core tents
as their first cabin style tent, and for very good reason. Coleman have built up their reputation over the years and it would hard to find a person alive that hasn't heard of Coleman.
But CORE are a little less known. But don't take this as a negative, CORE and Coleman share almost the same values when it comes to camping. If you had to ask me know, Coleman or Core I would have to go with Core.
Simply because they produce higher quality tents from my experience. However, Core are slightly more expensive in some areas. But this is certainly worth it for the peace of mind knowing you have a really good tent.
So lets have a look at this CORE 10 person tent with a ceiling height of just over 7 foot. To be precise, 86 inches high. If you have done any research on Core tents in the past you may have noticed they have green and orange versions of their cabin tents.  The differences between them are simply. The green is an instant cabin tent which takes just 2-3 minutes to set up and the orange is not an instant tent. So it's a bit slower to set up, but more affordable.
What Makes The CORE 10 Man Tent The Best?
It's not easy to say one tent is specifically the best, but in regards to CORE I find they have the best value for money. When you compare the features, it all just makes sense.
Starting with the CORE H20 Block technology. Similar to that of the Coleman WeatherTec. All Core tents have this H20 block additive applied to the tent material. This increases the water proof capabilities and also blocks out some of the suns UV rays.
I've also found that while a cabin tent, this Core tent is quite sustainable against strong winds. I certainly wouldn't use it in extreme weather camping, but for the unexpected storm and wind gusts, the Core does a good job.
Going inside the Core you quickly discover the ample amount of storage pockets and the ceiling lantern hook. This is one of the key reasons Core trumps Coleman in my opinion. Ample wall pockets to keep important things of the ground.
You also notice the Eport which is located in the corner next to the large 'D' style door. This is a special electrical port for safely bringing leads into the tent. The Eport can be completely closed off when not in use as well. On the other ends are air vents located near the base of the tent. What these vents do is allow air to circulate in from outside and push the warmer air up and out through the mesh ceiling. Keeping the inside of the tent cooler and fresher.
While the foot print is quite spacious (14ft x 10ft) you do have the option to divide the room into 2. Which is a great feature for any occasion such as separating the living space from the sleeping space or separating the kids from the Adults. (you can thank me later).
My Overall Opinion On The CORE 10 Man
Overall the Core 10 person orange cabin tent is a good reliable family tent. The only upgrade I would consider is going for the instant cabin (green) version if your patience is wearing thin. But for the attractive price tag of the orange version, it's hard to knock back.
Backpacking Tent For Tall People
When looking for a backpacking tent for a taller person, height of the ceiling isn't the only thing to consider. Weight of the tent you naturally have to consider but the other important dimension for a tall person is the length of the tent.
If you're over 6 foot tall and the tent you're sleeping in has a maximum length of 6 foot, you're not going to get a good sleep in at all.
Firstly you're legs are going to be cramped as you are longer than the actual tent. This is not good for your body when you have a big day of hiking planned the next morning. The other thing is the angle of the tents walls means you actually loose some of the length.
Once you add a sleeping pad and your head/feet, the angle of the tents walls is going to butt up against your face/feet. So a extra long tent is certainly required.
The best tall persons tent for hiking/backpacking from my experience is the 'Friendly Swede Dome Tent'. Most likely you have not heard of this tent as its from Sweden. Good thing for me was that I lived in Sweden for 24 months and got to experience this tent. Whats even better is that it is now available on amazon.com. So more Americans with longer torsos can sleep easy while out hiking the Four Pass Loop in Colorado.
About The Friendly Swede Tent
First and foremost, the Friendly Swede is a 3 season tent, while capable of handling temperatures as low as 0°c, it is not the ideal tent for snow. But come the warmer months this 7'8″ long tent is perfect. If the weather is fine you can leave off the rain fly and have the open mesh ceilings and partial mesh walls allow fresh air inside your tent 24/7.
The floor is also waterproof with its bathtub flooring design. The floor is actually quite durable with the 3000mm PU waterproof coating and the 210D Oxford material. The rainfly is also coated with 3000mm PU. So overall its quite the water tight tent.
Protection From The Bugs
Living in Sweden I know all to well the importance of having a high quality bug protection system. This tent has just that. The mesh is super fine so no see ums and the annoying mosquitoes cannot get through. The actual rating for the mesh bug netting is 1275 openings every square inch, or 46 openings per linear inch. 1275 is quite a high number which is good as it means there are lots of tiny holes allowing more air to flow while keeping out the bugs. A lower number means that the holes are bigger and there's more chance of bugs getting inside the tent.
Quite Roomy
The thing I love the most about the Friendly Swede tent is how much space you get. Considering it weights just 5.9lbs in the carry bag with everything included, or only 3.7lbs if you leave the rainfly and guylines behind for summer camping.
So in terms of size, it's one of the longest 2 person tents I've come across. The exact length is 7'8″ and when you allow for the angle of the walls, even a 7 foot camper could lay straight in this tent.
The width is 4'9″ which is not too bad for 2 people. The ceiling height is also quite generous for a dome style hiking tent measuring 40 inches which is enough to sit up and do the things you need to do.
Overall  Thoughts
While I have barely scratched the surface with what the Friendly Swede offers, you can see that it's a unique and high quality tent for a tall backpacker. The features this tent offers are up there with the best of them, but it's the extra long leg room space that is the real winner. Tall campers can now sleep easy in a backpacking lightweight tent.