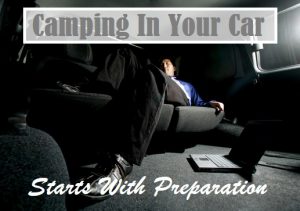 Lots of people can't or would rather not invest in campers and RVs. They would also rather not spend a lot of money on motel rooms that they only intend to use for sleeping. Since these folks basically just need a place to securely sleep, they find that their cars offer them the protection they need. People who plan to stay in the city can't very well setup a tent anywhere. The bottom line is that if you want to know how to camp in your car, regardless of the reason, you should be pro active and adhere to proper preparation.
However, whatever the reason you are camping in your car for will determine as to what is the best route for preparing for such an occasion. So with these tips and tricks below, I hope that you find yourself one step closer to knowing how to successfully camp in your car.
*Do note these are tips for sleeping in your car. For more general camping tips go to: Car camping tips.
Where Should You Park Your Car When Camping?
This is the biggest question that most car campers have. Of course, if you have friends or relatives with a home, they might let you stake out a space in their driveway. Otherwise, you can download a couple of handy apps that will tell you were you can safely and legally park your car while you sleep inside of it.
Some examples of these apps include Hipcamp and Allstays. Also, you are allowed to park on the side of any roads owned by the National Forest Service, but of course, you may need a permit to enter the park and cannot block traffic. In addition, over 75 percent of all Walmart stores in the United States permit overnight parking, and you can locate them using the Allstays App here.
Never run the risk of being caught sleeping in your car in an illegal spot. The fine won't make your morning very bright and then you will have wished you stayed in a motel for the night.
Sleep Comfortably While Camping In Your Vehicle
If you plan to sleep inside of your hatchback or minivan, you can stay off the hard floor and still conserve storage space with an air mattress. To inflate and deflate the mattress quickly, you'll probably want to carry along a powered pump, though foot pumps may work for smaller ones. Ideally a 12v camping pump would be best suited to camping in your car.
Types Of Airbeds Suitable To Car Camping
Depending on your vehicle, a single or double air mattress may very well be the best sleeping solution for you. They inflate very quickly and can be deflated in minutes. So they won't hold you up when you want to hit the road the next day. Compared to setting up a semi permanent sleeping solution which could be time consuming and space invading to set up and take down each day.
Fortunately manufacturers have heard the call for better sleeping solutions when camping in your vehicle.So much so they have designed airbeds specifically suited to certain types of cars. Here's a few that may tailor to your situation.
The best solution for sleeping in a typical sedan is to have a

airbed suited to a backseat

. These airbeds don't require to take the backseat down and use the feet space to set up a decent size and very portable air mattress.
The next solution to a comfortable night sleeping inside your car in particular minivan or SUV are these

specially made SUV air mattresses

. The are designed to fit in and around the wheel covers so that no space is wasted.
Lastly, we can't forget the pick up truck campers. These

air mattresses for trucks

are a genius idea for road trip camping with the partner. Built tough and designed to handle a very comfortable nights sleep under the stars from the back of a pick up truck.
Turn Your Car Into A Campsite
For the more longer term car campers these vehicle tents are simply incredible. What they do is turn your vehicle into a portable campsite. So wherever you park, you can attach a tent to the vehicle to create even more sleeping space.
Use the above air mattresses inside the car, while have the kids sleeping on traditional air mattresses inside the tent which is fully attached to the car. Here are what you can buy to turn camping in your car to comfortably living in your car:
The more common vehicle tent is the

SUV tent

. These tents attach to the rear exit of your car. What makes them very cool is that if you want to go for a drive and don't want to pack everything up, you can detach the tent and it becomes a standalone tent.
If you drive a pick up truck, these

tents for trucks

compliment the above airbeds very nicely. With these tents, you set up in the tray of the truck. This way you are elevated off the ground and have a secure and safe place to camp just about anywhere.
Live the high life in these

vehicle rooftop tents

. These are simply amazing to see and experience. What they do is attach to the roof of your SUV, Jeep and even trucks. They open up like a flower to have the best camping view anywhere you like.
Insect Protection When Sleeping In Your Car
When it comes to camping in your car during summer, it can become very hot very quick. Unless you want to leave the engine running all night and sleep in air con, the only other option is to open the windows to let some breeze in. But what else is famous for summer camping?. Mosquitoes, and they love to nibble on you during the night when you sleep with the car windows down.
The solution to this is pretty easy and affordable. Install some insect protection screens for your car windows. The ShadeSox brand is my preferred choice. It is flexible so that it can mold to just about any size car, SUV or jeep window. Best part is that it takes mere seconds to set up and take down. Now you can sleep at night with the windows down and not be eaten alive by insects.
The other advantage to these insect shields is that they are also UV blockers. Keeping the sun out during the day while you are driving or resting up with a nice book. If you are prone to mosquito bites and don't like the sun belting down on you, these will be great investments for your next camping in the car road trip.
Charging Devices When The Car Is Your Tent
You don't always want to rely upon your car's battery to keep your phone, tablet, and other electronics fully charged. In this day and age, there are solutions available that won't drain your vehicles battery.
You can actually purchase solar panel units that you can store on the dashboard of your vehicle to power up your electronics.
The best one that I have come across is the RAVPower portable solar panel with 3 USB ports. When folded up it is the size of a magazine and even has a pocket to store your devices and or cables. But the thing I like the most is that it is waterproof and very simple to use. The device already has 3 USB ports ready to go and they automatically detect the amount of charging power your phone, iPad etc require to charge without sending to much power to them. So it's smart, compact, portable and very user friendly. Just the way I like it. You should probably also invest in a spare rechargeable charger to use for emergency phone charges.
Don't Want To Rely On The Sun?
You can also find some public places that will allow you to charge your phone and other electronic devices. This website here is a handy one to keep bookmarked. Simply enter your ZIP code, and you will find stores and other public locations that have public charging stations. Some other potential sources of power might include hospital waiting rooms, libraries, and coffee shops.
Enjoy Some Privacy When Camping In Public
Car campers have come up with some pretty clever ways to provide themselves with privacy for changing and sleeping. Some use large plastic binder clips to hang sheets from the car's ceiling on the inside. You can also use magnets to hang privacy curtains or sheets over windows from the outside. Of course, the easiest solution is to shut the ends of the curtains in the window, so they will drape down over the glass from either the inside or outside.
Light The Night While Car Camping
If you want lights at night, you might not want to always have to rely upon flashlight or lantern batteries. You can purchase the kind of solar lights that people use to stick in their yards and "plant" them inside of a container. As an alternative, you can also buy solar lights that you can attach to the inside of your car with sticky pads on the back. During the day, they will charge, and at night, they will turn on to provide you with light. But make sure the lights you buy have the option to turn them on and off at will. That is unless you want your car to glow while trying to sleep.
How To Keep Yourself Warm When Camping In Your Car
The problem with typical heating options is that most of them are too dangerous to run inside a car or will draw power from your car's battery. You can buy some space heaters with rechargeable batteries, but you'll still need some ventilation and probably should only use them when you're awake to make sure they don't set something on fire. Your best best will be insulated blankets or a sleeping bag and to seek other shelter if it gets too cold for that.
If you do decide to go car camping in the cold of Winter, this 5 minute video tutorial below may be the tips and tricks you need to survive. Good luck with this one!
That Is How To Go Camping In Your Car
You can have a lot of fun camping in your car if you plan it right. Car camping can also help you save money on motel rooms. This is particularly true if you mostly just need your car for sleeping and have other places to go during the day. Take advantage of the airbeds for vehicles to really maximize the comfort of your road trip.
However, sleeping your car is not the best option for sub-zero temperatures, but some people say that their good sleeping bags and insulated blankets keep them warm enough at night. This is when I would prefer to camp in a oven insulated tent.
These have been just a few helpful tips and tricks for learning how to camp in your car. Preparation is the best tip to any camping adventure, so be as well prepared as possible. Don't forget to think about the food situation and whether you have room for an esky and food storage inside your vehicle. But most of all, have fun and do feel free to share your tips and experiences below.