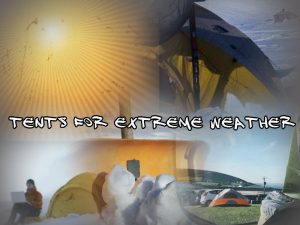 By buying the best extreme weather tents for camping you are taking a fair percentage of the risk factor out of crazy and wild weather. That is if you buy the right type of tent for the right type of weather event.
Extreme weather is described as an unusual weather event which is not typical for a specific region. But when it comes to camping, you're already well aware of the conditions that lay ahead. If not, then you should probably pay close attention to the weather before you set out to camp.
But extreme weather is not just limited to the freezing cold of Winter. There are other forms of extreme weather all campers should be aware of. This will help you to decide which tent is right for you and whether it is up to the task of battling the elements as you plan to do.
The Types Of Extreme Weather Tents Available
Below we are going to be covering the main types of extreme weather events and the types of tents you need to handle the conditions. The type of tent you need will be decided by the weather you expect to face.
If it's winter camping, chances are you will be in need of a 4 season tent. This is a pretty common tent for people that regularly camp in winter conditions. But your winter may be totally different to my winter. So it's important to due further research beyond what you find on this page to make sure it us completely relevant to your camping situation.
But for the most part, the extreme weather events you are likely to face can include the following:
Tents For Camping In Extreme Winter Conditions

You can pack as many foam mattresses and sleeping bags as you want. But if your tent is not designed for cold weather camping, then you are going to have a hard time combating the cold.
The trick to staying warm in winter is not letting the heat your body makes escape. So a tent which is not very well insulted will allow cold air to circulate far greater. So your body continues to produce heat but is lost on a poorly designed tent.
The more common nylon tents you see around the place are not necessarily the best for a harsh winter. A canvas material tent is a much better option. But canvas is not always an option due to the weight of them. Hikers for example will not be seen in a canvas tent, due to the fact they are too heavy to hike with.
If the warmth of a canvas is simply not an option for you, below you can find 2 lighter options. One affordable option and one more expensive option. I don't know what your budget is, but winter camping can turn deadly if the conditions are right. 3 hours left not sheltered or in a inferior tent can result in hypothermia which can kick in once your body temperature drops below 95F. So never sacrifice a quality tent for a cheaper alternative that you aren't 100% sure on.
Insulated Extreme Weather Tents
While trying to find the best insulated tents for camping you may have noticed there's not a huge selection available. This is because its a relatively new concept. But one that winter campers are very thankful for. Who would have thought, insulation in the tents walls to provide a warmer environment when camping in extreme conditions.
The Cocoon tent by Crua Duo is one of the best insulated tents for winter camping. Its a 2 person tent, which does help to keep the inside nice and toasty.
But what this tent also does is allows you to have control of the interior temperature, lighting and also block external noises out for a better nights sleep. Never before has camping in the extremes of winter been easier.
It's An Air Tent As Well
The remarkable thing about this Cocoon tent is that it is inflated by air to assemble. Much different to your regular aluminum and fiberglass poles structure. So assembly is super easy, not that many 2person tents are hard to set up in the first place.
While this tent insulation combo does have a pole structure as well, the basic concept of assembling the insulation layer is to inflate the 2 air tubes while the cocoon is laying flat on the inside of the tent. This will assemble the insulation layer and even adds a layer of insulation to the floor.
This is important because the cold earth beneath the tent can quickly suck the warmth out of your sleeping pad if it has a low R value. So an added layer of insulation will help your sleeping pad retain your body heat better.
Should the sun poke its head out and you find yourself getting a little too warm inside this tent, you have the option of opening up a small mesh window at the rear of the tent and also on the ceiling of the tent. So as good as a winter tent it is, it still plays a role in keeping you cooler should conditions change.
Affordable Winter Tent Option
While I consider the Alps Mountaineering Tasmanian 2 person tent 'affordable', it's still very good quality for the price. The moment you open the box you can tell that this is not a poorly made tent. It oozes quality and is back by a lifetime warranty.
But a lifetime warranty is pointless if you don't survive the extreme winter conditions right. So how does the Tasmanian 2 person handle the cold?
15 Inches Of Snow Overnight
What sold me on this tent was a recommendation from an existing owner whom had camped Mt Baker at 7000 feet in the snow. With 40mph winds and 15 inches of snow overnight, the Tasmanian held true to it's reputable 4 season classification. It's a great tent for keeping the wind out and if you can manage to keep your body heat inside the tent, half the battle is already won.
Whats To Love About This Extreme Winter Tent
As mentioned, it's a very high quality tent. It utilizes some of the best materials in the game which includes: 1500mm coated rainfly, 5000mm coated Taffeta flooring and aluminum poles.
Weighs just 7lbs.
Large vestibules for storing boots and gear outside the tent
Tonnes of mesh storage pockets that run along the sides of the wall and hang from the ceiling.
Extremely simple assembly, the poles literally snap together with the flick of the wrist.
Quite a roomy 2 person tent overall.
Keeps icy cold wind out.
Also available in a 3 person size.
Cons
Will be a little too bulky to pack down small for the serious hiker.
Doesn't come in a 1 person size.
Best Tents For Extreme Cold Weather
At this price point, I consider the Trango 2 person tent by Mountain Hardware the best 4 season tent going around. Without having to sell a limb to afford this tent, you can take on howling winds, heavy rain and of course snow.
While it's more expensive than the above Alps Mountaineering, you will be surprised at the Trango price point considering it's a far superior tent. To get the latest prices, you can check price on amazon here.
For a 2 person tent it is quite spacious like the above Alps Mountaineering Tasmanian tent. The ceiling height is 38 inches which is quite sufficient for sitting up during the night. The sleeping are measures 92″ long x 64″ wide. So it's a spacious tent with enough leg room for even the tall people.
There's also 2 vestibules on each of the tents ends length ways. The front vestibule is slightly larger and has snow flaps to keep out spindrift. The front vestibule is designed quite well. It gives you a little more headroom then you typically expect. This makes cooking under cover a possibility and going to the toilet during the night much easier provided you have a pee bottle.
It's inevitable that you will need to pee during the night, so don't be grossed out by the fact. Unless you want to take on freezing conditions outdoors, go in the bottle. Fun fact: our body has to work hard to keep urine warm, so it expels it at any chance it gets to reduce the amount of calories burned while keeping the pee warm.
What I Like About The Trango Tent
Very watertight
Quite spacious
Large vestibule with snow flap
Very high quality materials used
Great ventilation
Enough storage pockets you wont need to leave gear on the floor
Plenty of head room.
There Are A Couple Cons Tho
Fairly heavy for a 2 person tent weighing roughly 9lbs. But in saying that it's a sacrifice I'm willing to take for it being one of the best extreme weather tents.
Assembly is trickier than you expect. Make sure you set this tent up at home atleast once before you head out. You will be grateful you did.
Best Tents For Extreme Winds
When it comes  to camping in high winds, a free standing tent is not the way to go. Unless it's anchored down of course. Which negates the point of a free standing tent anyways.
The most common reasons for buying a tent for windy conditions is to go hiking and camping in the mountains. The basic concept is that the higher you are, the stronger the winds can be, especially in the ridge lines of mountains.  The extreme winds are often found much higher than the average camper will experience.
Mountains that are closer to the 'Jet Stream' typically around the 6000 feet mark and above experience the extreme winds where you will really need to buckle down inside your tent.
While you can implement all the tips to camping in high winds, if your tent isn't up for the task you can certainly expect the worst to happen. Below you can find my #1 recommendation from my list of the best tents for high winds which managed to survive over 60mph winds.
Hilleberg Jannu 2 Person Tent

Being a low to the ground tent is the first factor to consider when buying a tent for windy conditions. The Hilleberg Jannu is certainly low to the ground but doesn't sacrifice on stability and strength. This ability to stick to the ground without loosing formation is the tents best attribute.
No no window rainfly and one entrance minimizes wind from getting inside and lifting the tent. It's also good for keeping out cold winds and heavy rain. All in all it's a all extreme weather tent, but especially good at resisting high winds.
The only bad part is that the Hilleberg is rather expensive. So much so it's going to be out of the price range for many folks. This is because Hilleberg have built a reputation for making the best tents using the strongest materials for mountaineering.
But when all is said and one, would you risk a cheaper tent when going through extreme weather. Regardless of whether it is rain, hail, snow or wind. I know I'd feel much safer in a tent designed for these conditions and wouldn't regret the investment for staying safe during the night.
Few Facts About This Extreme Tent
Has survived winds of over 60mph
Wrap around straps are a brilliant idea as they tie to the guy lines to further anchor the tent in extreme rough conditions
Reinforced stress points
Bathtub flooring to keep the bottom nice and dry
Multiple crossing points with the 9mm poles. This creates a strong barrier for wind and snow.
Decent size vestibule
Excellent storm protection capabilities
7.1 pound max weight and rather quick set up form the outside.
Once again, the Jannu is a tent designed for heavy winds and storm action, hence the expensive price tag. Perfect for mountaineering and high altitude climbing. The reason the Jannu is so good in windy conditions is the intersecting pole support system. This allows the tent to be bashed from any direction whether it be snow, rain or wind. Winds can be chaotic on the sides of mountains. So a strong tent which is still considerably lightweight is perfect.
But if you only need a base camp tent to handle strong winds, you can buy a much more affordable tent like the North Face 25 and it will handle the job without burning a hole in your pocket. While offering more head space as the winds down lower are not as severe.
Best Cabin Tent For Extreme Weather
When it comes time to take the family camping in some pretty questionable weather, a cabin tent is what you will want for size. However, cabin tents have not got the best reputation for surviving in high winds and heavy rain. This is mainly due to their size and near vertical walls.
But if you insist on camping in bad weather with your family, the NTK Arizon GT tent is one of the best for bad weather. This is because it has the best protection from both wind and rain in my opinion. Considering its a 9 to 10 person tent after-all.
The Extreme Weather Features
What makes the NTK Arizona so good in extreme conditions being a big bulky tent?. Well to start with, the tent has a full rain fly from top to bottom. This gives rain no chance of seeping in through the tiny holes of the seams of your tent. Especially around the tents inner layer windows and doors.
The rain fly comes all the way to the ground, so rain simply washes away rather than polling up on your window seams. The seams on the actual rain fly are also heat welded so that there are no stitching holes for the water to soak in through.
The fly is also double layered and boasts UV protection, so it won't deteriorate as quickly as other tents. The tents water proof coating is a full 2500mm coating of polyurethane. Making it one of the thickest waterproof coatings out there for family tents.
The Nano Flex poles of the Arizona GT are shock corded so that they can withstand a good beating from strong sideways wind. This combines with the full rainfly and the hybrid dome cabin design allows the wind to flow over the walls of the tent.
Rather than bang into the sides of the wall like a bull chasing a red flag. So the wind has a route to escape and the frames are shock corded to take the full impact. During a sever weather occurrence, the Arizona has a nice air vent up at the top of the tent. This allows you to have fresh air flow inside the tent, even when its pouring down rain. Making it less stuffy and more comfortable for the family inside all bunched up together.
This same tent is also available in a 12 person model if you have a larger family.
Extreme Rain & Storms
In the event of an extreme storm, no tent is going to be 100% safe. Even tho the majority of tents don't use metal poles anymore, the shear impact of lightning can certainly be felt inside your tent. So buying a tent for the purpose of surviving an extreme storm event is wasted.
If you happen to get caught off guard by a unexpected storm, finding adequate shelter should be your first port of call. Staying in your car is a better idea than inside a tent when a severe storm is forecast. If your car is no in reach, try to stay low to the ground as possible. Lightning strikes are not predictable and being higher than other objects certainly puts you at risk.
Preparing For Heavy Rain Events
While camping in storms is not ideal, staying inside a tent during a heavy down pour of rain is doable. Provided you own a high quality waterproof tent that has all the features required to combat the rain. A good rainfly and even a tarp is recommended for nylon tents to better protect the inner mesh layer of the tent from getting wet and eventually turning the inside of your tent into a pool.
A tent with bathtub flooring is critical to surviving a heavy down pour if you . This type of tent flooring protects the inside of the tent from running water. Water will run down the sides of the tent and along the ground. Without a bathtub floor, the tent is subject to an increased chance of water seeping in through the seams of the tent walls where it meets the floor. Because a bathtub floor is about 6 inches higher up the walls of the tent, water can't flood the seams where they meet.
If the below canvas tent is not your style, consider looking at the best 8 Man tents for rain here.
The Best Tents For Heavy Rain
When it comes to camping in rain and when I say rain I mean days of what feels like endless rain, I prefer to travel with the Kodiak Canvas Flexbow tent. It's a canvas material tent, so yes it will be heavier to carry around. Certainly not for backpackers. But it's one of the toughest tents you can spend your hard earned money on.
I recently compared the two leaders in this field; Kodiak Vs Springbar and I can honestly say the Kodiak is a clear winner even tho it is a cheaper tent.
Especially when it comes to protection from the rain. The Kodiak has welded floor seams which feel like they are impenetrable. Teamed up with a thicker 16oz vinyl floor, the Kodiak is one super tough tent.
The actual canvas material is unique in a way that water runs off it instead of soaking the material like you would think cotton material would do. The way the fibers entwine creates a watertight and waterproof material. It's 100% duck canvas that is thicker, stronger and more resistant to heavy rain. When the rain is bucketing down, the Kodiak has two air vents which will allow fresh air to circulate keeping the tent nice and fresh.
The Kodiak also comes with a sweet awning that can be used for extra protection from rain. But if the rain is coming at you sideways, I'd recommend staying inside the tent. If you ever wanted to buy a canvas tent, this is the one to buy for extreme weather. Available in various sizes.
Surviving a Heat Wave Inside A Tent

The last of the extreme weather events you can endure inside a tent is a heatwave. One of the forgotten extreme weather events until it happens. Many people think, it's just a bit of heat, how bad can it be. When a heatwave or very hot conditions land on your tent, it can become very dangerous. Heat is a killer after all.
So preparing for camping in hot conditions is just as important as buying a tent that's sun proof. But what can you do to make sure you don't melt next summer?.
A method that is currently growing in popularity is to bring along a air conditioning unit. If you're on a powered site, or have a generator why not stay cool during the night after enjoying the fun in the sun all day long. A tent with a air-con vent is the best option as it allows you to keep the air con outside while still being 100% protected from bugs and rain.
The Best Tent For Extreme Heat
If lugging an air conditioning unit around with you is not your thing, the next best thing is a dark room tent. Coleman have a series of tents which are
dark room tents on amazon
. These range from a 4 person tent up to a bigger instant cabin style tent.
When it comes to escaping the heat, a larger tent is ideal as it has a greater area inside the tent to essentially heat up. For example if you had a small oven and a large oven both with the same power specs, the small oven will reach the hottest temperature the fastest. This also applies for tents, the sun will naturally heat the inside of a smaller tent a lot quicker than a larger cabin style tent.
Dark Room Technology
Moving on from the size of a tent into a new technology known as Dark Room technology by Coleman. Oztrail also have a Dark Rest which is similar. This dark room technology is what gives these tents the cool edge over other more hotter tents.
The dark room tents are exactly that, dark rooms. The interior of the tents are dark in comparison to your ordinary tent. The darkness of the inner layer of tent provides a shaded shelter. The shade of the dark ceilings and walls keep the tent interior cooler by 10%.
The outer UV repelling rainfly is said to block UV rays by up to 90%. What this does is keeps the tent cooler for longer. So not only do you get to go to sleep in a more acceptable temperature, you also get to sleep in longer. The dark ceilings and walls block out the sun, so you can actually sleep in longer during the day. No more waking up when the Sun wakes up!.
Camping In Extreme Weather Is Dangerous
If camping in extreme weather is what gives you a rush, the I have no doubt you will already be aware of the dangers involved. Leaving yourself exposed to the elements behind a thin layer of material during extreme conditions can be extremely dangerous.
So it's especially important that you are prepared before you head out. Packing a survival kit for the worse case scenario is recommended.
If you are a first time camper and just looking for a bit of a thrill, take it easy. It's not worth dying over. But if you simply want a good tent for wind, rain, snow and heat, its still important to understand the dangers of the environment. No tent is going to save your life if you are not thoroughly prepared for the worst. Camp wisely and have fun doing so.