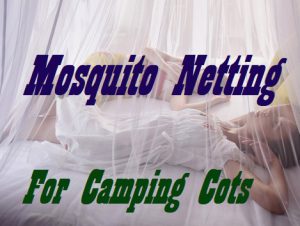 Going on the offensive to combat those pesky mosquitoes from biting you during the night with sprays, ointments and creams is not always the best answer. When it comes to sleeping outdoors, going on the defensive is the safest bet. Defending your body with mosquito netting for camping cots is in my opinion the best way to stay bite free during the night.
When it comes to sleeping under the stars in a camping cot, you're not left with much protection from mosquitoes at all. As mosquitoes love water (They even lay mosquito larvae in water), it's pretty rare to not encounter these bugs while camping. As many camping sites are prone to be near water for fishing, boating, swimming etc.
So if you are going to be sleeping on a standard camping cot either out in the open or in a tent which needs netting, prepared to be bitten. Unless you do one of three things.
Invest in some netting suitable for your cot. I have listed 3 possible solutions down below which will keep those buzzing night terrors out of your sleeping zone.
If you don't mind sleeping raised between two trees, perhaps a

hammock tent

is in order. These hammocks are ideal for campers as they feature a no see em netting to keep even the smallest insects out of the hammock tent while you sleep blissfully.

Buy a camping tent cot

. These are enclosed cots with a dome like tent attached to the cot. Very cool and great for the solo camper. They include mosquito netting as part of the tent. As well as a rainfly to keep you dry. This is by far the best and easiest solution to defending your body against mozzies while you sleep. But if you don't want a new tent cot, check out the 3 available cot netting below.
The Best All Round Solution To Netting A Camp Cot
The
Insect Protection System by Kamp Rite
is the best invention since the tent cot. While it is the most expensive item on show today, it is the best protection against mosquitoes while cot camping in my opinion.
Nothing and I repeat nothing gets through this super fine 'no-see-em' bug netting. Not even ants. The netting is extremely good and is my #1 recommendation if your tent is a standard size. The base of this mosquito netting system is 84″ x 30″ wide. So a military style single cot for an adult.
However, if you don't want to sleep on a cot, but still want protection from mosquitoes and the rain, give this thing a shot. The whole Insect Protection System is fully enclosed which includes a waterproof poly tarp floor. The same material used in tent tub bottoms to keep the water out of the tent.
So you can set this enclosure up on the ground, throw a sleeping pad down and you are in for one night of blood sucking mosquito proof night. The enclosure comes with loop holes so that it can be pegged down into the ground if you choose to use it without a cot.
In the event that you are sleeping outside of a tent, this system even comes with a rainfly to keep you completely dry if the rain does decide to make a presence.
Overall its a super mosquito free camping system designed for a cot. I really cant fault this product at all. Everything is high quality, the netting is so fine that no bugs can get inside, the zipppers are true Lamp Rite quality and the fact it can be used anywhere (Even on top of a normal bed) is a true blessing.
Kamp Rite Cot Insect Protection System
Suitable Cot Insect Netting Available Online
Top Choice For An Instant Bug Free Camping Bed
This is a super idea by
SansBug
. So much so it's been used on missions to where all the nasty bugs are all across the globe. True testament to how well this protects you from harmful insects like the mosquito.
So this netting just 'pops' up to create a bug free zone. It literally unfolds like origami and within seconds you have a safe place to sleep. However, don't try and force it into awkward positions when first setting it up. It has a natural unwrapping kind of motion. So do pay attention to the simple instructions and you will be fine.
Unpacking is just as quick. I found it takes less than a minute to pack it down and then into the included carry case which doubles as a backpack. This is kind of cool for going on hikes and such as you can feel confident that you will be bug free whenever you want to lay down for an hour or even the night.
The design is one that makes it a free standing netted tent. So you can practically use it wherever your heart desire. I've even seen this design used on the back of a boat. Some guy pushed down the seats, set up a air mattress and enclosed it within this mosquito cave. Pretty cool.
The size of this one is slightly larger than that of the Kamp Rite. It comes in at 86″ x 39″ wide. So if you have a larger cot, this may do the trick nicely. Overall I find the SansBug to be quite a decent price which offers very good mosquito protection. It can be safely used on a cot and has durable zippers to enclose you completely. The only thing this netting is protection from the rain as it does offer some shelter from the sun.
SansBug Free Standing Pop Up Insect Netting
Perfect Hanging Mosquito Netting For Boy Scouts
This product by CotMaster is a little different to the others mentioned previously. That is, it needs to be hung from a ceiling inside a tent, or trees, poles etc outside. So without anywhere to hang a net, this wouldn't be the best choice for you.
However, its a great mosquito net for inside tents especially those canvas tents the Boys Scouts provide. The netting has 6 attachment hoops that can connect onto the connections of a tent. Alternatively you can hang it by tying some rope to two ends and tying them off at either end of the tent. Or a tree if need be.
What makes the CotMaster's insect netting stand out from the rest are its measurements. Other brands will often have smaller sizes which make it very uncomfortable to sleep with netting on your face. Or if the net isn't long enough to tuck under a air mattress for example.
But this Super single size netting is the opposite. It is wider and longer than most standard nets. The measurements are 39″ x 84″ x 66″ tall. So this will easily cover a 6 foot cot and have enough length to it to tuck under something to keep even the most adventurous mosquitoes out of your sleeping zone.
CotMaster even have a larger version of this netting suitable for 2 camping cots. So ideal for family members of friends going camping in the same tent. As for the quality of the netting,  found it super strong. But, its hole size is slightly larger than the above mentioned products. While it can keep mosquitoes out, I wouldn't except no see ems to stay away for long.
Cotmaster SINGLE WHITE Rectangular Mosquito Net
Don't Stop At The Cot, Be Bug Free 24/7 While Camping
This is a great video which shows some pretty cool ways to enjoy camping without having to worry about bites and stings from the annoying bugs of the world. Check it out.