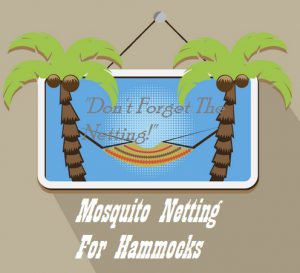 There's nothing better than relaxing in the open air while lounging around in a hammock. Except when the mosquitoes come out to play. These pests are the quickest way to ruin a camping trip.
Fending off these insects starts with netting your hammock. But not just any net. These blood suckers are smart and can zip in and out. So you must invest in the best mosquito net for hammocks when camping.
When buying a net to fit your existing hammock it's important to limit the number of holes. Preferably no gaping holes for mosquitoes to use as a race track to and from your skin. But as we know, not all hammocks are designed the same way, nor are the mosquito nettings. So there may be times where a small hole may become present.
This is why it's important to know how big your hammock is and how you plan to hang it up when you are camping. From there you can find an adequate net to suit your hammock. Predict where you are going to need guy lines (If any) or straps for a tree. Compare this to the mosquito nets measurements for the best possible mosquito-free camping trip.
*Do Note: These are mosquito nets that you hang and attach around your existing hammock. If you don't already own a hammock but want to be mosquito free, check out the hammock tent range. These are hammocks that come with insect netting.
Pro Tip
When you're as exposed as what you are when sleeping in a hammock, for the best protection against mosquitoes, investing in an ultrasonic mosquito-repelling band for while you sleep can prove to be the difference between winning the war against mosquitoes, or being eaten alive while you sleep.
The Best Mosquito Net Hammock Accessory
On a hot summers night, the last thing you want to do is cook inside a tent. You want to be sleeping under the stars and not be eaten alive by mosquitoes. This is where this
11 foot bug net by Legit Camping
comes in.
From my experiences sleeping outdoors, this is by far the best hammock netting available. It's incredible design allows you to fit this netting over practically any hammock out there. But best of all, it offers full protection from the not so friendly biting insects. The 360° protection is due to the pull cords that go around your hammock chain/rope etc.
These two ends are the only way mosquitoes can get in (Unless you don't do up the zipper). But Legit Camping has found a solution to this problem. Either end of the netting are pull strings. Pull on these to tighten the net around the hammock straps. This will block off any way in for mosquitoes.
The netting is a fine 30D knitting that is fine enough to keep out the 'Noseeums' (Sand flies, Gnats etc) which has a zipper down the center. Once you spend a minute setting up the bug free netting, you unzip and climb into your hammock. Pull the zipper back up and you are good to go for the rest of the night.
How it works is by attaching the included ridge line to the 2 trees, posts or whatever you hang your hammock on. There are clips at the top of the net, you clip them onto the ridge line. This keeps the net out of your face. Hang the netting over your hammock and you're done. Very simple and very effective way to keep the mosquitoes away when sleeping in a hammock.
The netting is super light, weighs less than 2 pounds I believe. Also very compact. While it comes in it's own carry bag, its that compact it can be packed in with your clothing. So the extra weight and space is certainly not an issue for hikers or backpackers either. Legit Camping even have a gurantee that if you are not satisfied then you can get your money back.
11 Foot Bug Netting By Legit Camping
Double Hammock Mosquito Netting
So the 11 foot encasement above was not big enough?. Well, look no further because I don't think you can get a bigger mosquito net for a hammock then this one by
King Outfitters
. Suitable for hammocks diagonally from 9 foot to 14 foot. Incredible size. I have even seen people use this one netting over 3 or 4 hammocks parked next to each other. Hows that for value.
Very similar to the Legit Camping design above, this model by King Outfitters includes 2 x 10 ft ridge lines. The netting is fine enough to easily keep mosquitoes out and the 'noseeums'. The netting is very high quality. I found it to be very breathable inside, and not too thick that it blocks out any views. Sitting under this net at night, you can easily see shooting stars and the likes.
I found the zipper to be premium quality as well. Actually overall, this bug net is premium quality, but doesn't have too high a price tag which I love. The zipper works horizontally much like the above Legit Camping model.
Either ends of the hammock are blocked off to bugs as well. So overall you get a full mosquito protection while sleeping in a hammock. The main advantage to this model over others is the shear size of it. Being able to protect multiple hammocks and double hammocks from one net is very cool. Makes it feel like you are still camping with your family if all bundled in together. Comes with a cool carry bag that features a buckle clip to pull it nice and tight.
9-14 Foot Mosquito Netting For Hammocks
Extra Large Mosquito Netting For Hammocks By Chill Gorilla
Strange name, but great bug netting for hammocks 9 feet to 14 feet in length. The main features of the Chill Gorilla bug net are the extra length over some other competitors and the quality meshing to keep mosquitoes out. It's pretty much the same design as the above two mentioned hammock mosquito nets.
Reason being, I find this is the best way to keep a net over the hammock when camping. Having the vertical zipper in the middle just makes sense. Compare this to a hammock net that uses a horizontal zipper and you will know the difference.
With a horizontal zipper you have to wiggle your way down to your feet to unzip which can be tricky while in a hammock. But with a vertical zipper you just pull the zipper up to let your legs out. No risk of tipping the hammock or causing unnecessary swing. The only thing I wish this style had was double zippers. One on either side of the netting. This would make it easier to reach for shorter people when trying to get in or out of the hammock.
The other noticeable difference of the Chill Gorilla over the King Outfitters is the ridge line which the netting attaches to via a hook. With the Chill Gorilla hammock netting the ridge line is about 16 feet. But all in all, all hammock nettings reviewed today are of premium quality and offer the best design for getting in and out of a hammock with mosquito netting on.
Chill Gorilla Extra Large Hammock Mosquito Net
While being protected when you sleep is critical for camping under the stars in the open air, protecting yourself from mosquitoes during the day is just as important. By using a high grade mosquito repellent you are giving yourself the best chance of defending yourself against these disease carrying blood suckers.