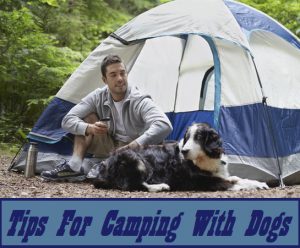 What can really compare to camping with your best friend Rover?. Getting back into nature with your dogs on your side is nothing short of revitalizing on every level. However, you should never underestimate the challenges and dangers involved with camping, especially when taking your dogs along. So, here are some tips for camping with dogs, and enjoying every second of it. It's not enough that you enjoy your camping outdoors experience, it's critical that your Dog is not only comfortable, but enjoys their time as well.
Dog Friendly Camping 101
Understand Your Dogs Personalities
As a dog owner, you of all people should know dogs have similar social traits as people. For example, some are aggressive, others are playful and friendly. You even get shy and scared dogs. Predicting how your dog will behave on their first camping trip is just as important as packing the sleeping bag and tent.
Before you follow these tips for camping with dogs, it's important to establish if they will be comfortable with the environment they are all of a sudden thrown into. And if you come to the conclusion they might act with some unpredictability, it doesn't mean you can't take them along. It just means you have to be extra patient and extra cautious. Perhaps take baby steps in warming them to the idea.
The moment they feel uncomfortable, you have to keep your cool. If you lose your temper as well, it's not going to be a pleasant camping trip. Plus you could freak your dog out even more and they may break loose. Trying to find your dog that's lost in the outdoors fat from home is not what camping is all about.
Preparing Your Dog To Go Camping
You might like the impulsive idea of jumping into the car and camp wherever the road takes you. But if you are responsible for someone or something else, you have to be prepared.
Also, you want to relax while you are camping with your dogs. You don't want to sit and stress over what you'll be eating the next morning.
Where Will Your Dog Sleep?
It's not uncommon to forget where your dog will be sleeping when you pack in a hurry to go camping. While some folks don't mind Rover sleeping in the tent with them. Other people prefer the Dog to sleep outdoors. A good solution for this is to get Rover his own dog tent. These are very practical and will keep your Dog nice and safe.
If you prefer to have your dog in the tent with you, there's a few things to consider when buying a tent for camping with dogs. Such as, can Fido escape while you're asleep, will their claws penetrate the tent and do you need a screened room with an open view. Some dogs prefer to see whats around them and a tent with an open view, yet your dog is restrained is the perfect solution.
Is The Campsite Dog Friendly?
First of all, it's critical that you make sure the campsite allows pets. Nothing is going to ruin your trip more than stopping there, only to find the dreaded "no pets" sign. It could be miles until the next dog friendly campsite, so do your homework now to save headaches later.
In addition to checking whether pets are allowed, try to find out if the site is dog-friendly. Just like you don't want to step into a dangerous situation, you don't want your dogs doing the same. If you are going beach camping, find out if the beaches allow dogs or not.
How Does You Dog Handle Bad Weather?
Some dogs are prone to behaving badly and freaking out when a storm arrives. Many home owners bring their animals inside in preparation for a storm. When you are out camping, home is the tent. Is your dog capable of handling storm like weather and would you be prepared to let Rover sleep in the tent with you?.
On your mission to find a dog-friendly camp, you will most likely learn about the terrain. And this is where preparation is really important because some terrains can be strainful on the dogs, especially if you plan on hiking.
Luckily, there are several dog camping supplies available, such as covers to protect their paws. Basically, ensure you have the supplies and equipment to survive safely. As mentioned earlier, it's supposed to be a relaxing time with you and the dogs. But you won't be relaxing if your dogs are too hurt to walk.
Expect The Unexpected
There's no telling what can happen on a camping trip, which is why people love it so much. But this is why campers usually have first-aid kits, and if possible, some way of communicating with the outside world. At the very least, tell a friend or family member exactly where you are going and how long you'll be gone.
Tips For Camping With Dogs On Site
After getting everything prepared and ready, it's time to consider rules and regulations at the campsite. So, if you want to take your dogs camping, and you want to keep doing it, you have to follow the rules. Don't let one bad experience deter you from camping with your dogs. Always prepare and obey by campsite rules.
Not everybody loves dogs as much as you do, which means they don't want them near their camping ground. When you are camping with your dogs, assume the other campers DON'T want your dogs too close. And if they have children, you need to be extra cautious. If in doubt, talk to your fellow campers and find out if they are happy with you camping with your dog next to their site.
Maintain Control At All Times
You know your dogs. Which ones will require a leach? And which ones obey your orders?
Understand that taking your dogs on a camping trip means constantly monitoring them and maintaining control. Basically, you become their comfort zone.
The other campers won't be impressed if you leave the waste around. As a dog owner, it's your responsibility to clean up after your dogs, and that entails everything. Also, take note to dispose of the waste properly.
After returning from your camping trip, check your dogs for ticks or other strange cuts or bites. This is just a precaution and can help to prevent serious problems if something bad did happen.
Camping With Dogs Is The Best
Make your camping trip with your dogs the best it can be by preparing properly, and choosing the right campsite all of you can enjoy. These tips for camping with your dogs are basic yet very important. Don't ruin the experience by disrespecting your dog, the campsite or other campers. Camping with dogs is one of the best experiences you can have with your best friend. So make it a memorable one!.