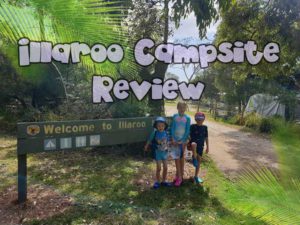 During this review of the Illaroo Campgrounds NSW in the Yuraygir National Park I will fill you in on all the details you need to know before you pack up you vehicle and hit the road. Or perhaps you're tossing up between a few campsites on the NSW North Coast and can't decide to settle on a location, so you need a little assistance.
That's OK, because that's exactly how I was when trying to decide where to camp over the September school holidays. With a handful of beautiful locations to camp throughout the Yuraygir National Park, it can be difficult to pick just one.
Or you could do what we did, book your site at more than one location and really make a trip out of it. The Illaroo North campgrounds is where we chose for leg one of the journey over a period of 3 nights. The second leg of our journey took us to the Sandon River Campgrounds, not too far away from Illaroo.
Why We Chose To Camp At Illaroo NSW
As I mentioned earlier, there's a number of great places to camp in the Yuraygir National Park. This national park is just over the Clarence River south of the Bundjalung National Park where we had a 3 night camp at Black Rocks previously.
So the area was familiar to us and the 3-4 hour drive over the QLD border was a nice amount of driving before the kids start to go car crazy.
But with school holidays fast approaching, we left booking a site a little too late for an extended stay. So I recommend booking at least 1 month in advance, even for the QLD school holidays. Believe me, you will feel like you're in QLD with the number of Queenslanders here during the first week of school holidays.
Which brings me to one of the deciding factors in choosing Illaroo for our first leg of the trip, you can actually book a site in advance. Other sites in the Yuraygir National Park, Shelley Head, Lake Arragan & Red Rock campgrounds have a first in first served policy. So ensuring we have a camp site booked after a 4 hour drive was essential to us, especially when camping season is in full swing.
Reviewing Camp Sites #1 & 2 At Illaroo
As with many of the campgrounds in the NSW national Parks, when you book online you can choose which site you want based on the type of camping you will be doing. Such as tent only, caravan, tent and trailer etc.
We chose Site #1 which lays directly next to campsite number 2. Not all sites were paired of in two's for the record. Site #1 is for tent, trailer, campervan & small caravans. Let me say, I was super impressed with the size of the campsite.
What we managed to fit on the number 1 camping site at Illaroo North and still have room to play ball with the kids:
Campsites Include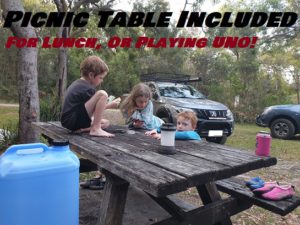 Along with our belongings, the sites also include a wood fire oven and a wooden picnic table with bench seats to share between joined sites. During our stay at Illaroo campgrounds there was a complete fire ban in the region, so sadly we missed out on testing out the wood fire oven.
The ground was relatively flat but had a slight slope towards the front of the site. So setting up your tent around this slope was quite easy. However, as the #1 spot is right next to the bush, you tend to get a lot of twigs on the ground. So ensure you sweep the area of twigs and rocks before you set up your tent. Amenities At Illaroo Camping site
Features The Campgrounds Provides
Whats great about the Illaroo camping grounds is that they provide drinking water. Sure its a short drive, like less than a minute up the dirt road, but it means you never have to leave the camp grounds to gather fresh water.
If you bring your own hot water camping shower, having access to water like this is like striking gold.
There are also non flush-able toilet blocks on the ground, all within a short walk from every corner of the campsite. Out side the toilet is a sink to wash your hands in, but this is not drinking water. No showers are available at Illaroo, hot or cold.
Dump Points
There are skip bins to put your rubbish in, including a recycling bin which is a really good move by the NSW national parks. Sadly there are no dump points for emptying your toilet waste at the Illaroo camping grounds. There are various dump points spread out around NSW, including a public dump point at WoodBurn NSW and along the Pacific Highway.
Communal Firepit & BBQ Area

I really liked that Illaroo had a large fire pit for people to gather around and share camping stories with new found friends. Too bad there was a fire ban on tho. But nonetheless, its a nice large open area for groups of people to gather and socialise.
The BBQ area we didn't use as we have our own camp cooking gear. But we did walk past it every day as its right next to the beach access point closest to campsite number 1. There are a few beach access points spread out through the campgrounds to make it more convenient for every camper.
Mobile Phone Reception
For once, our plans with Optus paid off for us as there is a Optus Tower nearby. I never expect to have any Optus coverage when camping in national parks, but to my amazement, Illaroo was rocking the Optus coverage.
Things To Do At Illaroo Campgrounds NSW
Besides relaxing and taking in the fresh air which many of us for camping for, what else is there to do at Illaroo campgrounds. For couples or singles its a lot easier to choose a site as you don't have to worry about entertaining short attention spanned children.
Fortunately Illaroo has enough to offer families to keep the youngsters busy for many days without hearing the dreaded "I'm Bored".

The Beach
The beach is just a stones throw away for some campsites, ours was a little further away being #1 and first site you see as you enter the grounds. Our kids love the beach, so its an easy way of entertaining them for hours before they realise they haven't eaten in 125 minutes.
The beach is beautiful, open and has plenty of sand to build sandcastles, throw the Frisbee and play beach cricket. Beach fishing is also permitted if you have paid the NSW fishing fee. It was blowing a gale so I only manages to catch a sand flathead. But there are other places to go fishing around Illaroo Campgrounds if you don't mind a bit of a drive.
Walking Tracks
Angophora walking track is located close to where you can get drinking water. This track splits off into different directions with various lengths to cater to people of all ability.
There's also the famous Yuraygir Coatal Walk which stretches from Red Rock to Angourie with overnight camping sites for the keen walkers. Otherwise you can walk from Illaroo to Sandon River campgrounds in a few hours.
Nearby Towns

When you're craving the taste of a real coffee as the instant coffee is longer doing the trick, just around the corner from Illaroo is a beautiful little secluded town of Minnie Waters. The coffee their is to die for and well worth the 2 to 3 minute drive.
I wouldn't imagine kids would enjoy walking that far, but it is certainly doable for keen adults. Its about 2.7km each way. Minnie Waters also has a patrolled beach during school holidays as the beach at Illaroo is not patrolled.
Visit Wooli When Staying At Illaroo
When craving a decent pub meal, you must get in the car and drive for 15 minutes to the beautiful coastal town of Wooli. A very nice establishment serving good sized pub meals in a relaxed environment. Give the snags a break for a day and treat yourself to lunch.
Ensure you have packed your fishing gear because Wooli is an amazing place to go fishing. It has the ocean on one side and the Wooli Wooli River on the other side. Even if you don't like fishing, you must see this place.  The views are spectacular.
Concluding The Illaroo Campsite Review
All in all, my family of 5 really enjoyed staying at Illaroo for 3 nights. We could could have stayed longer, but we had already booked in to camp at Sandon River. So 3 nights may not be enough for some, but perfect for others.
I really loved how the site provides drinking water, toilets, bins and easy access to the beach. Even beach access for 4wd beach driving. The only complaint we had really was that my Daughter got a tick in her head on the day we were leaving.
But you get that when you set up tent right next to bush land. Just part of the thrills and spills of camping in a national park. A toilet dump point would have made this campsite perfect, but for the price you pay, you really can't complain. To make a booking, you need to head over to the NSW NP website. Happy camping.