I hope you love the products I've recommended below, just a heads up that as an Amazon associate, I earn from qualifying purchases. This means I may earn commissions on products bought via links on this page.
In this Black Rocks Campground NSW review, you can discover why, where and what there's to do at this fabulous gem of a camping spot. While this last trip was our first time in the Bundjalung National Park, it certainly won't be our last. There's so much beauty to see and life to be lived here.
As the Ekka 2019 long weekend was fast approaching, anticipation for our next camping adventure was building. After buying the yearly vehicle pass for NSW national parks on our recent trip to the Snowy Mountains, it made sense to fully utilize this vehicle pass by visiting one of the included parks. Which the Bundjalung park is.
Without the annual pass it will cost you $8 per day to drive throughout the park. While there is no stopping booth to check you have a pass, do the right thing. Support the national parks, environment and pay your way or risk the fine.
Why We Chose The Black Rocks Campground
To be completely honest with you, we were kind of rushed into making a decision. As I said earlier, the Ekka show day (QLD) in our region fell on the following Monday. So a decision had to be made fast.
Based north of Brisbane, we didn't want to travel too far for just a quick 3 night getaway. This was a major influence on our decision to camp at the Black Rocks Campground.
However it was a good decision, because the afternoon traffic leaving the City and heading towards the Gold Coast was insane as any regular would know. Without traffic, it should have taken us about 3ish hours to drive. But unfortunately the traffic jam cost us an hour and we ended up setting up base as the sun set. The things you got to do on a school day to take the kids camping right.
While it was a rushed decision to head to the Black Rocks Campground in the Bundjalung National Park NSW, it ended up being a very good choice.
Do You Need A 4WD To Camp At Black Rocks?
While we took our 4WD to Black Rocks, it certainly is not required. From what I read there's not too may 4WD tracks in the area anyway. But we weren't there to 4wd (this time) and the roads to the campground are quite gentle for 2wd anyway.
Once you get onto the Gap Road after leaving the Pacific Highway, you will eventually hit a dirt and gravel road. This road goes for about 20 minutes at 50kmph. There's nothing challenging about this road besides the pot holes. So be sure to keep your eyes on the road as there was quite a few deep pot holes when we went.
We drove this road at least 6 times, even at night. So there's nothing to worry about here. But do be sure to keep your eye out for the odd Kangaroo, Koala and bathing cows.
Can You Drive On The Beach Near Black Rocks Campground?
Yes and no is the short answer. Provided you have a 4WD and let the pressure out of your tires, you can certainly drive on the beach south from the Black Rocks Campground. You are not allowed to drive north of the campsite and there are allocated signs to state this point.
Unfortunately, there is no beach access point for a 4wd to drive on the beach anymore. Due to rising seas and wild storms, the beach access ramp for beach driving is no longer there. You are not even allowed to walk down this section that once was the 4wd access point.
It is too badly eroded, however there are multiple walking beach access points from the campsite, just not this one anymore. Having no 4wd access to the beach was a bit of a let down for me.
Getting Your Vehicle On The Beach
As I said earlier, you can drive on the sand south of Black rocks Campground. But getting your car onto the beach means you need to enter at Sharks Bay just outside of Iluka. However driving to Iluka from the campsite entailed an hour long journey each way.
So if you have the time, do make sure to spend the day at Iluka checking out the Heritage listed rain-forest, have lunch, coffee and then head over to Shark Bay. From here you can drive onto the beach known as Ten Mile Beach. Where it will take you all the way up to the Black Rocks Campground.

But just remember you won't be able to exit the beach here, you will need to turn around and drive back to Shark Bay. So be sure to allow enough time either side of low tide to drive to and from on the Ten Mile Beach.
What Are The Camp Sites Like?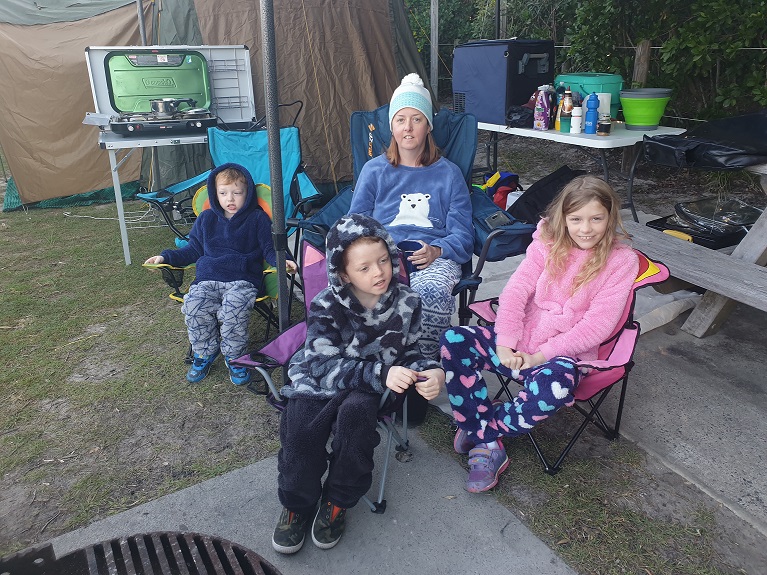 When you go to book your site online, you can choose which spot you want to reserve, and reserving a spot is required. Depending on the type of camping you are doing, you can book sites for standalone tents, tents with vehicles, RV's/Caravans etc.
Don't make the same mistake I made and reserve a tent site when you plan on having your vehicle next to your tent. That is unless you have just a small tent and don't need much space.
But us being a family of 5 were camping in the 12 person Coleman Montana tent, which by no means is small. While it's a great tent for a family of 5, it takes up a lot of space. We also brought a 12×12 gazebo and that combined with the 4wd would have not been enough room.
Fortunately I managed to have one bar of Optus reception in the park, so I was able to call the National Parks hotline on 1300 072 757. The lady on the phone was quick to help me through changing the reservation to a bigger spot and best of all I was not charged any fees. So Kudos to NSW National Park.
For you reference, here's a link to the allocated campsites and which spots are for tents, vehicles etc.
Your Own Private Paradise
What I really loved about the camp sites at Black Rocks was how all the sites were sectioned off. So everyone had their own little secluded piece of paradise. Each site is separated by trees, shrubs and general forestry. So you weren't exactly camping on your neighbors doorstep.
As a added bonus, all the sites come with a fire pit with cooking plates as well as a timber bench table. This was totally unexpected and such a helpful addition. Needless to say the fire pit got used every night as we were camping in winter, while the table came in handy for dinner time.
Overall, we were all very pleased with the layout, cleanliness and features of the camp site. Pretty good considering its just a patch of land to set a tent up on right.
Fishing At Black Rocks Campground
For the fishing enthusiasts, you're just a very short walk away from beach fishing. While you can't cast a rod from the comfort of your tent, the short walk will prove no obstacle. We didn't get around to beach fishing this time as it was blowing a gale. Somehow our tent managed to survive 3 nights in harrowing winds.
But we did get to fish on the Jerusalem River. This is a secluded spot which is also in walking distance from camp which also incorporates a nice walk along the river to the more off grid camping location. Be sure to pay for your fishing fee in advance, you can also do this online here.
Wildlife A Plenty
Probably the most loved part of our 3 day getaway to Black Rocks Campground was the amount of wildlife wondering around. At our camp site alone we encountered bush turkeys, Bandicoots at night (Which were adorable), bats, countless number of birds.
During out fishing adventure around the corner at Jerusalem River we encountered an Echidna. This was such a treat for the kids as they have never seen one up close and personal like this.
Unfortunately we didn't see any Emu's on our 3 day stay. Which is a bit of a bummer considering Emus are meant to be prevalent in the area.

Things To Do At Black Rocks Campgrounds
The little secluded spot on the beach has so much to offer. It really is a gem of a find. There's so much to do in and around camp as well as some of the nearby towns. If its entertaining for a 4 year old, then its got to be good. So here's a recap of the things we did and some of the other things there are to do at Black Rocks Campgrounds Bundjalung National Park.
Beach Fun: Paddling in the water, building sand castles, walking along the beach.
Hiking/Walking: There are a few walking tracks at the doorstep of the campgrounds.
Fishing
Paddle boarding, kayaking, canoeing up the Jerusalem River.
Collecting sticks for the fire pit. Trust me the kids loved it.
Spotting local wildlife.
Black Rocks Amenities
Unfortunately there is no shower on site, so be prepared to rough it or pack a solar shower. However there is 2 toilet blocks with 2 toilets in each. The toilets don't flush, but there is toilet paper.
There are push button BBQS spread out around the site if you don't bring your own gas burners. 2 sites up from where we camped there was a communal area with a BBQ and table and chairs.
Phone reception is scarce with Optus. I would assume Telstra may be more forgiving. But considering I got no reception at all camping on Teewah Beach, having one bar was like Christmas.
There are no allocated bins. So its critical that you take your rubbish with you and keep this place beautiful.
Nearby Towns We Visited
During our 3 night stay at Black Rocks Campground we visited the nearby towns of Evans Head and Iluka. Both of which I highly recommend you take the time to visit. Here's an overview of whats on offer in each town.
Evans Head
35-40 minute drive from Black Rocks
The most spectacular lookout point overlooking the beach. Must see!
Top up your food supplies at the local Spar or IGA.
The best coffee ever from the Evans Head Surf Club Cafe (Downstairs)
Caravan hot spot.
Iluka
About an hour drive from camp.
Heritage listed rainforest with a 2.5km rainforest walk to Iluka Bluff.
Iluka Bluff the land of unlimited shells. This beach has an unbelievable amount of shells for the kids to collect.
Sharks Bay (4wd Beach)
Main Beach which is very long. The most southern end has a small 4wd section.
Spectacular family food at the 'Sumth'n Tastee On Charles'
Ample camping/caravan parks
Beautiful sleepy coastal town.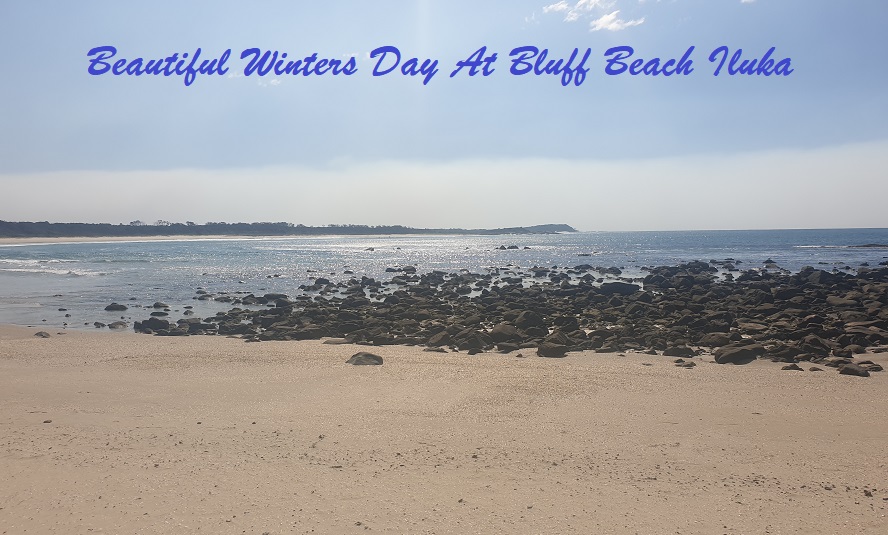 Finishing The Review Of Black Rocks Campgrounds NSW
How Long Should You Stay
I feel that the 3 nights we stayed were a day or 2 short. We rushed a lot of things because of this shortened time period. If you're taking kids, 3 or 4 days might be the sweet spot. But if you love venturing out and exploring, there's heaps to do in the national park as well as surrounding areas.
So if you're driving a fair distance, over 3 hours, I would suggest staying for a minimum of 5 days. Take the time to explore, go driving on the sand, explore more fishing holes, go on plenty of sightseeing hikes and hopefully come across an emu or two.
Overall, we really enjoyed our short but adventurous stay at Black Rocks Campgrounds NSW. I hope you have enjoyed this review and if you have any questions, please feel free to drop them below in the comments section.