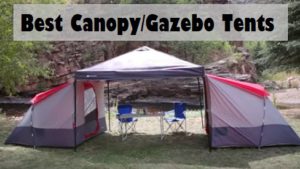 Below you can find some of the best gazebo tents for camping. These canopy tents offer a unique approach to camping. While they are currently not as popular as camping in a traditional tent, they are certainly gaining traction.
With canopy wall tents you are able to attach up to 4 x 4 person tents, this is where they have the advantage over your traditional 8 person tent. Each side wall tent could hold at least 2 people. So when you go camping in a large group and want to book just the one campsite yet don't want to have 8 people sharing the same tent, these canopy tents make for the ideal choice.
This gives large groups the freedom to have their own privacy all while camping on the same camping site. This type of setup is a good idea for a family of 6 that wants a bot of privacy and space between the family members.
The other gazebo tent options have unique purposes as well. But sometimes, people just prefer having the flexibility to use them as either a standalone gazebo or as a tent so they can sleep in.
Best Canopy Side Wall Tent
There is a good reason that you see people camping with Ozark Trail tents. They are an affordable brand for families and camping enthusiasts alike.
If you're looking to increase the amount of room you will have when camping then this tent in combination with a gazebo is a great of doing it. Connecting it to a straight-leg canopy will increase the amount of room you will have exponentially and works really well if you have multiple of these tents.
This tent is very breathable thanks to the two excellent large windows that allow the breeze to past through. They also made the roof out of mesh which also helps with keeping it cool as it does allow the heat to escape.
Safe From The Rain
Rain is a surefire way to ruin a camping trip if your tent isn't able to handle the wet weather. Thankfully this tent by Ozark Trail has really good rain protection as long as you have it set up properly you will be safe from the rain.
One thing to note is that there can be a gap between the tent and the canopy which rain can get through. You can easily use a tarp to keep it out which is a simple solution but still something that you should keep in mind when going camping.
Simple Design Makes Quick Work
Arriving at your campsite then having to spend ages setting up a tent can be a little frustrating if it does take a while to set your tent up. That's not the case with this tent as it doesn't take very long to set up and once you've done it a few times it won't take much longer than 10 minutes.
See The Ozark Side Wall Canopy Tent In Action
Best Tent That Attaches To A Gazebo/Canopy
Sometimes keeping things simple is the best way to go since you don't overcomplicate things and can make fewer mistakes. Which is something that I think EasyGoProducts has succeeded in doing here by keeping it really simple yet convenient.
Having a front and back door allows you to have this tent open so the wind can come in and keep it cool which is a useful feature. Combining this with the 2 windows really does help with keeping the temperature down and makes it far easier to relax in since you're not sweating the entire time.
Since this tent does have a floor it does make it handle the wind far better than ones that don't. It's able to handle some light rain but if you know you will be getting heavier rain then it might be wise to go with something else on the list.
Versatile And Easy To Move
In my opinion, this is one of the best things about this tent is just how versatile it is compared to others. Since it is so easy to set up you can use it as an indoor dining area or somewhere for you and your family to sleep. It makes a perfect addition to your backyard or to take on your next camping trip.
One of the more difficult things to do with these types of tents is attaching them to the canopy which can get really complicated. It attaches really easy to your standard 10′ by 10′ straight leg gazebo without any of the needless complications that can happen with these things at times.
It's no secret that taking down a tent is a far more frustrating task then it has any right to be which is one of the reasons I highly recommend this tent. You don't need to spend ages taking this tent down as it can be done fairly quickly once you've gotten the hang of it. Just simply remove a few hooks and ties and you're ready to pack it up.
Pop Up Canopy Tent
When you want to make life easier when you go camping then this tent from E-Z Up is a great way of doing this in my opinion. Setting this tent up is one of the best features of this tent since it doesn't take a lot of effort to do.
Space is often difficult to get when you're in a tent even when it's a 6 person tent like this one. With measurements of 111″ long by 111″ wide by 76″ high you can get a bit of an idea on just how much room is in this tent.
Being a cube shape you do have more room than your standard tent that has inclined walls. So you no longer have the issue of trying to fit a mattress close to a wall and having the tent touching while you sleep since you can square it up to the wall.
Stay Safe In Your Tent
One feature that this tent has is a tub floor which is one of the best ways of keeping things out. The floor itself is similar to a bathtub so it keeps water from the ground and bugs out with its design. This is something that I really like since not a lot of tents actually protect you on the ground.
It does have 3 large windows that do allow it to breathe really well which helps with camping in the warmer climates. This is made better by the windows have polyester flaps so if you need some privacy or want to block out the sun you're able to.
Extra Features That Are Useful
This tent does have two smaller little features that are both useful in their own rights. This is that there is a flap for where your power cord can run through and a separate flap that can be undone to let your animal friend out. While maybe these aren't the biggest features they certainly are a nice bonus.
Convert A Gazebo Into A Tent
There is a lot to like about this gazebo tent from Standing Room Tents and a lot of good reasons as to why it should join you on your next camping trip. Whether it's the tub style floor or the excellent amount of room it offers you will find it hard to pass this tent up.
If you're wanting a quick and easy to set up gazebo tent then this tent is worth your time considering. Setting up and take down is fairly simple and the tent offers a lot of protection from the weather such as rain and heavier winds making it great for most climates.
Safe From The Water
I've already mentioned the tub style floor which does a great job of keeping the water out from below. To make this even better they went with a waterproof fabric ceiling which will keep the water out from above you which is something I really like.
Offers Different Options
I'm a big fan of having options with my products since what will suit me might not suit you. This is why I like that Standing Room Tents have an option for an extra-large model that offers 4 doors instead of 2 and 2 zippered skylights for those who want more ventilation.
Bonus Features Are Useful
When it comes to nice little features that Standing Room Tents have added it's the extra storage that I really like. It has 4 excellent storage pouches that are great for storing smaller things that you would want to keep off the ground safe from water or people's feet.
To go even further with the useful extra features they included 2 useful power cord outlets instead of one or none like many others. For me, this does make this tent really great if you're going to be at a powered site and can have multiple outlets to use.
Heavy Duty Gazebo Camping Tent
One thing that I do want to be upfront about is that this gazebo tent isn't like the others on this list as it's not one you would sleep in on your camping trip. It's one you would have set up for when you want to get out of the sun or have some food. With that out of the way, it's time to learn about this impressive gazebo tent.
If you've ever spent any time around the camping industry there is a good chance you've come across the name Gazelle. Gazelle has a great reputation for making the top of the line products with them being right up there with Coleman in my opinion. Which is a reputation they have earned and kept with this tent.
In my opinion, something that really stands out about this gazebo tent is just how much room is in it. It has an impressive height of 86″ which allows tall people the ability to stand up straight which I'm sure they will appreciate. It also measures a floor space of 92 square feet allowing for a good amount of people to sit inside.
Keep The Crawlies Out!
There are a lot of things that can be annoying when you're in a tent and having insects in them is right up there in my opinion. With the tight weave mesh on this pop-up gazebo tent, they won't be able to get in through it and can only get in if you leave the door open.
Got The Small Things Right
When you're a company like Gazelle you care about the smallest detail on your products. Which is something they have done here by simply going with YKK zippers. This might not be something you consider to be important but having a good quality zipper like a YKK you're giving yourself the best chance of not getting a broken zipper in some wild weather.
What To Consider When Buying A Gazebo Tent
Before you make your purchasing decision there are a lot of things you should consider before purchasing your brand new gazebo tent. A lot more goes into then you might think and is well worth your time considering these things so you get the right model for your camping needs.
Size Is A Factor
No matter what style of camping you do the size of your tent is always an important question to ask yourself. Will it have enough room for who is going? Can it then fit your gear? So size is something that you should always consider and one of the things you need to work out early on.
One thing you might not consider with this is how large is the tent when it's folded down? It does need to fit into your vehicle when you go camping so it's something that is worth considering if you're trying to keep the space down in my opinion.
What Is It Made Of?
This shouldn't come as no surprise but tents are made of different materials and fabrics that all have there pros and cons. So it's best to find one that is going to suit your needs, do you need something that can handle something a bit rougher then something that is 600D would be better, or if you need it to be lightweight something like 150D would be good.
Not only do you need to consider what the tent is made out of but are the frames of it made out of if there is any of course. Are they made out of tubular steel/aluminum that can be durable or are they made out of a plastic that's lightweight but can't handle to much weight on them? Both have there own strengths and weaknesses so find the one that will suit your trip.
Water Resistant Canopy Tents
Camping is an enjoyable experience and one thing that can ruin an entire trip is poor weather. Having a tent that is either water-resistant or waterproof are good ways to help with this issue.
A lot of people don't know there is an actual difference between the two. It's fairly easy to explain as it comes down to have the seams been sealed by heat? If they have then it's waterproof and will keep water out. If it hasn't it's water-resistant and has a chance of water leaking through the seams.