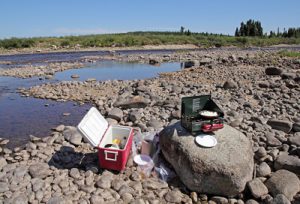 We have all been there, we reach into the cooler to grab out the container with food for tonight's dinner only to discover the container is full of melted ice water. When you invest in the best Tupperware for camping, you are eliminating this unwelcome scenario.
There are many tips and tricks to keep your food separated from the icy water that accumulates in your cooler, but at the end of the day, your food ends up wet anyway.
Unless you are taking a camping fridge with you, the best way to avoid water spoiling your food is to use watertight Tupperware containers.
These containers are airtight, waterproof, and can handle the rugged camping lifestyle. So before your cheese gets that horrible taste as a result of sitting in melted ice water, be sure to check out the below Tupperware containers for camping.
Compare Heavy Duty Camping Tupperware Containers
Tupperware Features To Consider When Camping
Waterproof Airtight Seal
Protecting your food is one of the most crucial things you need to do when you go camping. If your food gets spoiled from not being protected properly,it can leave you in a bad situation that can be difficult to get out of depending on where you're camping.
So you will want something that is not only waterproof but also has an airtight seal. This is crucial in preventing your food from spoiling and something that should be a top priority.
By getting a waterproof and airtight container you've done some of the best steps in protecting your food. There is one extra step that you can do to protect your food even further and that's to put them in a zip lock bag inside the Tupperware container. This is one of the best ways to protect your food from spoiling when camping.
Should You Avoid Glass Tupperware
With there being multiple types of Tupperware and them being made from different materials, it can make your buying choice difficult. For your camping trip, it's advised to avoid going with glass as your container for food as it can cause more issues than actually help.
But of course, this is subject to you cooler and how you camp. But for the most part, I find glass containers not worth the extra expense compared to a hard-wearing durable watertight plastic container.
Glass Is Heavy & Can Shatter
One of the most obvious issues with glass Tupperware is that it has a higher chance of breaking. If a plastic Tupperware container breaks it's an issue for food and not having something to protect it. When a glass container breaks you have the same issue as plastic except you have dangerous glass shards around to make the situation worse.
Something that a lot of people don't think about when looking into glass containers for camping is just how heavy they can be. The weight of the glass is much heavier than plastic which can make carrying things more difficult compared to plastic. You want to keep the weight down when camping so being able to lower the weight by swapping to plastic is an easy choice.
Size Of Container
The size of your food container is more important then you might think and could be a reason your food isn't lasting as long. In most aspects of storage having more is better, but it's the opposite when it comes to food and their containers.
When storing food in Tupperware you will want the food to fill almost as much as possible with just a little bit of headroom to reduce the amount of oxygen in the container. The more oxygen around your food the better the odds of the food spoiling and ruining your mood.
Depending on what your storing and the size of your cooler, you will need to leave a bit more room than others. Things like soup and sauce do need a little bit more room since liquid can expand. So for things that are liquid-based, you will want that bit of extra room and something that's worth remembering.
Durability and Thickness Of The Container
You will want your Tupperware containers to be durable and have a good level of thickness before purchase. If you go with something that doesn't have these qualities you will have some issues that can be a problem when you're in the middle of nowhere.
If you don't make sure your Tupperware container is durable you're risking the chances of it breaking. The issues of your container breaking are pretty self-explanatory and the issues it can have. So you want something that's tough and can handle when something goes wrong to protect your food.
While it's tempting to go with the cheapest Tupperware containers you can find, this is a case of when quality really is more important than quantity. Cheap plastic containers will break, split and leak water. This is not ideal for camping when you're putting food inside a cooler full of ice.
Best Tupperware For Camping
This 8-piece set(4 lids, 4 containers) of plastic containers by Snapware is simple yet extremely effective at protecting your food from outside nasties. Something that makes this a great option for camping is that it has a good number of pieces. This means you're not carrying too much around when camping which is useful.
The size of the containers is a good size that can fit a variety of foods. The containers come in two different sizes with 2 of them measuring 1.34-cup square, and the other 2 are 5.4-cup square.
In my opinion, one of the best features of these plastic containers is the impressive snap lock lids. These lids are airtight which helps with protecting your food from what you're using to keep your food cool. This is one of the most important features if your goal is to protect your food and prevent it from spoiling.
Cleaning is a task that not too many people actually enjoy and having to do it by hand is something that can be even worse. With these containers being BPA-free you're able to put them in a dishwasher to clean them which makes life easier. Just remember to put them on the top rack of the dishwasher.
*Available in sizes ranging from 4 piece sets to 20 piece sets.
Snapware 8-Piece Total Solution Food Storage Set
Leak Proof Containers For Camping
Rubbermaid has an excellent track record of making excellent homewares that are not only extremely durable but also of high quality. This is exactly what you want when handling harsh camping environments.
This heavy-duty construction is what is on offer with this impressive 10-piece set that is excellent for taking camping to help protect your food.
One of the biggest problems one will face when going camping with food in a plastic container is water getting into or liquid spilling out of the container. With this set from Rubbermaid being 100% leakproof this isn't a problem anymore. Your food is now safe from the melted ice water spoiling your food.
The latches on these containers are extremely impressive with them being able to prevent the splatter that comes from microwaving something in them. This gives you a fairly good example of just how airtight these containers are compared to your standards ones.
The containers that come in this 10 piece set comes in 3 different sizes. With two of them being 1.3-cup square, two more being 3.2-cup square, and the final being 9.6-cup square. This wide selection will give you a better chance of finding something that will suit your needs. It also gives you a wider selection to find the right size to leave just the right amount of headspace.
*Available in sets from 10-piece to 44-piece sets (Ideal for large families).
Rubbermaid Brilliance Leak-Proof Food Storage Containers
Innovative Food Storage Containers For Camping
Most other companies who will say they're a ten-piece set and then you get them and it turns out they were counting the lids as individual pieces. This can be frustrating if you aren't aware that's how most companies do it, except Mr.Lid who when they say ten pieces that mean ten containers.
Without a doubt, one of the most frustrating things when it comes to containers is losing the lid and being unable to find them. This is an issue whether you're camping or at home. This is one of the reasons I really like these containers as the lid is attached by plastic so you won't be losing the lid anytime soon!
Since there are ten pieces to this incredible set, it does mean it offers a variety of sizes that can make them useful. With there being so many different sizes you will be prepared to handle any food you will need on your next camping trip.
There are a number of reasons why these containers are incredible with them being BPA-free and being dishwashable. Then you add in that they're leakproof as long as you fill to the food line that's on the front of the container. Adding all these things together you have an incredibly useful container for your next camping trip.
*Also available in a 17 container set & Made In The USA.
Mr. Lid Premium Attached Storage Containers
Stainless Steel Container For Storing Camping Leftovers
Klee Utensils have really knocked it out of the park with this 3-piece food storage containers. One of the strongest design points of these containers is how they will preserve your food for a longer time than your standard containers. This is due to what I will go over just below.
Heavy Duty Stainless Steel Advantage
The first thing you will notice about these containers is that they're made out of stainless steel instead of like most others being plastic. This easily makes them the most durable containers on this list and will work well for those who want their containers to last for a long time to come.
An issue that can occur when you go with some of your more standard containers is they will hold an odor of the food that was in them. You don't get that with these containers that really do benefit greatly from the stainless steel design they went with.
More Than Just A Durable Tupperware Container
If these containers were just good for being stainless steel then I wouldn't have included them on this list. The number one job of a food container is to be leakproof otherwise they're not very useful in my opinion. The stainless steel helps with keeping the food fresher for longer but it's the leakproof seal that protects your food.
There is nothing you can't store in these containers that they won't benefit from being in them. They can keep your chips nice and crunchy and preserve your fruit just as well as handling your leftovers.
In my opinion, these steel containers are some of the best on the market for preserving your food for longer. It's really difficult to pass up the chance to include these containers on your next camping trip to help keep your food safe for longer.
Klee Utensils 3-Piece Reusable Stainless Steel Food Storage Containers
How To Stop Ice Water Getting In Your Food Containers
There are a lot of tips and tricks that you can do to help with preventing water from getting into your items in a cooler. Sometimes there is no way to prevent this from happening, but with the aid of a useful product like these ice bags from Ice Lock, you can no guarantee the preservation of your food from melted ice water.
When it comes to ice lock bags the zipper is one of the most important things that need to be done right. The zip lock on these bags are impressive as it's watertight which helps keep the ice and water in the bags and prevents it from going all over your food.
There is a good amount of room inside the bag to fill with ice. It's able to fit your standard bag of store-bought ice which does make your life easier if you don't have time to make your own.
The advantages of using these bags are many that make them well worth your time in considering if they will make your life easier. With them being BPA-free means that they're reusable which can help you save money in the long run since you don't need to keep buying more.
Depending on the ice you use to fill inside these lock bags can have some useful advantages thanks to the bag's excellent design. It has a valve on the front of it that can be used to empty the water out. If the ice cubes you used is normal water you're able to drink the water which means you don't need to bring a water bottle.
But the main advantage of taking a bag like this camping is that your food storage containers never need to come in contact with melted ice water again. For the small price of these bags, I think food protection is well worth the investment.
Plus you get to enjoy uncontaminated ice cold water once the bag of ice has eventually melted. No more wasting cooler water on the grass as a result of it being contaminated by food products and germs from your hands.
ICE LOCK Watertight Ice Bags
Tips & Tricks To Keeping Your Food Dry When Camping
If you want to try and avoid spending extra money and want something that's a bit more DIY then there are a few ideas that you can use. It's a good idea to learn these kinds of tricks to make your life easier when you don't have time to organize properly.
One of the simplest and easiest tricks you can do instead of using ice is to use empty bottles instead. Filling empty bottles with water and freezing them overnight to use in your cooler is one of the easier ways. This is a great cheap alternative to cooling your items down that is very budget-friendly.
If you really want to use ice there is something that you should do that will help with keeping your ice longer. Once a bit of the ice has started to melt you should start to empty the excess water out. This will help with making the ice last longer and keep your items free from water. A simple but surprisingly not a common method used.
What Items To Use To Keep Your Items Water Free
Some people don't want to use bottles of frozen water to help with keeping their items cool and want something else. There is another really good option that you can do that will keep the water out of your items. This is to put things in the bottom of the cooler to use a stand for your food so they can't get wet.
Doing these ideas will require some simple DIY ability which most people will be able to do which is what makes them so useful. One of the best things to do is to get a wire shelf and cut it down to fit your cooler. This will allow you to have ice underneath which will cool the items in the cooler but keep them from getting wet.
A Combination Of Ideas For Great Results
As with most things, there is never one style suits everybody and using a combination is a great alternative. By combining these two ideas you can have a simple and effective solution to keep your food safe from the water.
You will need to fill several empty bottles of water and then freeze them to put in your cooler. You will need something that will go in between the frozen bottles and food that will keep everything flat and dry. There is a number of things you can use here but there is something that I recommend above all.
A good thing to use is to get some corrugated cardboard that will give you a flat surface and even absorb some of the condensation preventing. Corrugated cardboard is a great option as it can absorb some of the condensations of the bottles without completely soaking through keeping your food safe from water.