Are you planning to take the kids away on a camping experience? Or perhaps you would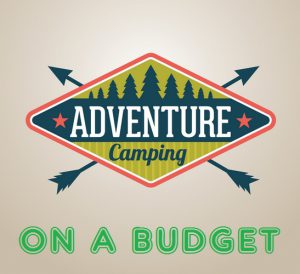 love to spend a fun vacation outdoors with friends or your significant other? Whoever you plan to spend your camping break with one thing is for sure; you want to know how to camp on budget!. By making a sample of a plan, you are on track to save money.
Whilst many years ago, camping was known as the cheapest holiday option, these days it is surprising how much this outdoor vacation can actually set you back.So the first thing you need to do is set up a camping budget sample page. This is going to be your road map to sticking to a strict budget. The last thing you want to do while out camping is run out of food, money, gas etc. Everything should be taken into consideration when dealing with a budget.
Plan Your Camping Trip Ahead Of Time
I know how hard it can be to pre plan a camping budget. Sometimes (Ok most of the time) we head out camping as a spare of the moment thing to escape the hustle and bustle of city life. This is fine for a overnight or 2 night camping adventure, but for longer stays you simply must do up a budget guide.
We often get to our desired location and think "I bet I forgot something". To try and eliminate forgetting something, write down (Don't just think, but write) all the essential items YOU need for a successful camping trip. Each of us has our own items, so the following list of items may be different for your needs. After all, any items you forget, you may have to pay over the top prices for at remote gas stations. So consider not forgetting as the #1 way to stay on budget for camping.
Phone Chargers – Commonly forgot item and these things can be quite pricey after hours.
Insect Repellent – Bite me, Bite me. That's what you are saying when you forget this ever so important camping accessory.
Solar Power?. Are you a modern age solar camper, if so make sure to bring your solar power equipment.

Camping Coffee Equipment

– Not a must for all, but a definite must for my camp site!. No coffee, no me.
Oh the fire wood, the most regretted forgotten item during the colder months. Sadly, you won't realize you have forgotten the fire wood until it's too late. That is when it is almost dark and everyone is excited to sing around the camp fire. Unfortunately, collecting wood on camp grounds is frowned upon in many states.
First Aid Kit – Not an item you may realize you have forgotten until its too late.
Batteries for the air mattress pump. If you are planning a longer stay, I highly recommend bringing two sets of extra batteries. Nobody wants to sleep on the cold hard ground becasue Dad forgot the air mattress pump batteries. Ideally you want a

good camping external pump

that can inflate more than just the airbed.
A Cooking Source. This can cover all aspects of food related survival. Non refrigerated foods are recommended if you don't have a means to keep meat cold. Once you have your food sorted, how do you plan to cook dinner?. Over the campfire or with a gas oven?. Have you got the gas burner?. What about

cooking with a dutch oven

that requires just a camp fire?. These are the things you must budget for.
Budget Camping Or Free Camping?
Consider The Campsite Fee
Don't ever assume you can camp for free. The associated fines that may potentially be rocking up to your campsite may far outweigh the camps site fees. Always prepare ahead where and for how long you plan to camp somewhere. Allow for a budget per night and stick to it.
This is going to be one of your significant expenses when considering a camping vacation. You may be surprised to see how much campsite fees can vary from one to the next. Consider your needs and choose from campsites which will meet your requirements, but don't have a host of other facilities you don't need. Often it is these added facilities that bump up the price.
Camping Solo?
A great way to save money when it comes to camping solo is by cutting down the costs of your shelter and sleeping gear. The cost of a decent tent can cost upwards of $100. The costs of sleeping bags, air mattress, pillows etc can also add up.
Tent cots are becoming a more popular way of camping for solo campers. This can also apply to camping with friends provided you are not sleeping in the same tent.
A tent cot is basically a raised camping cot (Off the ground) which is enclosed in a portable single person tent. So for the price you are getting a cot (Bed), tent and sometimes a sleeping bag and a pillow. A great little money saver.
Be A Tight Wad –  Make The Outdoors Your Entertainment
Campsites are normally in areas of natural beauty. Often there are plenty of country walks near by, perhaps kids plays parks and other 'free' forms of entertainment and recreation to enjoy.
To really make the most of this tip, be sure to take the time in advance of your vacation to research the area you will be visiting. Make a note of all local attractions which are free to visit and enjoy. Take the time in advance to build up excitement for the spots you plan to visit, that way the kids will be excited to go out for the day, rather than dragging their heels.
Bring Rover!
If you have a pet dog, don't be tempted to put him in boarding kennels for the week. Not only will this be an added expense (and boarding kennels do not come cheap these days), but you will also be missing out on a great way to camp on budget.
In a few words, Rover will provide great entertainment for the kids. Invest in a new ball or fetch toy and set a few goals for the kids. Maybe they can see whether they can get their dear doggy to return the toy so many times within half an hour. You will be surprised to see how quickly time flies by when the kids are focused on something fun, and of course the activity isn't going to set you back a cent!
Money Saving Ideas – Bring Your Own Food
It can be tempting to decide you will do the shopping once you have arrived at the campsite. After all, you need to get yourself prepared, then the kids sorted, not to forget that Rover is coming too now and he doesn't tend to travel light! If you really want to learn how to camp on budget, do not fall into this trap!
Campsite shops, as well as shops within the general vicinity of a campsite, can be notoriously expensive. Whilst $100 in your local store at home may set you up entirely for the trip, the same $100 may only land you a couple of bags full of groceries in a campsite shop.
Buy yourself a cheap camping cook book that will give you plenty of quick, simple and cheap ideas for feeding the whole family while camping. Don't worry, you don't need to be slaved over the camp stove all night, choose the recipes that will take up the least time. Also make sure you have plenty of snacks on hand throughout the day for the kids (and yourselves). This should minimize the need to purchase food out, which of course always ends up being so much more expensive!
Save Costs With The Extended Family
While you may not always see eye to eye with the in laws and never dreamed of going camping with them. They can save you money by bringing them. This is how:
Save on Fuel: Take one car
If you're brave enough, use a larger tent the whole family can sleep in
Save on buying items the extended family members may already have (like a first aid kit, or a hammer for tent pegs or a camping esky)
Food is always cheaper in bulk. Prepare meals for larger numbers and the meal cost price comes down
More hands to fish with. More fish to eat at dinner time.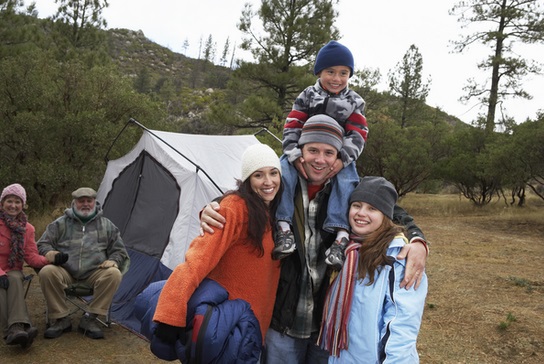 Sleep On A Budget
If you already have sleeping gear for cam ping then this is irrelevant. But if you have kids and want to save a few bucks, you could look into kids camping bunks. Not only are these things great space saves in the tent, but they are so practical they can be used on other vacations as well.
Next time you stay the night at a Hotel, put the kids up in your own portable bunk bed and save a few pennies. These beds can also be used for other purposes like when visiting the Grand Parents, drop the kids off with the bunk and sleeping is sorted. Date night for the Parents!.
As for the parents, you really do need to spend a little on a decent camping bed. Cheap and nasty simply wont cut it out in the great unknown. These air mattresses here have been hand selected by me and my team. They are the cheapest, but most practical air mattresses available. So high quality at an affordable price. Take a look, you may be surprised.
Certainly, camping has the potential to be an epic vacation for everyone. However, if you do not plan in advance it can also end up costing you an arm and a leg! By choosing the campsite wisely, enjoying the great outdoors as your play park, bringing good old Rover along, as well as your own food, you are well on the way to having an amazing, and economical, camping vacation!
Save