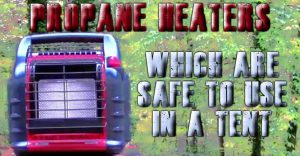 Camping in the cold weather doesn't have to be a frosty and uncomfortable affair where you can't feel your fingers nor your toes in this age of propane tent heaters. But are propane heaters safe in a tent, if so what are the dangers and which heater is the best?.
There are two types of portable propane heaters, the freestanding variety which are all encompassing with sections that attach propane tanks and those that are attached to the standard propane tanks. Both types of propane heaters are safe if they have been fitted with the correct safety features and when used properly.
Below you can discover how to use a gas heater correctly when sleeping in a tent and the best tent heaters for camping.
Safety Features A Propane Heater Should Have
Most modern portable propane heaters come equipped with safety features. If your heater is currently outdated, visit your local hardware store or check out our recommendation below for a heater that's not only going to keep you warm, but also safe.
Use your heater with caution and practice these safety tips to have a cozy winter everywhere you go. Remember that not all heaters are created equal, so you must do your due diligence when buying one.
The most obvious and deadliest concern when using a propane heater camping is death by Carbon Monoxide. So a heater that has a automatic safety shut off feature built into it when it detects that oxygen is getting to low is critical.
If your budget allows, buy an additional carbon monoxide monitor like the

Sensorcon on amazon

. This portable device can be placed close to where you sleep and will alarm you if the levels are unsafe.
Automatic timer cut off feature is optional and will allow you to set the heater to turn off after you are asleep.
Tipping safety feature will automatically turn the heater off if knocked over. Whether your using the heater while eating breakfast in the cold hours of the early morning or falling asleep with the heater on, accidents happen. So this feature is a no brainer for me.
Overheating safety feature will shut down the heater if it becomes too hot. Another potential life saving feature you should look for when buying a propane gas heater for inside your tent.
Regularly check hoses and connections for gas leaks. Follow the manufactures guidelines and don't disregard them.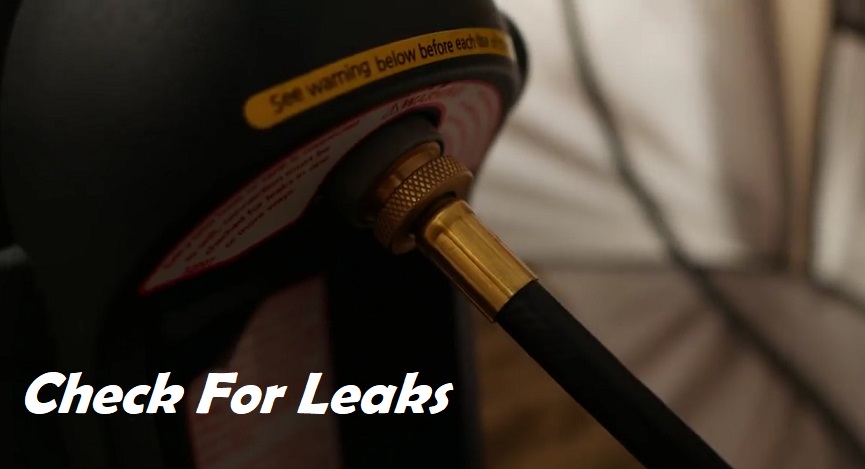 The Best Propane Heaters For Camping
You may be familiar with this propane gas heater as it's one of the most talked about winter camping accessory. Known as the
Mr Heater Buddy
, this heater comes in a variety of sizes suitable for tents of small and large proportions. Warming up tents up to 450 ft2 each and every winter.
For most campers, the 200ft2 heating areas of the Mr Heater Buddy will be sufficient. It packs a punch and comes with the desired safety features mentioned above.
The best part is, it won't set you back the world. I find it moderately priced for the warmth it offers. You can check the exact price on amazon and grab yours today.
With many heaters you are taking a gamble as to whether or not they can be used indoors in places such as a tent. This heater however has been approved for indoors use as well as outdoors. So you take confidence in keeping warm with Mr Heater Buddy beside you.
What Makes This Propane Heater One Of The Best
The Mr Heater Buddy has a BTU range of 4000 or 9000. What BTU stands for is British Thermal Unit. This is a measurement used for the amount of energy required to heat a pound of water from 39° to 40°.
What does BTU have to do with you and buying a heater for your tent. Basically it means that if you buy a heater with a low BTU and you have a larger tent, then the inside of your tent wont reach optimal temperature. On the other end of the scale, if you buy a heater with too much BTU, you could end up going through more bottles of propane then desired. Costing you more in the long run.
So the 4000-9000 BTU for this Mr Heater Buddy is quite versatile in the size of tent you need to heat. Suitable for small and larger tents due to the temperature control knob.
Check Price For Mr Heater Buddy Here
Some Of The Mr Heater Buddy Safety Features
So we have gathered that this heater is ideal for most campers, it will produce enough heat to keep your entire tent warm. On average a smaller propane bottle will provide you with heat for 4 hours when set on the lowest setting.
Burns clean
Low oxygen auto shut off feature
If the pilot light or heater is knocked over it automatically shuts off.
A swivel out regulator connection for connecting to larger gas bottles.
Heater comes with a built in igniter.
Wire guard surrounds the large heating surface.
Does The Mr Heater Buddy Produce Carbon Monoxide
Because carbon monoxide is a tasteless odorless by product from propane gas, it's hard to detect if you are effectively being poisoned. So is this this propane heater safe to use inside a tent?.
Using a carbon monoxide monitor Edwin demonstrates in the below video that with the correct ventilation inside your tent, he could maintain a reading of 0 carbon monoxide PPM (parts per million). Which is on the very low scale of CO in the air. Once a monitor starts reading above 50 PPM, you should immediately act and turn the heater off.
This Heater Was Built For Camping
If staying warm inside you tent while camping and the outside temperature reaches the negatives, you're going to want the Mr Heater Buddy. Whats awesome about these models of heaters is that you can mix and match a couple of these units to meet your desired BTU.
So if you have a 8 man canvas tent and its in the negatives outside, turn on a couple of these guys and you will stay toasty all night long.
It's a very easy to use and portable heater that works perfectly for tent camping. The piezo ignition switch works like a charm when the heater sits flat. However, don't lean the heater backwards when trying to ignite the heater as it wont work due to the angle of the ceramic tiles inside the grill.
Overall it's hard to recommend any other propane heater for tent camping whilst the Mr Heater Buddy is on the market.
My Heater Buddy Portable Propane Heater
Follow Instructions When Using Propane Heaters In A Tent
Yes, propane heaters are safe to use to heat up your tent and that is, as long as you follow the proper directions in their usage as explained in the operating manual when setting up, turning on, and turning off the heaters.
Most of the propane heaters require users to turn the gas supply off from the cylinder / tanks and have the heater exhaust the gas in the supply line before completely shutting down. The biggest risks posed are actually not borne by the fact they use the gas propane but rather by the carbon monoxide byproduct achieved after combustion of that gas.
Be careful Of Carbon Monoxide The Byproduct Of Propane Gas
The gas propane has a very strong smell making it very easily discoverable whenever there are leaks. The byproduct, Carbon monoxide (CO), however, is tasteless and odorless and hence not detectable even when in high toxic levels.
This is what causes the carbon monoxide poisoning and increases to such levels as to render victims unconscious. That risk and exposure notwithstanding, there have very few reported and documented cases of serious carbon monoxide poisoning due to propane heater misuse.
How do you keep safe when using propane heaters in your tent?
First and foremost, when using portable propane heaters one ought to be very vigilant and mindful of any gas leaks and carbon monoxide. Carbon Monoxide poisoning has dizziness as one of its early symptoms, therefore if you feel dizzy or someone around you suddenly feels sick in a propane heated tent, check the carbon monoxide level within the tent to make sure you have not been exposed to carbon monoxide poisoning.
When heating your tent, that your heater is safe to use indoors, and that you have proper ventilation. The heaters should not have such an emission as exceeds inflows of fresh air.
Always place your heater in a spacious environment with at least three feet clearance as propane heaters tend to get very hot and can get hot enough to ignite and start fires. They should not at any cost be placed in enclosed spaces either with no place for the carbon monoxide to escape to. Always place your propane heaters on a flat, level surfaces to avoid incidences where it is tipped over.
Carbon Monoxide From Propane Heaters
As already seen above, Carbon monoxide is an odorless, colorless gas therefore cannot be detected without the use of instruments designed for that job. Carbon Monoxide is known for the tag "the silent killer" it kills by depriving the body of oxygen.
Propane tent heaters can be a source of carbon monoxide. Newer generation heaters however come equipped with sensors that monitor oxygen levels in the room and automatically shut off the heater whenever oxygen level readings in the room fall too low. All propane room heaters should have this feature. Where it is not fitted, it is wise for campers to have a stand-alone carbon monoxide detector.
Should A Tent Be Ventilated If Using A Heater
So far we have covered the safety features to look for when buying a high quality propane heater for camping inside a tent. Which is all well and fine, but there's also another step you need to manually take to ensure you have a safe experience.
That is to ensure you have enough ventilation in your tent for the carbon monoxide to escape from. If the heater should ever produce enough CO to cause illness or even death, the reason being would be due to poor ventilation.
Fortunately many tents are equipped with vents on the bottom of the walls for such occasions. Many nylon tents also have fairly well ventilated mesh ceilings beneath the rainfly. So the emissions can escape though these vents and the ceilings.
However, if you are using a canvas tent for cold conditions, you will need to make an effort to leave a window or the front door slightly ajar so that the oxygen levels inside the tent don't creep too low. Never trap yourself inside the tent with a propane heater on without some form of ventilation.
Do You Need A Permit To Use A Propane Heater When Camping
There are different available distributors depending on your location, on most cases, the local governments regulate the number of product distributors and at the same time there are organizations who's mandate is to monitor the quality of gas being distributed across the different available platforms.
It is advisable to ensure that local regulations are followed when deciding to use propane gas outside the residential areas. In some instances, you might be required to apply for special permits which allow the use of gases outside the controlled residential use environment.