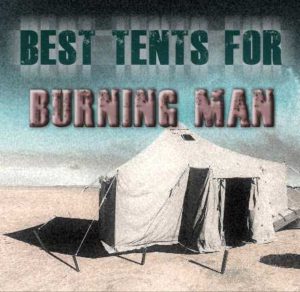 When it comes to buying the best tents for Burning Man in the 2023 season, there's a lot to consider. Camping at the Black Rock Desert is a lot different from your regular car camping experience and therefore attracts a much different crowd.
When it comes to choosing a tent that's right for you, there are 4 main factors to consider. Each factor is of equal importance as the conditions you may face could be grueling without the proper forward planning.
Compare Top 5 Burning Man Tents
1. Beating The Heat
Being exposed to the harmful UV rays of the sun all day every day for a week will certainly take its toll on anybody. In the desert, you can expect no less. Therefore, the tent you chose to take to Burning Man must offer you excellent protection from the sun.
A good tent can provide valuable shade and ventilation inside the tent on those extremely hot days. There is always the option to bring gazebos and sunshades, which is recommended, but having a tent that provides good shade and circulates air well will go a long way as well.
2. Dust Storms
Whiteouts and dust storms are a regular occurrence at the Burning Man. It has even got so bad that entry to the event was closed for many hours due to poor conditions.
These poor conditions can have a drastic effect on your tent, especially if you leave the windows open. Optimizing your tent to best protect it from dust storms is your best bet. Something as simple as placing an old rug on your tents entry can minimize the amount of dust and dirt that enters your tent.
3. Wind Proof
A tent designed for high winds will be a good place to start when deciding what tent to buy. A tent with a weak frame and poor design could leave you homeless in this week-long temporary town.
How you stake down your tent will also have an effect on the performance of the tent. At the bottom of this page, you can find my #1 recommendation for staking down a tent at Burning Man.
4. Size Of The Tent
The size of the tent is important because the tent is your temporary home for the next few days. When you combine the high winds, dust and heat, the last thing you want is to be cramped inside a small tent with a bunch of people.
It's times like this when a tent that offers great size is highly appreciated. While a small 1 or 2 person dome tent may be good for the light traveler, it doesn't offer you much in terms of an enjoyable experience at Burning Man. Make sure you bring a tent large enough to sleep the number of people you're camping with, along with some room to have fun!.
Best Tent For Burning Man Festival
There's a lot to like about this Kodiak tent which comes as no surprise since Kodiak makes some of the best tents on the market in my opinion. Not only do they make great tents but they make an excellent canvas tent that works extremely well at Burning Man.
Canvas tents are known for how well they breathe, but also keeping dust and sand out. This is important for when you're at Burning Man, as the Playa dust can get really intense, and it will get into everything. So trying to minimize the amount is a good idea and canvas is a good option for this.
4 to 8 Person Options
Being a 4 person tent does offer you a good amount of space inside for a few people and some gear. However, there is an 8 person variation on amazon, of this tent for those that demand a little more room. The ceiling height is 6'1″ so it's good for the average person and some slightly taller people to stand up comfortably.
Having a lot of windows in your tent is normally a really good thing, but it can be a bit of an issue at Burning Man. This tent only has 4 windows overall so there's still enough to breathe but not enough that copious amounts of Playa dust get inside.
You need a great zipper when it comes to tents for Burning Man as the conditions there can get quite intense. Thankfully they included YKK zippers on this tent. YKK manufactures some of the best heavy-duty zips on the market. A good tip is to keep some monkey grease or spray-on sunscreen nearby for when the zipper does get clogged, as this can help fix it when the inevitable dust arrives.
Some of the smaller features of this tent are just simple quality of life improvements but I really like them. Such as it having 2 sewn-in pockets which are really simple but useful for when you need to store those small items that you can lose at times. A small thing but something that comes in handy.
Kodiak Deluxe 4 Person Canvas Tent
Ideal Tent For The Night Owls
Coleman has knocked it out of the park with this impressive 10 person darkroom tent. This tent offers a lot of space for those larger groups of people or those who need space for what they'll be wearing when at Burning Man and need room to get ready.
If you've never heard of a darkroom tent than you're in for what's possibly your best nights sleep in a tent. A darkroom tent blocks a lot of the sunlight which makes it a lot easier to sleep in the morning when the sun first comes up. While other festival-goers are blinded by the bight early sunrise, you can sleep comfortably in your darkroom tent.
Cooler Tent To Sleep In
The other benefit to this dark room tent is the fact it keeps the inside of the tent far cooler than your traditional nylon tent. Because of the UV reflective material and the dark interior walls, you can be much cooler inside this tent as the tent blocks out up to 90% of the sun.
As much of the Burning Man activities happen during the night, having somewhere cooler and darker to sleep in the day is a huge benefit.
Easy Set Up
The set up of this tent is extremely quick and easy to do and doesn't require more than one person. Once you get used to setting it up, it doesn't take much longer than 10 minutes to get set up. This quick set-up leaves you with more time to enjoy Burning Man.
This tent includes one of my favorite features for a larger tent like this, which is a room divider. This is excellent for families and couples who go together as it allows you to still have some privacy in your tent. This is something that I really like. Once I used a tent with a room divider, I found it impossible to go back to sharing the same sleeping area with friends.
While any tent can get a little hot for Burning Man, the way the Coleman Dark Room tent keeps the Playa dust out is impressive. If you keep it zipped up and close the windows, it will keep a lot of the wind-borne dust out which is quite impressive.
Overall this is a great tent for Burning Man, just on how well it keeps dust, heat, and the light out. Being able to get a good nights sleep at Burning Man is a good way to increase the enjoyment factor of the overall festival.
*Multiple size options available on the Coleman Darkroom Tent
Coleman Dark Room 10 Person Instant Cabin Tent
Lightweight Bell Tent For The Black Rock Desert
This tent by Danchel is incredible as it offers a lot of room and protection from the elements which is crucial for Burning Man. It has an impressive diameter of 13 foot which is plenty for large groups of people which makes camping at Burning Man a lot more comfortable since you're not all cramped up together.
One of the best things about this tent is the amount of UV protection it has, making it handle the sun a lot better than most other tents. It also makes this tent extremely durable, since a lot of tents go brittle in the sun after long periods of time. This is great if you go to Burning Man every year or go camping at other times as well.
Ventilation During The Hot Steamy Days
Ventilation is one of these tents stronger features as it has 5 ventilation windows that are protected by no-see-um mesh. So it can keep the dust-out but also allows it to breathe which makes it a cool place to relax. The windows also come with covers so you can block the dust out as well.
The weight of a tent can be an issue for people who aren't able to carry a lot to Burningman, but this tent doesn't have this problem. For such a large tent they've managed to keep the weight down to a low 25lb total. This is impressive considering just how large and durable this tent is.
This tent does have a high maximum for the number of people it can fit but I find it's better to go with a few less. Going with less than the maximum of 13 people will allow you to enjoy the space a lot more in my opinion.
If you do like this tent but want it to bigger it does have a bigger option that's 16.4ft. Which is a great option is you want more room for additional un-expected guests while at the festival.
DANCHEL 13ft Light Weight Tipi Family Tent
Best Tent For Dust Storms AT Burning Man
The Night Cat tent is a very versatile tent that works really well for Burning Man, it's lightweight and quite durable. Not to mention how quick it is to not only set up but also to take it down. This is really useful as there's nothing worse after a long trip than to spend an hour taking your tent down.
The best feature of this tent, in my opinion, is the extra room at the front. This extra room is really useful as you can use it as a mudroom. This allows you to keep the dust limited to that area and not where you'll be sleeping, making it more comfortable overall.
Bunker Down in This Tent
There isn't a lot of room in this tent for bigger groups, as it's designed for just one or two people. But it does work well as a 2 people tent, so if that is all you require then this tent is a good option for you.
You can use this tent like a small pavilion if you like the idea of this kind of thing. You can remove the rainfly and set it up as a separate shelter which is handy to keep the sun off you. But there are no walls so you will get dust all over you if you do this. This is handy on days where there is no wind.
The mesh on this tent is fairly impressive as it allows the tent to breathe really well. When you have the rainfly on it does cover up the windows so it does keep the dust-out but also some of the air. This makes it excellent for some days and struggles on others but I think that goes for most tents.
In my opinion, it's the extra room that keeps the main part of the tent out of the dust is the biggest selling point of this tent. Keeping the dust down to a minimum is the best you're going to be able to do and this tent does it well.
Night Cat Waterproof Camping Tent
Best Burning Man Tents (Bell & Yurt)
Yurt tents are incredible and some of the most versatile tents on the market as they're designed to handle harsh conditions. With this yurt tent by Danchel being one of the best on the market for yurt tents. It offers a lot of durability and protection from the elements which makes it worth your time considering.
Having options is one of the best things a product can do as it allows more chances to find something for everyone. This tent comes in 4 different sizes from a smaller 10ft in diameter to an impressive 20ft. This allows smaller and larger groups to find a tent that will suit their needs, which is something I like.
One of the bigger problems that's not talked about at Burning Man is just how cold it can get at nights. With some nights getting below 30F, and sometimes lower. The Danchel tent has a big advantage over others since it's a four-season tent. which means it is designed to handle not only the heat but also the cold.
The space of this tent if you go with one of the larger models is something that is hard to come back from once you do. Not being cramped in a tent is an excellent feeling which makes your tent feel like you're camping in luxury.
Bell Tents Are A Popular Choice
Yurt tents are some of the most common tents you'll find at Burning Man and for good reason. Even most of the official tents are yurt tents, which does confirm how good they are for Burning Man.
Being able to handle any weather thrown at it makes this tent an easy recommendation to take to Burning Man in my opinion. Being prepared for anything is the key to enjoying your camping trip whether you're at Burning Man or not and this tent goes a long way to achieve such an experience.
DANCHEL Cotton Bell Tent with Two Stove Jacket
See Why Yurt Tents Make The Tents For Burning Man
Insulate Your Burning Man Tent
Burning Man can get really hot and trying to keep cool is essential in enjoying your trip in my opinion. There are a number of ways to insulate your tent and make it more comfortable for those hot days. Some options to keep your tent cooler are cheap and others more expensive. No matter your budget, insulating your tent should be high on your priorities list.
One of the best ways to keep your tent cool is to keep it out of the sun altogether, which is no easy feat at Burning Man. Your best bet is to build something like a Monkey Hut or something that will cover your tent. Both of these are good ways to keep your tent cooler, but can make the trip difficult as you need to take more gear and the cost of building a Monkey Hut can be high.
DIY Tent Insulation Method
A good idea that can be on the cheaper side and doesn't require an engineering degree to build is to take some kind of insulation barrier. You put this on your tent than put the rainfly on over the tent and insulation.
The insulation can be bought from your local Home Depot and sandwiched between the tent's inner walls and rainfly. Going with this option means you will need a double-wall tent where the rainfly comes all the way down the sides. This will help keep the dust-out and keep the heat out making it a cheap and effective solution.
You will want to use a Radiant Barrier kind of material for your insulation and you should do some research on the varying types for the best results. Finding the right insulation will help keep the temperature down inside your tent.
Some tents like the Kodiak don't have a rainfly, so you can't do this trick very easily. Some people have made their own internal PVC frame to add the insulation to which will keep the heat down.
No matter what you do to help keep the sun out, there is always going to be an element of difficulty or expense. Even if it means having to take extra gear, it's still well worth doing in my opinion as staying cool makes Burning Man just that much more enjoyable.
Tips For Preparing A Tent During BurningMan
Once you arrive at Burning Man, the first thing you want to do is set up all your gear, which isn't as simple as you first think. Just setting up your tent and then going off to explore is a surefire way to come back to an oven. AKA your tent! So there are a few things you should do before you start enjoying your trip.
The first thing you should do before setting up your tent is to set up some kind of shade beforehand. Doing this will really increase just how cool you will stay, but also keep the dust out. Keeping dust to minimal from day 1 will make your Burning Man trip that much more enjoyable in the long run.
Burning Man Camping Tips
Here are a few small tips that sound pretty basic, but prove to be neglected time and time again. One is to never open your tent when it's windy. The second is to not wear shoes in your tent. This will dramatically keep the dust down but more importantly, keep some of the germs on your shoes that you picked up from one of the 1000 portable toilets on site, away from your bedroom.
For these reasons alone, make the above Night Cat a good tent for Burning Man. The front 'Mud Room' will allow you to enter the tent and not transfer dust, dirt, and germs into your main sleeping area. In the mudroom, you can have a dirt party if you want, but as long as it stays there, and not the sleeping area, you're golden.
Bring an inflatable sofa, it will save you much-needed room on your travels!
Don't Set Up Your Tent At Night
If you arrive at Burning Man at night, avoid setting up in the dark. Its best to not be driving around during the night and can be quite dangerous. Park your vehicle wherever you can, provided its safe, and wait it out until morning. I'm pretty sure your neighbors will appreciate the fact you are not setting up your camp in the middle of the night.
Also, be sure you are not camping in a themed campsite, these areas are not for camping in. While generally they are boarded off with a blue rope, once you're inside a themed campsite, you may not be aware that you are in the themed area as it can be difficult to tell where you are on the map. These areas can be so big that you are not aware that you're inside the themed area.
Plan Ahead – Where To Camp
Doing some research ahead of time can save you many sleepless nights. Check out what theme camps are where and which ones would be considered 'too noisy' for you while you sleep.
If you're at Burning Man to party, then chances are camping next to a sound camp won't do you any harm. But if you're more of a day time activity person, camping next to a sound camp is only going to irritate you. If this is you, then camping further back towards the outskirts, or in the walk-in campsites (no vehicles permitted) where it's not going to be as crowded would be a better location to set up camp.
Avoid Camping Next To A Port-A-Loo
While planning to camp within walking distance to a portable toilet is a brilliant idea, camping within the nose's reach is not. Not only do these toilets smell, but they are often quite a loud location. People are going in and out of these things, frequently banging the door on the way out.
So ideally you want to camp close to a toilet, but not right next door to a portaloo. You want to be able to walk there relatively quickly in case of an emergency, but not so far that you need to ride a bike to get there on time.
Privacy Matters
How you set up your tent at Burning Man has a lot to do with your personality and the amount of privacy you expect. If you're more of the party going socialite, then setting up your tent facing the road is a good way to go.
By having your tent, awning, gazebo, etc facing the road, it's kind of like inviting people to stop and come in for a chat. If this doesn't appeal to you as you demand more privacy, be sure to set your tent up inwards, facing away from the road. This way your awning and such is not open for invitation so to speak.
Introduce yourself to your neighbors so you can get a good understanding of what to expect, and what they can expect from you. Same goes for facing the tent away from the road, if you are a very private person and your neighbor is quite the socialite, perhaps you need to move your tent to a different location.
Best Way To Stake A Tent At Burning Man
Use 12″ Lag Bolts
Another small tip which I will go over below is to get better and longer stakes. This will help with keeping your tent from being blown away.
I'm sure you have come across many folks with there methods of staking a tent in the harsh environment found at the Burning Man. From being a rebar purist with 90° bends to vertical rebars with some form of foam pool noodle like protection.
Many people will swear by these methods and if that's what works for you, then kudos. But there's one method that is surprisingly simple and efficient to stake down your tent in the hard dry terrain.
That is using 12″ Lag bolts you can buy on Amazon here. Not only do these bolts penetrate so deep that no matter what, your tent ain't moving, but they are so quick and easy to put in and take out of the earth.
With the addition of an impact driver, you can take the stress and frustration out of trying to stake down your tent at Burning Man. No more bent pegs, no more yelling and screaming. Just a simple press on the drill button and away you go. Frustration-free camping.