I hope you love the products I've recommended below, just a heads up that as an Amazon associate, I earn from qualifying purchases. This means I may earn commissions on products bought via links on this page.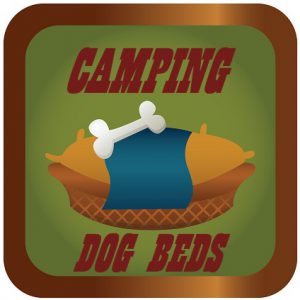 Taking Mans best friend on an outdoor exploration is just as enjoyable as camping with the kids. Just like the kids, our dogs need somewhere to sleep as well. While some people don't mind leaving Fido outside the tent or simply on the tent floor. Me personally, I prefer my pups to sleep in the best camping dog beds possible. A happy dog that has enjoyed a good nights sleep is always more fun to be around during the day.
I find it's much easier when the dog is used to sleeping in a dog bed at home, to become comfortable sleeping out in the wilderness. Provided you are prepared with a dog bed for camping conditions.
With that said, we have enlisted our team of researchers to put some outdoors dog beds to the test and find out which ones are ideal for camping dogs. Naturally, what is good for one may not be as good for another. For example, one dog bed may only suit smaller pups, whereas another bed may be too soft for the next dog. So it's important to have an understanding of your dogs sleeping behavior as well.
Waterproof Outdoors Bed For Medium To Large Dogs
this Coleman model
. This pet bed ticks all the boxes for me when it comes to camping:
Waterproof
Lightweight
Rolls up to a carry case
Non slip bottom
Well padded for our doggies comfort
Big enough to suit large dogs
About This Dog Sleeping Pad
The Coleman roll-up travel bed is waterproof and it's very comfortable for your pet when you're traveling. This travel bed is made for outdoor use but it's also great to use in your station wagon or your SUV when traveling. Using this bed in your vehicle will not only give your pet a comfortable place to relax but will help your car stay a bit cleaner because your dog won't be shedding all over the seats.
This travel bed can also be used in crates and of course, indoors. It has a non-skid bottom which means if you're using it on wood floors in the home your dog's not going to go sliding when they try to relax on their bed. Because it's made as a travel bed it can be easily rolled up and it has an attached handle with straps for easy carrying. Being this compact and portable makes it the ideal choice for larger camping dogs.
One of the bad points is that the clips are directly under the mat when it's laid out into a bed. This can be like a couple of small stones under the bed which might be uncomfortable. The good points are that it is super easy to roll up and is easily washable in a regular washing machine.
Coleman Camping Travel Dog Bed
Heavy Duty Camping Dog Sleeping Pad By 'Chuckit'
The thing that's is most appealing to me is the comfort level of this thing. If it were any larger I might consider using it to camp with. This is down to the the suede-like feel it has and because the foam is made in a special way, the inside never clumps and is always even and comfortable. I found it to be rather tough when it comes to chew resistance. Having a very active Border Collie pup do all sorts of things to this bed and it still survives is a testimony to how well it is built. To add to its resilience, this travel bed is great because it is easily washed in a regular washing machine and the polyester microfiber is very durable.
This travel bed can literally be rolled up in a couple of seconds and his very lightweight and easy to carry. Yes it fits back in its case quite easily unlike other tents and air mattresses.
Like the above Coleman pet bed, I love how this dog bed by 'Chuckit' can be used for more than just camping. It can be used outside while enjoying a day at the lake or on a picnic. It can be used in an SUV or station wagon to give your pet a comfortable place to rest while riding. It can easily fit inside of a crate and of course, you can use this in your home for a special bed your pet can enjoy.
It is 30 inches by 39 inches which means that most dogs can comfortably lay on this bed. One of the drawbacks of this bed is the fact that it doesn't do much for keeping the dog warm (If raining) if it's cold outside and if your dog is wet the bed will become wet. So I would recommend your dog sleep inside it's own dog tent with this bed. The good thing is that it's very durable and can be easily washed and is very comfortable under normal circumstances.
Chuckit Pet Travel Bed
Camping Dog Cots For Large Dogs
This travel bed by Carlson Pet Products is great for when you are forced to sleep in uncomfortable conditions. Due to being raised off the ground, it's suitable when spending time outdoors where there may be snow on the ground or it may be wet as the elevation of the bed will mean that it's not exposed to those elements and can help keep the dog warmer.
The design of this portable bed makes it easy to fold and it comes with its own carrying case. A drawback with this particular type of canine bed is the fact that it's not suitable for inside the vehicle and it's usually not going to work well in a crate. One of the really good things about this bed, however, is the fact that when you go on hikes or spend time on the beach and the dogs are muddy or sandy the material easily rinses off so you don't mind allowing your dog to lay on the cot even when they are muddy or sandy. Tick of approval there!.
Carlson Pet Products Camping Cot
Elevated Multi Size Camp Cot For Dogs
Dogs often like the fact that in the winter it elevates them from the cold floor and in the summertime the mesh center allows for air circulation to help them stay cool in the summer heat. So its a pretty good bed for all year round sleeping.
One drawback of this bed is when used for larger dogs that claw at the material, it can wears down if your dog likes to scratch while resting. But the really good point about this is that it can be put together in less than a minute with no tools which makes it easily portable.
When someone is camping or spending time outdoors the elevated cot gives the canine a comfortable place that is elevated off the ground, so if it's cold or hot the cot is much more comfortable. Overall, this is one of the best camping beds for dogs that prefer to use a cot.
K&H Manufacturing Original Pet Cot