I hope you love the products I've recommended below, just a heads up that as an Amazon associate, I earn from qualifying purchases. This means I may earn commissions on products bought via links on this page.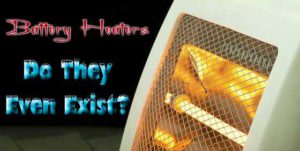 When the cooler months roll in, camping enthusiasts are always looking for new ways to stay warm inside their tent. Battery powered tent heaters for camping are the safest and easiest way to stay warm in your home away from home.
But the problem is, these heaters don't run off your common household batteries. While many other camping goodies can and do, the amount of energy drawn by a portable heater for camping purposes is far too great. The little batteries simply aren't up for the task.
So what is one meant to do when they are anticipating a few 30F nights while sleeping under the stars. There are numerous tips you can follow to stay warm inside your tent, but none compare to the warmth of a generous heater.
To stay warm inside your tent with a tent heater will mean you will have to shift your thinking from your typical AA's and D size batteries to something bigger. Below you can find out ways to safely use a heater inside your tent when you're camping.
The Best Tent Heaters For Camping
There are 3 ways you can use a heater safely inside your tent. Of which, only one utilizes the battery method. But still, the options available mean that regardless of your camping style, you have access to portable tent heaters when you're out in the wilderness.
1. Propane Gas Heaters
Using propane gas heaters are an effective way to heat the inside of your tent. However, this is not without risk. Using propane in an enclosed space, like your tent, can lead to carbon monoxide poisoning. So it is important to know if your gas heater is safe to use inside a tent.
The majority of options available these days have safety features which will cut off the heater when it detects a decrease in oxygen in the air. But for those that want to deter from gas inside the tent, read on to see more options.
2. Electrical Heaters
If you're camping on a powered site, the solution is simple. Bring along a heater from home, an extension lead and use the campsites power to get your heater blasting the tent with warmth.
3. Battery Operated Tent Heaters
Finally, what you have been waiting for, how to use a battery heater when you're camping. Chances are that if you're looking for ways to use a heater inside a tent via the use of batteries, you won't be camping on a powered site.
Which also means you probably have already set up a power source for your camping fridge, lights, etc. Much like battery powered camping blankets, to use a battery operated heater you will need a portable power source.
As discussed in the link above, there are options you can take to bring a power source to your campsite. These include camping generators, power banks and a solar blanket and battery set up if you're planning to camp for more than a couple days at a time.
Because I go camping for several days to longer than a week at a time, I always have my solar panels and 12V 140AH car battery with me. I also bring along a few power banks for power on the go in situations like when we go on day trips or hikes around the parks.
Using 12v Battery Heaters Inside Your Tent
It can be confusing at first, if you've never set up a portable power station system like this. But once you have a power storage device (power bank, car battery, emergency power supply), its as simple as buying a 12v heater.
Once you have the heater, you simply plug the 12v into the battery supply and turn it on. Instant heat on the go. Alternatively you can upgrade to a more powerful system with something like the Yeti 400 found on amazon here.
With the Yeti 400 you get 33000mAh of portable power which can be recharged before you head outdoors. This device allows you to plug in your 12v heaters as well as AC and USB devices for instant power.
I quite like the Yeti 400 as it does give you many options to power your campsite. I can have the camp lights running off the 12v power while I have my phone charging on the USB ports.
Don't Like The Idea Of 12V Tent Heaters?
Not everybody is a fan of using 12v connections when camping. Lets face it, the 12v connections are not the most reliable, they are bulky and can slip out of position with the slightest bump. Many a times have I run my camping fridge of a 12v car adapter to come back an hour later to discover the fridge is turned off as a result of the 12v car plug slipping. The main reason I converted the fridge to an Anderson style plug.
However, the simply solution to this is to buy a higher power storage battery bank such as the Serene Life portable generator. This power supply can equip you with 42000mAh which is quite sufficient for running a low wattage heater.
With the Serene Life, you don't get the 12v connection, so if you do go this route, remember that none of your car type 12v plugs won't be able to be used with this device. In this case, the Yeti 400 would be a better option for you. But best of all, the Serene Life is compatible with solar panels. So you can keep recharging this device while camping provided you have your own panels.
Best 12V Heaters For Camping
Below you can find a number of 12v battery operated heaters you could hook up to a power supply and use inside your tent. But at this point in time, the options are very scarce and limited in performance.
For a real space heater to satisfy the people inside a tent, you really need to look at portable tent heaters that use propane. When you compare a 12v battery heater to one of these, there's a huge difference.
With a battery powered tent heater, you will find it lacks performance, as in won't generate the heat you are probably hoping for, nor will it be sufficient enough to heat the inside of a tent.
But when you compare that to a portable tent heater with propane, the differences are clear. You get the heat you desire and you get the space heating you're after. However, you do need to have a good supply of propane canisters to meet your heating needs.
12v Heater Options
The heaters listed below are classified as car heaters in which you either plug into your cars cigarette lighter socket, or you hard wire the leads to your battery. If you're using a portable battery, I would be making these clips into an Anderson plug for convenience. This task is relatively simple to perform. My best tip would be to buy crimpers specifically designed for Anderson plugs. It will make the task that much easier.
The heaters that connect to your cigarette socket will generally be 150 watts and are designed for defrosting the cars windscreen and generating small amounts of heat.
Whereas the backseat heaters and the Road Pro (300 Watts) will connect directly to the power source. With these devices, you would need to have somewhere to set up the heater inside your tent. On top of a shelf or mounted on a board of some kind. Until technology evolves, unfortunately, these are the best battery heaters for camping in a tent at the present time. Batteries alone, simply don't have enough power to run a decent size heater.
Portable Heaters For Camping
Well, to say there's an abundance of 12v camping heaters would be a straight up lie. The truth is, the majority of tent heaters use propane to generate heat. These heaters are far better when it comes to generating enough heat to keep the inside of your tent warm.
If you really don't like the idea of a portable propane heater inside your tent and want a very warm tent, my suggestion is to camp where there's access to power. Bring along a decent electric heater suited to the size of your tent.
While you can generate heat from 12v heaters, will it be enough to heat the inside of your tent?. A 2 person tent, but a 8 person tent, that I'm not hopeful for. At the end of the day, it will come down to how desperately you need heat. A 12v heater will give you instant warmth and make you feel more comfortable. But to get the feeling of a well insulated heated home, I doubt it.