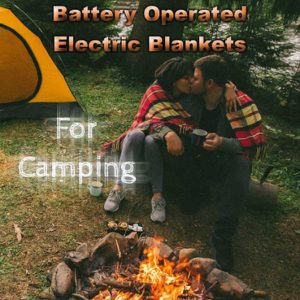 Unfortunately battery operated electric blankets for camping are an invention that are either non existent or a work in progress. I've seen a couple start up projects focusing on this exact idea in the past. But it feels as tho nothing promising has come from it thus far.
However modern technologies can be used to create an effective battery powered heated blanket when it comes to living the camping lifestyle. If you have access to mains, then there's no real drama.
However many campers prefer the off grid approach to camping. So access to main power is not an option. While there are plenty of alternatives to keeping warm such as thermals, regular blankets and sleeping bags which utilize synthetic materials, some folks want the warmth only an electric blanket can offer.
While many people may think that an electric blanket is a luxury best served in the bedroom, I have to disagree. If you can make a workaround to stay warmer and the end result is you get to get outdoors and go camping, I'm all for it.
Call it glamping or call it whatever you like, with the amount of people trapped indoors these days it would be a huge shame for someone to miss out on experiencing the camping life simply because they were afraid of getting too cold during the night. Because, it can get excruciating cold at times. So with that said, what portable electric blanket options are available to the modern camper.
How To Power A Electric Blanket When Camping
Now its worth noting that the workarounds mentioned here are not going to be as reliable and powerful as your regular electric blankets you use at home. So its important to remember you're not at home, you outdoors enjoying the tent lifestyle.
So don't expect miracles. The day a full blown battery operated electric blanket made specifically for camping comes out, it will be listed here. Until then, we can only do what we can do.
Portable Generator
With a portable generator like this
Serenelife found on amazon here
, you can get access to 42,000mAh worth of power on the go. Its quite small yet holds a large amount of energy for powering portable electric blankets.
With this device you can use USB or 12 volt powered electric blankets regardless of where you're camping. Whats great about the Serenelife option is that you can recharge the battery via main power, solar panels or via your 12 volt car battery.
So you can use the silent deep cycle generator to power your portable electric blanket during the night and recharge the battery the next day by solar power or your cars battery.
However, if you have multiple appliances you would like to run such as a camping fridge, your better off going with a larger capacity power source like the Yeti 400 which is commonly used to run cpap machines while camping.
Largest Capacity Power Bank
Power banks are all the rage these days when you need portable power. I never go camping without mine these days. When it comes to using this portable battery to power your electric blankets, you need to ensure the power bank has the highest capacity (mAh) possible and that it also has the right output to power your blanket.
A power bank is a great alternative to the generator options as they are much smaller. This particular power bank by Renogy is just 5.3″ x 2.8″. So its quite small yet stores a very large amount of power to run your electric blanket.
The Renogy has a very impressive 72,000mAh capacity which is the largest I have come across suitable for running devices like a 12 volt electric blanket.
It also has 2 x USB ports to power a USB electric blanket as well as a laptop port should you decide to take business with you. I also like this power bank as it comes with a silicon cover to block water and dirt from entering into the areas it should not. Which is ideal for camping conditions. The Renogy can also be recharged via solar panels provided your panels are 15v/2A. Which is pretty cool considering this is such a small power storage device.
The Renogy 72,000mAh power bank is available on amazon here.
Battery Operated Heated Blankets For Camping
Best 12 Volt Electric Blankets
A 12 volt electric blanket can be powered by either of the
above batteries
mentioned. 12 volt electric blankets are ideal for camping because they provide better connection and reliability between the blanket and the battery. Plus they can heat better than the below
USB option
. However, the added heat also uses more precious battery life, so be sure to buy a battery source with sufficient power capacity.
The Sojoy 12 volt electric blanket is my pick when it comes to camping. This is because it has a longer safety shutoff timer and is the largest blanket I've found. Many blankets are built with a safety shut off timer, which is a very good thing.
But some of them only last for 30 minutes to 45 minutes before shutting off. Sometimes this is not long enough to fall asleep in. So the Sojoy has a 60 minute automatic shut off feature which I like. While its only an extra 15 minutes, I can use this extra time to heat the sleeping bag up before I get in.
In terms of size, I like the longer 60 inches compared to many others that are closer to 50 inches. While ideally, I would prefer a 70 to 80 inch long blanket, its simply not possible in terms of a battery powered blanket. The width is not bad either, it measures 40 inches.
Temperature Control & Power Usage
The Sojoy comes with a controller in which you can choose the timer shutoff and also the temperature settings. There are 3 temperatures to choose from and most likely, 'High' will be your go to setting. On high, the blanket can reach 110°F and heats up relatively quickly.
To generate heat, the Sojoy uses your standard 12 volt car cigarette plug. So either of the above power banks would provide the adequate power to heat this blanket up. For the people that will be using solar power, the watt usage is 44 watts. On the high setting, it draws 3.7 amps while on low it draws 3 amps.
Sojoy 60" x 40" 12V Electric Blanket
12 Volt Heating Pad From Battery Source
A very good alternative to an electric blanked is a heated pad. These are commonly used by truck drivers as a way to keep warm while they sleep on the road. Instead of using up gas, they plug it into the 12v plug and they have access to a warm sleeping surface.
Because its powered by 12 volt, you can use one of the above battery power supplies to use this heating pad while camping. The 60″ x 36″ pad goes on top of your air mattress, camping cot etc. You can set it up earlier to get your bed nice and warm.
When you sleep on a air mattress which is in contact with the earth, your body heat gets absorbed by the air inside the air mattress which is sucking the cold air from the earth. Resulting in you freezing your butt off.
Which is why a heating pad like this is very good for camping. It will create a barrier between the cold earth, your air mattress and your body heat.
There are 7 levels of heat to choose from with the highest setting drawing 6.2 amps. So if you were to run this off a small 48ah deep cycle battery you can get roughly 7 hours of use before the battery will become flat. Provided you have a way to recharge your battery, this is a viable option. However I would personally would opt for a higher ah deep cycle battery like a 100ah to keep this heating pad going while camping.
But overall, this battery operated electric heating pad made in the USA is a great idea for staying warm when tent camping. It's also perfect for RVers and people camping in their cars/trucks. Access to 12volts is relatively easy and the warmth makes it all worthwhile.
Electrowarmth Twin, 12V Heated Mattress Pad
USB Powered Portable Heating Blanket
I love this USB blanket and power bank combination. It's a great little Shawl blanket for when you go camping in cooler conditions. I love it because its so portable. You can have your power bank in your pocket with the blanket wrapped around you  warming you up via the USB connection.
It's a simple process and one that's very rewarding. Need a little extra warmth while you eat dinner out under the stars, or perhaps a blanket to keep you warm while your relaxing in your camp chair. This is the solution. Its portable, very easy to use and best of all heats up to 131°F.
This USB electric blanket can be used in 3 ways. As a regular heating blanket, worn over your body with a zip to keep you nice and snug or as a pillow. Yes the blanket can transform into a electric heated pillow and eve comes with a pillow case for this purpose.
With a safety feature that can be controlled to shut off in either 15 minutes, half an hour or a full hour you can rest assured, and warm, that you won't wake up to a fried electric blanket.
Like all throw blankets, the heating element is only small compared to a proper electric blanket. Remember it is only powered by USB, so you can't expect miracles. anyways, the heating element is not too bad compared to some other throw blanket. This element on this blanket is pretty much 12″ x 10″ in size. The rest of the blanket will assist in keeping you warm and has a nice plush soft material to help you fall asleep.
RTDEP USB Heated Shawl Heated Blanket
Choosing The Best 12 Volt Electric Blankets With External Batteries
While I highly doubt there will be a standalone battery operated electric blanket run off your common household batteries anytime soon, these alternatives listed above will do the job. Your common, Size C, D, AA batteries will not have enough power to run a power sucking device like an electric blanket. Well for long enough anyways.
So a 12 volt or a USB powered electric blanket is the next best thing when it comes to camping. It's not hard to get portable power and as long as you have a 12v inlet or usb connection, you have the ability to enjoy the benefits of electric heating. However, there are always some things you should consider before buying just any battery operated electric blanket. These include:
Auto Shut Off Feature
As annoying as the automatic shut off feature can be as you lose the heat after a set period, its for your safety that these manufactures implement this feature. Considering that these blankets are not connected to an unlimited power source, its probably for the best they don't drain all you battery power overnight anyways.
Temperature Control
A blanket with no option to control the temperature is not ideal. What if it's too hot for you and there's no way to lower the temperature. Or perhaps you find the temperature ideal, but it's too hot for your children who no doubt ably will borrow your awesome electric blanket. Always look for a maximum temperature rating and ensure it meets your requirements.
Warmth Of The Blanket
While most electric blankets shouldn't be folded in half due to the heating elements inside, you still can use them as regular blankets. Just pay a little more attention to how your using the blanket. Be mindful of the inner coils. So if you want to do this, its important that the blanket is nice and warm without the power turned on as well. No point having a blanket that is cold to use until its powered on.
Built For Camping Conditions
Finally, you should ensure the battery powered heating blanket can handle outdoor use. The blanket needs to have a bit of heavy duty to it to survive the camping trip.
You also need to consider how you're going to power the blanket if you're not on a powered site. The methods listed above like a generator or power bank are quite sufficient for most purposes. All in all, if you're dead set on a electric blanket while you're camping, there are options available. Just a little compromising may need to take place.