I hope you love the products I've recommended below, just a heads up that as an Amazon associate, I earn from qualifying purchases. This means I may earn commissions on products bought via links on this page.
Getting a good night sleep is something that is extremely important for a person's health and well-being. Many people have turned to Airbeds in recent times, but
are air mattresses good for your back
, or are they doing more bad than good?.
A good night sleep for most people requires at least eight hours but there are some that may need to sleep longer. No matter how long you need to sleep for a good nights rest it's irrelevant if you are sleeping on a mattress that is not suited for you.
There are all different types of mattresses on the market today including memory foam, latex, coil, wool, and so forth. For anyone who is purchasing a mattress it may be quite confusing which type to choose. The other problem is that most retail mattress companies do not allow you to test drive a mattress before buying. This means that you will be required to purchase a mattress first and then see whether it is suited to you or not.
One of the problems of choosing the wrong type of mattress is that it can over time give you back pain issues. Anyone who has suffered with back pain understands that back pain should be avoided at all costs. Therefore, it is imperative to choose a proper mattress that will give you not only a good night sleep but will provide good back support. You should never skimp on the cost when it comes to purchasing a top-quality mattress.
So Are Air Mattresses Bad For Your Back?.
One type of mattress that people often sleep on is an air mattress. There are many reasons why people sleep on an air mattress, the mot popular type being the humble camping air mattress.  But the important question is whether an air mattress is harmful for your back if you choose to sleep on one for an extended period of time.
For example, let's say that you are visiting a relative for a period of six months. Your relative does not have a proper bed for you to sleep on but they do have a blowup air mattress. Are there any disadvantages for you to sleep on this particular air mattress for six months?
First and foremost, you should always consult your Doctor or Physician before sleeping on a air mattress for extended periods if you have known back problems.  Ask them for their opinion and whether it is recommended, don't take the risk on such an important part of your body.
Pros & Cons To Using An Airbed For Back Pain Sufferers
The truth of the matter is that all air mattresses do have certain disadvantages. Don't let anyone tell you otherwise. One of the more notable disadvantages is that they can slowly or quickly lose their air. This will cause the air mattress to have bad ergonomics. Bad ergonomics will be responsible for having a poor sleep. You will wake up tired and with a achy feeling all over your body. Over a long period of time this achy feeling can turn into a serious problem including painful back aches.
However a good quality air mattress may not leak as quickly, every air mattress will eventually leak air. This means that even if you purchase a air mattress that costs a few hundred dollars you may have to re-inflate your air mattress approximately once or twice a week. This convenience alone would make most people steer clear of choosing an air mattress for a long-term sleeping solution.
Whats The Solution For Back Pain Sufferers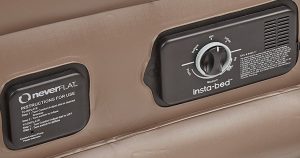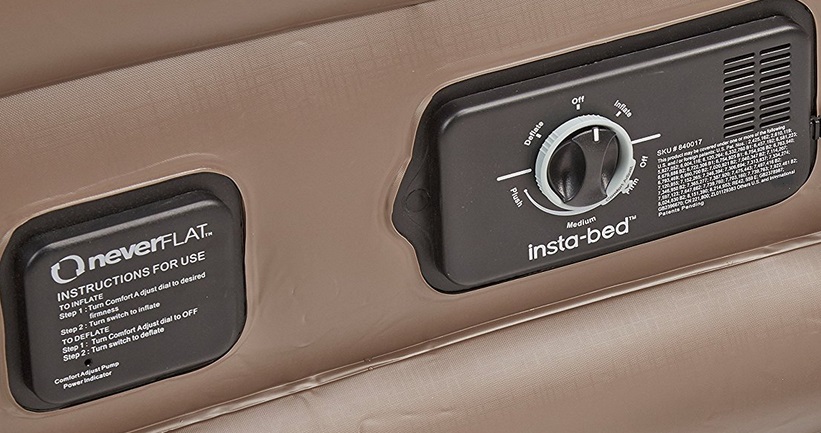 Besides the obvious reasons as to why a leaking air mattress is bad, it can be especially bad for people with bad backs. That is that air mattresses can in fact be really amazing pain relief sleeping platforms for people who suffer lower back pain. This is because a high quality air mattress will have air coil channels which represent support beams for your body. Unlike spring mattresses, an air mattress will only feel comfort rather than springs digging into your back.
So yes, air mattresses can be good for you back. But once they start deflating, you loose that custom support the air has created for you entire body. In order to combat this, many people who do suffer a sore back have chosen to go with a air mattress that provides 24/7 self inflation.
These are air mattresses with 'neverflat' pump technology. They have 2 built in pumps rather than one. The second pump is the neverflat pump which will automatically top up your air mattress whenever the air mattress starts to deflate over time. So for people with bad backs looking for a full body support bed that won't deflate, this is our #1 recommendation.
Why A Airbed Can Be Bad For Your Back
So we have discussed that yes air mattresses do have some deflation issues which can cause uneven support issues for back pain sufferers. We have also discussed a way of preventing this issue and having a really comfortable and supportive bed for your back.
But the other issue that air mattresses have is temperature regulation. An air mattress is made from materials that do not breath. A normal cloth mattress on the other hand provides good air circulation inside and outside of the mattress. When you sleep on a raised air mattress you will find that it does not breathe and therefore during the night you will become quite warm. For many people who want a good night sleep, it usually requires a situation where the room and the bed are comfortably cool.
Sleeping On A Airbed In Cooler Conditions
If the air mattress is placed on a cold floor, on the other hand, you then will become very cold during the night. No matter how many blankets you have covering your body you still will find yourself shivering. Sometimes, this problem can be improved by adding several blankets or sheets between the air mattress and the floor. But There are other ways to make yourself warm on a air mattress for colder conditions. This type of air mattress also has the 'neverflat' pump, so it's best suited to people expecting colder whether and also suffering a bad back.
Air Mattresses Are Good For Your Back – Yes & No!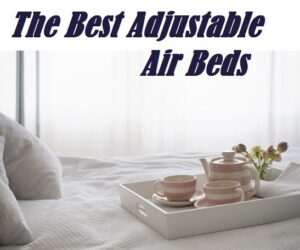 The bottom line is that an air mattress is a great alternative for an emergency , short term indoor use or if your camping. It should however not be used for a long period of time because it can cause a poor sleep and excruciating back pain unless you buy a premium expensive adjustable air bed. This kind of air mattress bed is without a doubt the best on the market, but it does come at a cost. However, they are responsible for relieving back pain all across the globe and definitely worth the investment in your back.
Save