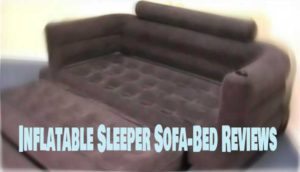 These air mattress sleeper sofa reviews will enlighten you to the world of affordable and portable sleeping solutions. A sofa that you can inflate and deflate then pack in the boot to take to a friends house or even camping is truly remarkable. Try doing that with a real sofa or a bulky queen size bed. It's just not practicable.
There are many advantages to sleeping on air mattress like this and also a ton of different uses for a air mattress sofa lounge. Some of the reasons people buy an air mattress futon are as follows:
Guest beds: Whats better than offering your guests a comfortable bed to sleep on?. A comfortable sofa they can sit on and relax before going to bed.
Dorm Rooms
Temporary bed/sofa while saving up for a more expensive real sleeper sofa.
A heck of a lot cheaper than buying a real sofa. Some sofas cost $1000 plus and may only last you 4 or 5 years. With that sort of money you could buy 10-15 air mattress sofas and could last you twice as long.
Great for outdoor furniture especially if you live in in an area with drastically changing weather. Furniture can often deteriorate in certain conditions. But not with an air mattress outdoors setting. Simply pack it away until the weather is better.
Commercial use for businesses that need temporary seating that's portable.
Camping: Be the king of the campsite with a full size sofa while others suffer in their camping chairs.
The Negatives Of Buying An Airbed Sofabed
While we all love the idea of cheap and portable seating and sleeping furniture, sometimes it's cheap for a reason. But I guess you expect that with an inflated product. Unless you are planning on some serious all terrain camping with your blow up sofa, you won't need puncture proof air mattress quality.
So with the right care and attention to whats on the floor before you inflate the air sofa, you can prevent most punctures. However punctures are a problem that can happen, just like when you buy a bike. You know what you're signing up for. But a simply repair kit can fix any holes you do come across.
The other major negative to buying a inflatable sleeper/sofa is the inevitable deflation. Most air mattresses leak air over time. Especially when they are brand new. This is because the PVC stretches on it's first few uses which results in the air mattress feeling like it has deflated.
But just be mindful of the fact you will have to add air to the sofa every few days or so if you plan to use one of these as a semi permanent piece of furniture. They will all leak air eventually, its just a matter of finding the better quality air mattress sofas which hold up for longer, which you can find in the below reviews.
The Best Air Mattress Sofa-Bed – Queen Size
One of the best things about an inflatable sleeper sofa is how portable they are. This Intex fold out sofa is very portable as it's quite light. So moving it around the room while inflated can easily be done by one person.
What I like about this inflatable sofa bed is that with a bit of dressing up it can look like a real sofa. The flocked soft touch top is a stunning grey color. So it can blend into just about any room and with the addition of a couple of cushions, look the part.
Comfortable & Waterproof
The flocked top layer of the sofa is also waterproof. So if you accidentally spill some water it can be easily wiped away. The flocked top is like a suede feel which means the sofa won't make the irritating plastic air mattress noise every time you move. Which is a bonus when you're watching TV with someone else in the room.
Whats also very cool about the Intex inflatable sleep sofa is that it comes with 2 built in cup holders. You will be surprised how often these cup holders come in handy. But not just for drinks, they also make great areas to store your smart phone and keys. A handy little feature especially when guests sleep on the bed overnight.
In terms of size, it's a queen size sleeping area and the couch can comfortably seat 2 adults or 3 teenagers. Because it is a queen, the Intex 2 in 1 makes for a great bed under a loft in a dorm room. The easy access inflation valves mean you can pretty much position the sofa anywhere.
Intex 2 In 1 Inflatable Sofa Review Conclusion
Overall Intex have the best inflatable sleeper sofa bed on the market in my opinion. While there's not huge competition for them, they do a pretty good job for what it is.
But it's important to remember these products aren't designed to be used day in day out for the rest of your life. They will develop leaks and or holes over time. One complaint I often hear about is that the seams leak air. Then I hear they let their children jump all over the sofa. Well of course the seams have blown out, it's not a trampoline. Take a bit of care and don't over inflate the thing and it should serve you well.
Intex 2-In-1 Inflatable Sleeper Sofa
Bestway Multi Max 2 Air Couch Review
The Bestway Multi Max 2 is just as good as the above Intex 2 in 1 in my opinion. It's slightly different in colors and design but boasts an I beam construction that I am a huge fan of.
The 'I Beam construction' basically means better support which in tern means better comfort. As with any high quality air mattress you use daily you need the support or you're just throwing away your money. What the I beams do is provide internal air coil channels that act as suspension/support for your body.
Cheaper inflatable beds will have horizontal channels which don't offer the same sort of support your body needs. This is also why the cheaper air mattresses tend to bulge out in the center. But with the Bestway inflatable futon you get the internal I beam construction. So it's super supportive and comfortable to both sit and sleep on.
The Features Of The Bestway
What I also prefer on this inflatable sofa bed over the Intex is the back support. With the Bestway the back of the sofa is the back cushion whereas the Intex uses the sleeping part as the back cushion. This is a little less supportive then the Bestways actual back support.
The Bestway also comes with 2 drink holders like the Intex which is a nice touch. There's also 2 inflatable pillows and or cushions included with the Bestway. Me personally would prefer a real pillow but still it's a nice little bonus as you can use them as lumbar support when sitting on the sofa.
When inflates this sofa measures about the size of a queen mattress. A queen is typically 60″ wide by 80″ long whereas the Bestway is 63″ x 79″ when inflated. So very roomy for 2 adults to share a nice supportive rest together.
Overall I really like the Bestway Multi Max 2. The two tone color works really well and the I beam construction is just what I was after. It's tough to decide between the Bestway and the Intex inflatable sofas, so you may have to flip a coin to decide.
Bestway Multi-Max II Inflatable Air Couch
Intex Inflatable Corner Sofa Review
While the above inflatable futons are near on queen size and both are available in single sizes as well, this mammoth by Intex offers you the ultimate in cheap and portable temporary furniture. Its a full size corner lounge with included cup holders. How amazing is that. Better yet it looks like a real sofa when inflated with cushions.
Available in charcoal or beige, but I believe the beige version doesn't have cup holders which is a deal breaker for me. I love having easy access to somewhere to put down my drink.
This sofa is basically the bigger corner version of the above Intex sleeper. But this one doesn't have the bed part, it is purely a sitting sofa that can be inflated with a pump.
With a hefty 880 pound weight capacity, this corner sofa can support the parents and the kids. Should you want to share your air mattress comfort with the kids. Whats good about it is that it's quite durable. The bottom of it is a tough vinyl material. So using this corner sofa outdoors and even on camping trips (Or should I say Glamping) is a real possibility.
Overall I quite like the idea of a inflatable corner sofa like this, I think it would come in handy quite frequently. Especially on out outdoors deck whenever we host parties and such. Would take up no space until its needed which keeps the deck nice and tidy year round. However I do wish it was a sofa-bed for the rare occasion our guest beds are all taken up.
Intex Inflatable Corner Sofa, 101" X 80" X 30"
Unique Use For Inflatable Lounge
Just when you had thought of all the possible uses for an inflatable lounge, check out this brilliant idea. Using the above Intex corner blow up sofa, this guy used a hand pump to make a lounge by the pool. Very cool.