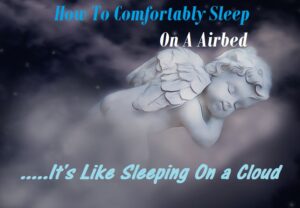 Air mattresses are a terrific way to expand your sleeping capacity and provide a space for guests at short notice. They have also suffered from a widespread (and often well-earned) reputation for being uncomfortable to sleep on since there inception.
However since the increase in air mattress technology, many folks these days are choosing air mattresses as their everyday bed replacement. The key is to finding the best rated airbeds built to actually handle long term use. Once equipped with your sleeping platform it's then time to learn how to sleep comfortably on a air mattress.
Getting A Comfortable Night's Sleep Out Of An Air Mattress
While it's true that an inflatable, portable cheap air mattress can suffer from some disadvantages in the comfort arena when you compare it to a conventional mattress, you can do a great deal to make up the difference. Here are some useful suggestions to get you sleeping like a baby:
1) Spend Your Money On The Right Features
There's an enormous range of different air mattresses available for sale today, and prices range from the unbelievably affordable to the simply unbelievable. Don't make the mistake of assuming that higher prices translate directly into more comfort. When you're going to spend more money on an air mattress, do it by getting a larger size. This allows the sleeper to spread out and leads to a more restful sleep. If your feet overhang the end of the bed, then you should probably look for a taller airbed.
These are the truly essential features you need to look for: Heavy-duty material – 20-gauge vinyl or better. Inflation adjustability – get a mattress with an air release valve and a flexible pump so that sleepers can adjust the firmness of the mattress before use.
2) Consider The Pillow Top As An Essential Component
Even though modern manufacturers put a lot of effort into picking comfy materials for the upper surface of their air mattresses, flopping down onto the bare mattress is never going to lead to a good night's sleep. Use something on top of the mattress to provide additional cushioning and warmth.
A high quality memory foam topper like this one on amazon does an outstanding job here. You can also use opened sleeping bags to provide the same cushioning effect. In a pinch, even simply laying down a few extra blankets over the air mattress will get the job done. Whatever you use, the extra layer you create will prevent the mattress from getting uncomfortably cool after a few hours' sleep.
3) Trick Your Brain To Sleep Comfortably On An Airbed
Getting a good night's rest on an air mattress requires a complete set of bed linens. Take the time to put on a full sheet set – including a fitted sheet, if possible – a blanket, and a comforter. The added comforter that this supplies is as much psychological as it is physical. Sliding onto an air mattress with all the standard trimmings will help your brain think that you're getting into a real bed.
4) Place The Mattress On A Secure, Soft Surface
Even the highest-quality mattress fitted with a superb set of sheets and blankets over a great pillow top is going to give a lousy night's sleep if you throw it onto a hardwood floor. Movement during the night will be inevitable if you don't take steps to increase the amount of friction between the mattress and the surface it rests on. Unless the mattress has a
SureGrip bottom
to prevent sliding around.
A rug that's at least as large as the air mattress provides the ideal base; these mattresses also work very well on a carpeted floor. If these options aren't available, lay down another extra blanket to prevent squeaking and shifting in the night if your air mattress doesn't have a gripping base.
5) Consider Fitting Your Mattress Out Like A Permanent Bed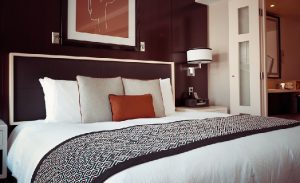 If you find your air mattress playing host to a near-constant stream of guests, it's worth considering investing in a
every day use airbed
or by spending a little more money in permanent fittings to make it more comfortable. Adding a headboard and a box spring will dramatically improve the performance and comfort of even the most modest air mattress. Even if you don't have the space or money to do this, make sure you sit your mattress properly by lining it up next to a wall. This prevents movement in at least one direction.
A Comfortable Sleep On An Air Mattress Starts With You
Contrary to what you might think, there's no rule that says air mattresses have to be uncomfortable. When you're using a good model and taking proper steps to prepare it, you'll be amazed at just how soundly you sleep on an air mattress. A little extra TLC before bedtime will translate into happier sleepers in the morning!. This is how to sleep comfortably on a air mattress without having to spend big money on an upgrade.
If you take a look through our air bed buying guide, you may be surprised by the amount of improvements the humble air mattress has achieved in recent years. People all across the globe are making the transition to sleeping on air for a way to recover from injuries/surgeries and improve there chronic back pain. The value of sleeping on a surface that is weightless is something that has to be felt to be believed. A high quality airbed will make that $20 airbed from the cheap shop seem like nothing more than a oversized paperweight.
Save