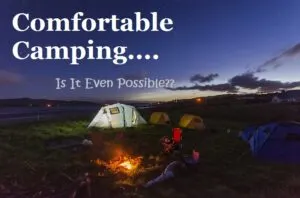 Maybe you are fond of camping, waking up in the woods and enjoy a roaring fire while surrounded by nature. Many people are, and don't get me wrong. I too love the nakedness camping offers. But not everybody is fond of living the minimalist camping experience and to smooth things over aka make them come camping with you, you need to glamour it up a bit. Or perhaps you are not overly excited about carrying heavy gear, eating freeze dry products straight from a bag, sleeping on the bare earth with nothing more than a sleeping bag or any of those more uncomfortable activities associated with camping.
If this is the case, than perhaps glamorous camping, more popularly known as Glamping is for you. There are quite a few ways you can "glam" up your camping trip and make it an outdoorsy experience that is more comfortable. Here are a few tips and pointers on how To Make Camping More Comfortable.
The Best Way To Make Camping More Comfortable
Sleep In Style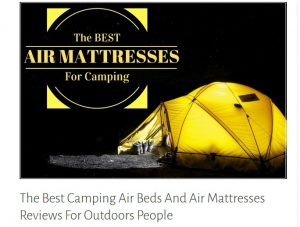 When it comes to camping in luxury (Without a caravan), your sleeping destination is the prime location to pimp out. Whether you are a cot person or a classic air mattress camper, there are luxurious options available. For cots you can get high end camping cots which are padded and can act as a lounge, recliner as well as the ordinary cot.
As for air mattresses, oh how they have changed over the years. For the better mind you. These days a camping air mattress is no longer just a $20 cheap temporary mattress. The way they are created now are much more advanced for creating a more comfortable sleeping experience. You would be amazed at what goes on inside the air mattresses to make them more durable, reliable and not warp and bubble up like the cheap air beds back in the day did. The best camping air mattresses should have a flocked top, heavy duty thick base, a external pump and preferably a air coil system for superior support. Don't skim out when it comes to the most important factor in regards to camping comfortably. Buy cheap, you get cheap.
Is It The Taj Mahal, Or A Luxury Camping Tent
Before you can sleep comfortably, you need to consider buying a luxury tent for camping. A luxury tent for the family, or even just a romantic get a way with your loved one can improve the level of comfort drastically. Having a tent with 6 foot + ceilings is the first thing you could consider. Having the freedom to actually walk around and not crawl in your tent is a must.
If you are taking the kids, consider getting a tent with multiple rooms so everyone can have their privacy. When you have multiple rooms it's also a good idea to have a tent with extra windows and doors. Not only for a separate entrance and exit, but also to allow the clean fresh air to circulate inside the tent. A large awning is a nice feature to have too. You should also take note of the type of material the tent is made out of. Is it durable, waterproof and resist muggy and a build up of condensation. A good luxury camping tent in our opinion is the Kodiak Canvas Flex-Bow Deluxe 8-Person Tent.
Have You Considered Car Camping
Car camping is a camping alternative you could consider, yes that generally means that you may be surrounded by other campers and you are not deep in the woods or pitting your wits against nature's elements. However you are sleeping in a tent you pitched yourself, you are cooking outdoors and you can still take day hikes from there if you want.
Car camping also makes it a bit easier to make yourself at home being as you do not have to carry all of your gear in a backpack, it is therefore easier to carry along a few extra luxuries that will guarantee a relaxing time. For example your child's favorite blanket, you coffee mug from home and maybe your favorite beer mug as well.
In recent years a unique air mattress has become popular. Not only for car campers, but for just about anyone going on a long distance drive. These are known as car air mattresses. These little beauties are massive money savers. Just throw one on the back seat and sleep comfortably in your own car. No more expensive overnight stays at a Motel.
Be Smart With Your Hiking
When camping, many people enjoy a good hike. However that can cause exhaustion especially if you are carrying a heavy load. It is important to switch things up every once in awhile. If there is a slower team member on the group, find ways to give them a head start, tell stories and sing marching songs. Alternate who carries the heavy stuff so not just one person carries the burden. By guaranteeing that everyone comes in "first", there will be more energy and excitement within your group.
A good lightweight hiking air mattress is ideal if you plan to take a day trip. Because they are lightweight and can be attached to your backpack, this makes for a more comfortable camping and king experience.
 A Stove and a Charger – Now This Is Luxury Camping
If you are planning on using a campfire yet want some extra back up, try a stove such as the
BioLite camp stove on amazon
. Originally this stove was manufactured for countries where fuel and firewood were scarce, however it has now become a popular item for comfortable camping. It folds easily and is light weight, by burning pine cones and twigs, it can boil a liter of water in less than three minutes, it also can charge any LED lights or cell phones you may be carrying. Which is ever so important in this technology driven age.
Sound Too Complicated?
We are all about making camping more comfortable right, so if using solar power to cook is above you right now, why not go back to Pioneer days and use a Dutch Oven. If you ask me, cooking in the outdoors with a Dutch Oven is simply the best way. There require no power, just heated coals and can produce amazing dishes when done right. But for outdoors camping, you should only use cast iron Dutch Ovens. These are the most heavy duty cookwares you will come across. Plus very easy to use.
Don't Forget To Pack The 'FUN'
Many times when packing for our camping trips, we tend to place the focus on food, toilet needs, sleeping and hiking, however it is important to not forget about fun as well. Remember that a lot of time is spent sitting around a campsite so maybe consider a deck of cards, some board games, sheets of music for sing a longs, some novels etc. If you are taking the kids camping, don't forget to prepare some fun activities for them to do. You won't regret planning this one in advance!
Bring The Bikes.. Your Kids Will Love You For It
One of the safest places to bike is a campsite, not only is it fun to ride around camp, but any trips away from camp for gathering kindle, taking a shower etc, is quicker and a lot more fun when on a bike. If you have the room and or bike attachments for your car, why not bring along the bikes. Not only will it be fun exploring the great outdoors, but your kids will feel that much more comfortable knowing they can still do the things they do at home while they are out in the woods.
Save Up Your Coins
Many campground amenities such as laundry, showers, vending machines, etc. require the use of coins. If you know you will be going on a camping trip, make sure that you start saving up as many coins as you can, they will come in handy. After all, whats more comfortable than sleeping in clean clothes and bedding?. If you forget to bring the spare change, you could be left in a spot of bother. It's a small tip, but one that many of us forget about when we pack for the camping trip.
How Do You Make Camping More Comfortable
With these simple tips and pointers, you may have a more comfortable camping trip next time round. Remember to also bring along things for convenience such as a fireproof glove, raincoats, a few extra bags for anything you may want to take back, rubbish etc. Being prepared ahead of time will really make all the difference with how smooth and relaxing your camping trip turns out to be.
How about you? Have you got any awesome camping tips to make it just that little bit more comfortable? Maybe you have a favorite cot you use for camping?. Please feel free to share your insider knowledge in the comments section below so others can also enjoy your knowledge.
Save
Save
Save