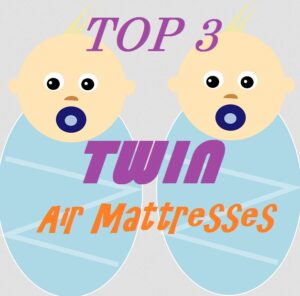 In these reviews you will discover what is the
best Twin air mattress
on the market and why we think they are so darn awesome. Anyone who has bought a air bed in the past may not know that nowadays you can get air mattresses to suit many different situations.
So to make your buying decision that much easier, we are disclosing what we think are the best rated Twin size air beds for each category. These categories will include the best Twin air mattresses for camping, Guest rooms, everyday use and hiking or backpacking. After going through each of our Twin sized air mattress reviews you will notice the subtle differences between each air bed. These subtle difference are perhaps things you may have not noticed before, but now you will have a greater understanding of why each type of air bed is suited to each type of situation.
Twin Air Mattress Size – Will A Twin Fitted Sheet Fit?
If you have seen our 'air mattress buyers guide', you may notice that these air mattresses are not all on the best rated list. Fear not, there's a perfectly good explanation. Not all air mattresses are available in Twin Size, or not yet available. So therefor these air mattresses create there own best twin size category. By all means check out our buyers guide, but do be aware that not all are available in twin size.
Typically you will find the Twin Air Mattress Size to be 74″ x 39″ x 18″ for raised double high. For single layer Twin air mattresses you will find the height is usually 9 inches. Some models do have a slight variance to the normal. So while we will try to provide details as best we can, please do further research from consumer reviews to find out whether the air mattress is a 'true' Twin size for fitted sheets.
Best Raised Twin Air Mattress For Guests
Intex Supreme Air-Flow Twin Airbed Review
If you're looking for a twin air mattress to cater for temporary guests, then I would recommend you check out the Intex Supreme airbed. This Intex model is probably the closest imitation of a real bed that we have seen. The
Velvetaire surface
is a very soft material which has a close resemblance to a mattress surface.     Best Twin Size Air Bed For Guests
As the airbed is double raised and is fractionally higher than the normal, this 20″ high air bed makes for a great temporary air bed for the guest room. When guests come over, they don't want to be 'put out' by a single level air mattress. This is why the Intex makes for a great choice. No bending down to get into bed and no pulling yourself up to get out either.
This is a true Twin size air bed, even though it's about 1″ higher from floor level than most other airbeds, a fitted twin sheet fits perfectly between the 2 levels of the air bed. Speaking of the 2 levels, which is quite unique. The Intex Supreme is a dual chamber air mattress. Meaning that there are 2 separate chambers of air support systems. The bottom level chamber is 'I' beam system and the top level is a coil system you find on most high quality air mattresses. The outer edges are interlinked air cells to provide one heck of an all rounded air support bed. All of these support systems give the Intex Supreme a weight capacity of 300 pounds.
While the Intex Supreme is a Twin Air Mattress with a electric pump installed, this is the reason we only recommend this bed as for guests on temporary occasions, or travelers needing temporary sleeping arrangements. This mattress doesn't include the neverFLAT technology, so it will leak air during the night. Which is fine for temporary use, but for anything long term, I suggest you read our next review on built in pump air beds.
Intex Supreme Air-Flow Twin Airbed
Best Twin Air Mattress With Built In Pump For Everyday Use
Insta-bed Twin Version With NeverFLAT Pump Review
The Insta-Bed is a fabulous bed regardless of the size. Fortunately for us, they are available in twin size too. This version of the Insta Bed is also a raised double, but slightly lower than the Intex Supreme (18 inches). However, for longevity and higher quality, the Insta Bed wins every time in our opinion.
If a higher bed is required and you want the Insta Bed high end quality, we suggest you check out the Insta-bed with Frame version. This is practically the same bed, but with a bed frame as the lower chamber support instead of a additional mattress.
The support system offered by Insta-bed consists of 21 coils. These coils are circular channels of air that flow air vertical (up and down) in 21 coil chambers. These chambers of air are what provide the full body support. This means no sagging to one side of the bed because of the evenly spread air coils.
The top of the mattress is a soft flocked material. Not only is this good for comfort, but also for keeping twin sized sheets from slipping all over the bed like they would with a typical PVC top.
The Insta-Bed's 2 Unique Built In Pumps
Another twin air mattress with an electric pump or should we say 2 pumps. This feature of the Insta-bed range is probably what we love most. Why? Well lets look at what each pump does.
The first pump is your traditional air mattress built in pump, but with a difference. Many pumps you can inflate and deflate as your only options. But with the Insta-bed pump you can choose between 3 comfort settings. Plush (Soft), medium and firm support. So you can have the air mattress set to suit your custom needs. which is essential for long term use of an airbed.
The second pump is the NeverFLAT technology pump. This pump is the #1 feature we recommend for folks wanting a long term air bed solution. The neverFLAT pump is a secondary pump which kicks in automatically when the air bed gradually looses air overtime. This is amazing for people who want a everyday twin airbed who don't enjoy waking up on the hard floor every morning. Lets face it, all air mattresses leak. But the best air mattresses find a solution for this. The NeverFLAT pump assures you of a never flat air mattress again.
Insta-Bed NeverFLAT Twin Air Mattress
What's The Best Twin Air Mattress For Camping
The Amazing Sound Asleep Twin Outdoors Air Mattress
Sound Asleep make some of our favorite air mattresses on the market, so it's no surprise we recommend the Twin version for campers. When it comes to twin size air mattresses and camping, we generally recommend a single level mattress. This Sound Asleep is just that with a inflated height of 9″.
This is because a twin airbed is generally used in a smaller tent and therefor lower ceilings. So a lower laying air mattress is better suited. Which is why we recommend a 9″ air mattress.
Moving on… what makes the Sound Asleep camping edition twin air mattress the best for campers?. Well, for us there are 3 solid reasons. Which are as follows in no particular order.
Extra Heavy Duty Air Mattress. The Sound Asleep airbed has been specifically designed for outdoor use such as camping. So the extra thick, puncture resistant materials are ideal for being both inside tents and outdoors under the stars. For a twin size air mattress, it also has a heavy duty weight capacity. Which is a mighty 500 pounds, so us bigger campers are well looked after here.
Rechargeable Air Pump Included. This is an excellent feature of this twin air mattress. The fact it's is included in the price and not as an add on is amazing. Having a rechargeable air pump is a sure fire way to almost guarantee you a inflated nights sleep out in the wilderness. You can either charge the pump at home and take camping, or charge at your camp site and go for hike anywhere you want knowing you have a fully functional portable air mattress. A car charger and a  adapter is also included so you can use this pump to charge other airbeds and various inflatable objects that you may have.
 High Quality Amazing Support. This is more of an overall opinion, it's simply one amazing high quality air bed. Every little detail has been well thought through, even a secondary valve inside the nozzle to shut off and prevent air leakage. The 'I' air channels support system is that of much more expensive air mattresses. These 'I' air channels are a vertical air flow system that provides full body even support. Nothing worse then sagging to one side or on the edge of an air mattress when camping.
SoundAsleep Camping Series Twin Air Mattress With Pump
Save