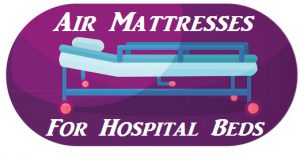 Pressure ulcers are a common occurrence that happens when long periods of pressure have been applied to the bony areas of your body. Which are not always visible on the skin. The damage can occur internally. So it's important to use alternating pressure to these areas. For instance such as long term medical stay at the Hospital. Or bed ridden people at home. Without being able to get up and move around, these pressurized ulcers can become a serious issue.
By investing in the best air mattress for hospital beds or at home beds, you are maximizing the chances of reduced ulcers and improve healing of existing conditions. Since the mattresses at hospitals are not usually up to par and insurance will often not pay for an adequate mattress until the bed sores have reached stages 3 or 4. The friends and relatives are left with trying to provide a better sleeping environment for their loved ones. So in saying that, below you can find 4 of our top rated air mattress topper pads suitable for hospital beds and also at home use.
Our Top Rated Hospital Airbed
Alternating Pressure Mattress By Vive
This alternating pressure mattress by Vive features 130 individual air bubbles that offer even support as well as weight displacement making it one of the better alternating pressure mattress available in the market. The heavy duty material (Vinyl) used for making this mattress is capable of holding up to 300 pounds. This mattress has some great features. For instance, it is 78 inches long and 36 inches wide which is the perfect size for a standard hospital bed that is 80 inches long and 36 inches wide. It comes with an ultra-quite pump that makes a soothing whirring noise. Different pockets are cycled through at a time making it comfortable for the patient lying on this mattress. Another good thing about this mattress is that the pressure range can be adjusted from 1 to 5.
The pressure is alternated every six minutes though it is recommended to also manually move the patient in order to prevent bed sores. Overall, it is a great mattress that is extremely easy to setup and takes less than five minutes to fully inflate. The high quality motor is extremely quiet. Since it does not come with straps for tying it down to the bed, a yoga mat may be placed underneath in order to provide proper grip to mattress. Its size and design makes it easy for users to pack it up and set it up again while traveling. Quality design and quality materials make it a great value for money buy. The manufacturer offers 90 days warranty on the pad and 1 year on the pump.
What We Like About The Vive Air Mattress
Great value for money. The pump is even included in

the Vives great price

that to this day still baffles me as to why it is so low.
Very easy and fast to set up. (Took less than 5 minutes)
Fits on a typical hospital bed
Extremely quite. Unlike other models, the Vive is very quite and shouldn't make enough noise to drive you bonkers. Note: put the inflow tubes down near your ankles rather than up by your head.
More of a soft rotating massage compared to a stiff rolling experience as felt on other models.
Can be used as a portable comfortable bed topper and also on recliners, sofas etc.
What About The Cons
To be honest, there's not a great deal wrong with this design. But nothing is perfect and the only two issues we could find are that there is no remote control which is a bummer. Also the controls don't dial down as soft as some people might expect. Other than the couple drawbacks, the Vive is an extremely good investment and one that seems to have stood the test of time.
Alternating Pressure Mattress by Vive
Mid Range Hospital Bed Air Mattress Topper
Air Pro Elite Review – Up To 300 Lbs Users
The Air Pro Elite by Blue Chip Medical is 79 inches long and 35 inches wide which means it perfectly fits the standard hospital bed. The adjustable quite pump supplied with the mattress comes with 8 different firmness settings making it ideal for patients who are prone to bed sores. The flexibility to change firmness makes it highly effective for treatment of existing bedsores. This mattress is made from heavy duty medical grade PVC with fire retardant and antimicrobial treatments. The pump supplied with the mattress has a cycle time of 10 minutes and the pump also comes with a foldaway hanger bracket making it easy to use. As the pump can be hung on the bed, it reduces the risk of accidental damage and prevents it from potentially becoming a tripping hazard.
As far as the maximum weight capacity of this mattress is concerned, it is recommended for a person weighing up to 300 pounds. It comes with a warranty of six months for the pad and one year for the pump. Overall, this is an excellent mattress that has been used by hundreds of satisfied customers. The high quality material used for making this mattress combined with the affordable price makes it one of the better choices.
Whats To Love About The Air Pro Elite
Extremely comfortable in comparison to another model that costs over $400. The Air Pro Elite offers the same if not better comfort in my opinion. Which is a must for long term disable people.
Multiple firmness levels is a brilliant inclusion as not everyone likes the same firmness in a mattress. This ranges from super soft to super firm. So everyone should be catered for.
Soft rolling air massage compared to having the pressure point work over.
Very quite pump that is barely noticeable.
Vinyl air mattress repair kit included in the price.
Comes with hangers so that you can access the controls at all times.
The only thing that bugged me about the Air Pro Elite is that the air hoses are not long enough. While they do the job, I would prefer to have an extra foot of hose so that it reaches all the way to your hand while in bed. Oh, also this bed can t be used as a recliner pad or as a portable device as much as the Vive model. Other than that, this is a very well priced hospital air bed air mattress topper with plenty of options to cater to the vast majority.
Air Pro Elite by Blue Chip Medical
Drive Medical Budget Buy
This particular model of alternating pressure pump by Drive Medical is one of their bestselling models. It's also one that is great value for money. If you are on a tight budget, but need relief. The Drive Medical may be your next best friend.
This mattress features 130 individual bubble cells that are alternately inflated and deflated with the help of an extremely quite pump that offers excellent comfort and effectiveness. With the cycle time of five minutes, the pump provides a consistent airflow of 4 L per minute. It is 78 inches long and 36 inches wide that makes it ideal for a standard hospital bed and it has an upper weight capacity of 300 pounds. This mattress comes with a built-in bracket for the pump which makes it easy for the user to mount it and keep it above the floor. It has a height of 2.5 inches when inflated making it easier for the patient to get off and on the bed.
One of the biggest selling points of this particular model is that it is sold at an extremely affordable price point, especially compared to the other options available in the market. It has been used by hundreds of customers over the years and most of the buyers have been happy with their purchase as far as the quality of the product and price is concerned. It is a highly durable pad as some customers have been using it successfully for over 2 years without any issues. Overall, this mattress offers great option for patients who want to get relief from pressure sores.
Pros Of The Drive Medical Air Pad For Hospital Beds
Very fast to inflate and made by a respected name in the industry. Drive Medical.
The alternating pressure system hits about every 5-6 minutes, but it it is not annoying like some others.
Very affordable especially when compared to 2-4 inch memory foam pads.
Quite with a slight humming noise which cab be considered both good and bad.
Drive Medical Med Aire Alternating Pressure Pump and Pad System
Premium High End Hospital Air Bed Topper
5″ Thick Air Loss Air Mattress By Drive Medical
This mattress overlay system from Drive Medical is one of their high-end models that has been specifically designed to prevent, treat and manage pressure ulcers. It has been used by a number of patients and most of the patients have been happy with the results they have achieved with this mattress overlay system.
In fact, one of the buyers commented that they were able to completely heal their bed sores in just five days after using this mattress. The specially designed pump accompanying this mattress overlay system produces a consistent airflow of 8 L per minute. The height of 5 inches makes it extremely comfortable and effective. This mattress overlay system features 17 air cell configurations and nine of these air cells come with laser holes for achieving low air loss function that helps in increasing the patient comfort and also aids their recovery.
The head section features three separate air cells that remain static to enhance the pillow function. As far as the price is concerned, it is a bit higher as compared to some of the other models but the higher price is worth it considering its effectiveness. Another important thing that needs to be mentioned here is that some patients may not like it as they are lifted 5 inches high over the bed that makes it difficult for them to get out of bed.
Also, you may need to install safety rails in order to make it safer for the patient to keep lying on this mattress overlay system. Overall, it is great value for money considering the quality of the material and its effectiveness.
Save