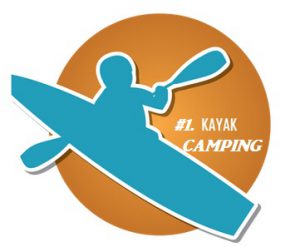 Kayaking is a great way to escape the real world and enter a wonderland full of breath taking views, tranquil retreats and nature like you've never seen before. Combine this with camping and I don't think life can get any better. This is known as Kayak Camping to many which is similar to the more popular
canoe camping
.
Kayaks can be more limited on storage space and movement within the boat. Not too mention stability. This is why it is important you know which are the best kayaks for camping. Taking a kayak camping is a whole new adventure compared to taking a day tour.
People can spend many days kayak camping without contact with civilization, so it's important that you get a boat suitable to handle the tasks you need to achieve.
What To Look For In A Camping Kayak
In my opinion, you should avoid shorter recreational kayaks. These kayaks are not really suited to several day camping adventures. The storage space doesn't allow for it. Some people get away with certain models of sit on top kayaks as they have added storage compartments. Plus they are much easier to control and operate for the beginner. So a sit on top kayak maybe the right kayak for you to take camping if this is your first time.
Alternatively a longer touring kayak would be the ideal boat for the job in my opinion. They can handle long trips much easier and have the storage capacity to handle multiple night camping trips. The general purpose style of touring kayaks are wider and have greater stability which is also important when your on the water with all your camping gear.
In the end, there isn't one kayak that is best suited to camping becasue each of us will have different but certain requirements to be met. A family looking to relax and take on the calmer waters will have different requirement than a river kayak camper looking for adventure on the water. So it is difficult to know exactly what you want without taking a look at a few certain models as described here. But one thing is certain, the kayak must have plenty of storage for your camping gear. If you can save space with the gear you buy, that is highly beneficial, things like buying a tent for kayaking purposes compared to campsite tents will save you weight and space,
Best Sit In 12 Ft Solo Kayak For Camping
Sun Dolphin Aruba SS
If you have heard of the Aruba before and wondering about the SS version, it is basically the 'extra storage' model, which is ideal for kayak camping. Although this 12 foot kayak doesn't have a skeg it still turns rather nicely and tacks quite smooth. The Aruba has a near on 400 pound weight capacity which allows for a large user and plenty of equipment. The cockpit is quite large to allow for a bigger person. While it is best to pack as light as possible, having the extra weight capacity is a reassuring feature.
From the research I have performed, the Sun Dolphin Aruba SS is a popular kayak for first time kayakers. This is due to the affordable price tag, heavy duty polyurethane materials used to make the boat strong, high level of stability and of course the portable storage area to fit all the camping gear.
While the Aruba kayak is considerably lightweight compared to some, it still may require an extra hand to lift it up on your car top carrier. This will greatly depend on the strength of the person going out on the water. But overall, the Aruba is a awesome looking kayak and in my opinion the best kayak for the money. When it comes to camping it ticks all the boxes and is a great price for first time kayak campers to get in at.
Aruba SS Sit In 12 Foot Kayak
The Best Kayak For River Camping And Fishing
Ocean Kayak Prowler 13 Foot Sit On Top
The Prowler is one of the more common kayaks you will see out on rivers being fished from. Built by Ocean Kayaks, the Prowler was made with Fisherman in mind. However, it doesn't matter if you are planning to fish or not becasue the Prowler is a awesome kayak for the solo camper. But if you plan to go fishing as well, then it's a bonus. There are 2 pre molded rod holders on either side of the seat.
What makes the Prowler good for camping is that it is very stable on the water, it can be used in rivers, flat water, streams etc. It's very versatile and being a sit on top model, it is a lot easier to maneuver and go straight. Even without a rudder it glides rather straight. So a great first kayak for beginners as well.
Being a 13 foot kayak, it is in the ideal zone for camping as it is longer than a recreational model. This allows for extra storage. The storage on the Prowler is pretty neat and well thought out.
There's two paddle keeps, a 6 inch cylinder storage compartment just in front of the seat to keep valuable safe and dry (Phone, keys, wallet etc). On the rear of the boat is a fairly large well like storage area where you would keep your fishing gear. But can also be used to keep your camping chairs, tent etc. Then up the front of the boat is a bigger internal storage area where you would keep the things you don't want wet like the sleeping bags, mattress, food, first aid and your fishing rods if you plan to throw a line out.
Which brings us to the weight capacity. A boat with this much storage typically should have a higher weight limit. The Prowler is between 400-450 lbs in total. So plenty of room for yourself and the weight of some camping gear. Overall the Prowler is a great Kayak, that if well looked after could be the one and only kayak you ever need. A great boat.
The Prowler 13 Foot Sit On Top Fishing Kayak
Going Kayak Camping As 2 People?
The Vibe Kayaks SkipJack 120T Tandem Package
Another sit on top kayak, the Vibe is a great choice for the solo camper or if you are bring a friend. It is very well priced when you consider that it can be used by 2 adults. One problem with tandem kayaks is that they can be difficult to manage if you want to go out solo. But with the Vibe kayak, sitting in the center console and going out solo is just as easy as with any solo kayak. This is a great feature to have.
It is worth noting that this kayak is rated to hold 500 pounds. So if you are going tandem, do keep this in mind when weighing up your gear. The width of the kayak is 35 inches, so nice and wide to produce a very stable float, even in windy conditions.
Part of the package are the two paddles that come with the kayak. These are 230cm in length, which may or may not be suitable to your height. The two seats are included in the package, but can be 'upgraded' to deluxe seats. The standard seats are a little plasticky (If that's a word) so a deluxe version may suit you better. Having the extra storage bag behind both the seats is an awesome idea and great for packing the camping gear.
The Vibe kayak may be a little to heavy (72 pounds) for some individuals to carry solo, but the 4 handles do make it easy to transport on land. This would be the biggest issue and the cheapish seats are a little distracting but they do the job at the end of the day. Overall the Vibe make a really quality kayak suitable for one or two persons at an affordable price. It's great that the seats and paddles are included as they are often counted as 'extras'.
Update, this package now includes the 'Deluxe Seating' with new and improved seat belts which just adds to the value of this kayak.
The Vibe Kayaks SkipJack 120T Tandem Package
The Best Kayak For Women Campers
11 Foot 'Venus' By Ocean Kayak
If you're a Female camper needing a Kayak that you can handle solo, then
the Venus by Ocean Kayaks
may just be the best choice you can make. Being just 44 lbs, it's very lightweight and aimed at the Women in the Kayak world. Apparently the seats center gravity is designed for a Women, but I honestly have no idea how this would work.
It's an 11 foot kayak yet rather stable on the water. The flatter bottom makes it glide through the water with the confidence of not tipping. It does a great job on the water for both movement and stability.
But it does have a low weight capacity of 200 pounds. This could be an issue for some people as the heavier you are the more chance of tipping this thing. But if you are well under 200 pounds and your luggage isn't too heavy, I think the Venus is a nifty little kayak for the Ladies.
Here's What To Pack When Going Kayak Camping!
Save