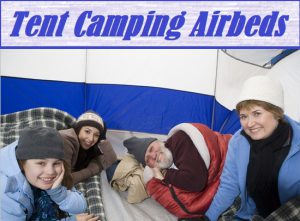 Choosing the best air mattress for tent camping in 2018 is not as difficult as you may think. While there are numerous ways to go camping such as vehicle, hammock,
canoe/kayak
camping and directly under the stars with no tent at all, tent camping is relatively simple in comparison.
Choosing a suitable air mattress for your tent comes down to these 4 requirements:
Rip stop or similar bottom to the airbed. This will ensure the small rocks and gravel won't puncture your airbed.
Can use an external pump. So no air mattresses with built in pumps as most of them don't allow the use of an external pump and if you don't have access to power, you got no way to inflate the bed.
Internal support chambers are necessary becasue comfort goes along way after a long day hiking, fishing, bush walking etc. Air mattresses with some sort of support system will not do you justice.
Size of the air mattress should be relevant to the size of your tent. If you have a

3 room tent

for example, make sure the room you are sleeping in can fit a queen size air mattress. Do the measurements first before you arrive at your campsite.
Sleep Like A King While Camping
Now this is not the cheapest option available in regards to tent camping. But it sure is one of the best airbeds to sleep on after a hard day out in the sun where comfort is desired.
The air bed in question is the Coleman Airbed Cot. If you have room for both a 30 inch in height Queen size bed in your tent, seriously consider this model. So it's a combination air mattress and camping cot. The reason I love this bed so much for tent camping in particular is the storage space available underneath the bed.
The problem with a air bed inside a tent is that they take up a large percentage of the floor space. This often leaves you with not much area to keep your belongings. But as this Coleman air mattress essentially sits on top of a folding frame, you are left with about 20 inches of space under the bed to store any gear you need to. This is especially handy for longer camping trips becasue as you know, it can get messy inside a tent.
What Makes The Coleman A Good Tent Airbed?
Besides the extra storage space you get underneath the bed, the extra height of the cot/airbed provides makes it much easier to get in and out of bed. This is especially handy for people with bad backs or disabilities. Most double high air mattresses measure in at about 19 inches. But this Coleman has a combined height of just over 30 inches. That extra 10 inches in height really does make the difference.
Comfort
While it's not the thickest air mattress on the planet, measuring in at about 8.5 inches, it still is very well supported. What makes it so comfortably is the unique Coleman internal coil chamber system. Unlike cheap air mattresses that have horizontal air channels, the Coleman has vertical air chambers.
These vertical air chambers are evenly spread over the whole mattress. What they do is offer unmatched support. So if you imagine laying on top of lots of soft vertical cylinders compared to cylinders in the horizontal position, you can see the support offered. With horizontal support airbeds, they tend to not support you when you sit or lay on the outer edges. But with the horizontal air chambers you get support anywhere you sit on the bed. Another positive to these air chambers is that they are less prone to make the air mattress bubble in the center like the cheaper horizontal systems do.
The Extras Make This Airbed One Of The Best
So the above reasons are why I love this bed for camping in a tent. It offers off the ground sleeping and has the best supportive system for this style of bed. So less chance of busting the airbed on a rock do to being elevated and very comfortable to sleep on. But what else does this camping bed offer:
Optional side tables which have drink holders built in. These tables can be removed is space is an issue.
Air mattress comes with a protective cover to ensure a longer lifespan.
The queen size has a high weight capacity of 600 pounds.
Comes with an external battery powered pump.
Lastly, the bed comes with a carry case on wheels. So transporting this bed to and from the car is that much easier now. Very nice touch adding the wheels Coleman.
Coleman Queen Airbed Cot with Side Tables
The Most Durable Camping Air Mattress
While this airbed may appear to be just like any other air mattress you have seen on the market, it's not until you get up close and personal that you really see how durable the
Sound Asleep 'camping edition' airbed
really is. It's one of my personal favorites to take along with me just about anywhere I go. Here's why.
When camping in a tent, one of the most annoying things is the air mattress slipping around on the tarp like bottom of the tent. This is due to PVC bottoms on most airbeds. But with the Sound Asleep, you get whats called a Sure Grip bottom. This makes the air mattress grip better to the base of the tent.
On the other side of the air mattress is a waterproof flocked top. This is so soft and enjoyable to lay on. But what I enjoy the most about it is the silence. Yes, with this type of topping on a air mattress you won't hear those annoying plastic sounds every time you blink an eyelid or your partner rolls over. The flocked top creates a sound proof top that offers silence and comfort at the same time.
The Attention To Detail Wins Me Over
While you can't see inside the air mattress, you can feel it once inflated. Similar to the above Coleman, this Sound Asleep camping airbed offers their unique spin on the air coil features. Known as 'ComfortCoil Technology with I-Beam Air Coils'. Basically providing similar support features of the Coleman, just this is a standalone air mattress and not on a cot. So in regards to support and comfort, this bed is certainly up there.
But what really won me over on this airbed was the attention to detail. Sound Asleep state that the camping series is designed for outdoor purposes. So this to me means it should be durable, tough and waterproof.
This is all clearly evident when you pay attention to the things like the Sure Grip base, waterproof flocked top and internal air coils. But when you actually look at the seams and thickness of the materials, you can just see how this product is built with camping in mind. It's certainly not a overnight dump and run kind of mattress. This air mattress will be my companion for a long time.
*Comes with a shoulder carry bag and an external rechargeable pump that can be powered via your car or the mains.
SoundAsleep Camping Series Air Mattress
Choosing the Best Airbed For Your Tent
Finding a suitable air mattress to suit your tent may feel like finding a diamond in the rough. But after following the above guidelines and considering the above recommendations, you have a fighting chance.
If camping is something you intend to do on a regular basis, then choosing a high quality camping air mattress like the Sound Asleep would be my number one recommendation. Durability, support and comfort are what is needed. This air mattress is one of the strongest ones on the market that I have come across. Sacrificing durability for price is never going to end well. I've burned through too many cheap airbeds over the years to come to realize I could have bought many high ends camping beds that would last me the rest of my life. So cheap is not always worth it in my opinion.
However, if you are camping for longer periods but less frequently, something like the above Coleman airbed cot would be more suitable. Luxurious and also highly convenient for extended stays. While there are many air mattresses suitable for camping in a tent, these two are my top rated choices for 2018.
Need more choices?. Check out the camping airbed buyers guide here.