With Christmas 2019 just around the corner it's time for us outdoors people to start thinking about Christmas gift ideas for campers and the RV owners in our lives. With many States feeling the chill of Winter, what a better way to brighten up the mood then by a unique or fun camping gift. If one can't go Winter camping, then bring camping to them. That's how I see it!. Plus it gives us campers some toys to play with before the warmer months start rolling in.
But what exactly do you buy a outdoor camper for Christmas in 2019?. Well this is obviously going to be different for everybody, so we have gone out to find some unique and funny 'outdoors' themed RV/Camping related gift ideas that will hopefully spark an interest for the Man/Women in your life.
A Classic Part Of American Camping History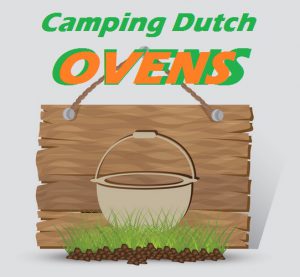 The humble dutch oven has been in use for over 100 years now and continues to be a very popular piece of camping cookware. But as time has evolved, so has the dutch oven. These days there are many Aluminum Enamel coated Dutch ovens, which is not what the Pioneers used many years ago. A classic Cast Iron Dutch Oven made in the USA may be just the right gift idea for the camper looking to add a bit of USA history into their camping tool kit.
Besides the history and pretty much un breakable appeal of these ovens, they are the best way to cook when camping if you ask us!. If the camper in you life doesn't have a dutch oven yet, it's time to get them one!.
A Useful Gift Idea For Christmas For The Camper
A New Camping Bed Perhaps?
Months or even years may have passed since the humble air mattress or camping cot was dragged out of the shed. Often materials can break down and become brittle just by sitting in storage for extended periods of time. Maybe the old mattress used for camping has seen better days and just plain old stinks.
A new air mattress or camping cot may be just the perfect Xmas present you never even considered. With increased development in air mattresses, camping mattresses have become a thing of luxury and a high quality bed will be appreciated for many years to come.
We have reviewed only the best beds for camping and have quick links for you to find out more details below.
A Gift From The Sun
Awesome Solar Powered Portable Camping Cooker

No camping trip is complete without food right, but whats cool about this cooker is that it is 100% solar powered. Meaning you can take this thing anywhere, set it up and start cooking. The Sunflair Solar cooker comes with all the required utensils to start, baking, boiling, stewing roasting etc. The unique closed cell oven bag can reach temperatures up to 275 F, which is quite incredible when you consider the fact you are using a free resource. The Sun!
The Sunflair portable cooker even comes with a thermometer so you can measure how hot the cooker is before cooking. This is a great gift idea for campers that don't rely on powered camp sites and RV owners who simply love living off the grid.
Solar Powered Coffee Anyone?
Keeping in theme with the Solar power, this is a great gift idea for outdoors people. I can't get through a day with out my coffee and when camping it's not always practical to set up a portable stove just for a cuppa. This is where this solar powered water boiling thermos steps in. Introducing the Sun Kettle!.
It's as simple as putting up to 480ml of water inside the thermos, put the lid on and let the sun do the rest. The solar powered tube runs up the middle providing boiling water hot enough to make a cup of coffee/tea, hot water for noodles, rice etc.
The thermos comes with a long metal handle so you can attach it to your backpack for those scenic picnics when out hiking, or to simply hang from a tree while the water is heating up. A thermos like can even be used to purify previously unsafe water to drink, such as snow. This is a great little gadget all campers, hikers and even RV drivers could have on board for hassle free boiling hot water.
A Funky Solar Panel LED Camping Light
While there's nothing new about a tent light, this one is certainly unique and looks amazing. The light resembles a fan shape and cane even be hung from the inside of the tent like a fan. The 3 blades of this fan have solar panels on them. So by charging in the day light, you can get free bright LED light at night. Nothing worse then camping in the dark right.
But if you forget to charge the light via the Sun during the day, fear not. This light can also be charged via a micro USB cable for such emergencies. Which is a nice touch. The 18 LED light has 3 different light settings as well so you are not just limited to bright white. One which is a blinking SOS light which is a great idea considering when camping outdoors you never really know what is going to happen. So being prepared is the best measurement for success. Lastly, this light has a special chip built into it which prevents the light from over charging and short circuiting. Overall, a small enough portable light source to take camping yet bright enough to resemble a larger light source. A big tick of approval.
Solo Camper? A Tent Cot Is Perfect For Christmas!
There's nothing better than getting away for the weekend on a un-planned camping trip. But for large Families, the prepping and packing can seem not worth it at times to just go away for the night. But if you are a solo camper, then a tent cot could be the next best Christmas gift you receive this year.
A tent cot is basically a camping cot for one which is enclosed in it's own unique tent. Sort of like the all in one portable camping solution. They can quickly be set up and taken down in minutes for the quick getaway. As it's a cot, you don't need to deal with air mattresses, pumps, leaks etc. Perhaps you should bring a pillow and blanket and you are all set to go camping in just minutes.
It's not unusual for people to use Tent Cots for many other reasons then camping in the woods too. They make an great solution for any kind of portable sleeping. Even when the Man ends up in the Dog House, the Tent Cot maybe his bed for the night.
What Camper Doesn't Like Popcorn!
This campfire or camp grill popcorn popper is an amazing invention aimed directly at campers. We all love the toasty marshmallows around the campfire, but now we can add a new element of joy. Popcorn!
This remodeled Camp Chef Campsite Popcorn Popper has been improved due to popcorn sticking and a screw becoming loose. I think that is very encouraging for a company to actually attend to their products faults. So I can confidently say this popper is the best on the market in my opinion.
It's very simple to use which will excite the caveman camper. Nothing technical or fancy. Simply grease/oil the inside of the cooker, add the kernels and heat on either the camp stove or above the open flame. Pro Tip: Rotate and shakes the popper every few seconds or so. This will ensure even heating and prevent the popcorn on the bottom burning. Never leave the popper over direct flame without rotating.
Cool Camper Van Toiletry Bag Gift Idea
This is a fun Christmas gift idea for the camper van camper. It's available in 6 fun colors as well to match your van's color. The bag itself is very roomy and measures 6 inches wide by 4.7″ height and 12 inches in length. So it's not a small toiletry bag, which is ideal for RV road trips and camping.
While the van looks funky, can it actually work as a toiletry bag?. Indeed it does. It has your typical zipper for enclosing belongings and has 2 elasticated pockets, 1 zippered pocked and the inside is completely lined to keep toiletries safe and waterproof. The only negative is that this camper van wash bag has to be hand washed and not tumble dried.
Funny Camping T-Shirts Make Great Christmas Presents
T-shirts are a popular Christmas gift for just about anyone. Especially if that special someone has a passion, such as camping. There's a sense of pride with wearing a T-shirt that you believe in, find funny, sums up your personality or simply to get reactions from fellow campers. Buying a camper or outdoors person a T-shirt for Christmas this year is a easy victory, provided it is 'Camping' related. Amazon has a great selection of Camping T-Shirts that any camper would love to receive as a gift. Here are 4 of my favorite camping shirts listed below.
Home Is Where The Campsite Is Right?
A simple welcome mat that can be used in a variety of places. Well use wherever you want. At the doorstep of your house, RV and even at the entry of the tent. Bring a part of home with you camping, or bring camping back home with you. Either way, this is a thoughtful Christmas gift idea for Christmas.
Camping Gift Idea For Dad
Is Dad a fan of the great outdoors and biking across the country?. If Dad hasn't got a Motorcycle Tent yet, then WOW is he in for a surprise this Christmas. These tents are awesome and are targeted to bike campers. While many people won't need a bike tent, the ones that do will simply love this idea.
The tent can actually hide the bike from sight when you are out swimming, fishing etc. Out of sight, out of mind comes to mind. The tent even comes with 2 sheets that are the floor coverings. One for the sleeping are and an additional covering for the 'garage'. Yes I just called the bike are of the tent a Garage.
All Sorts Of Vehicle Tents
Tents these days are innovative and well designed. So much so that you can buy a tent to attach to the back of your SUV, minivan on top of a pick up truck and even on top of a car roof. Any camper would love to be able to 'Camp Anywhere' and with special vehicle tents, it's now possible. Perfect for camping in those unusual spots.
Save
Save
Save
Save
Save